Hi there, I'm Ashley of Lil Blue Boo.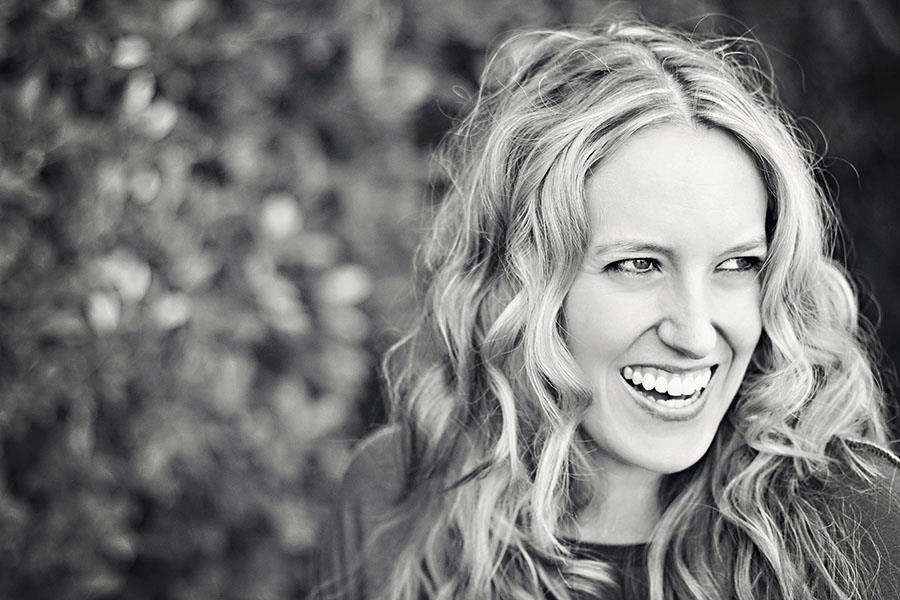 Lil Blue Boo is all about encouraging others to find their creative streak. I love writing, sewing, silk screening, painting, photography, journaling, and power tools. I have a serious obsession for color, fabric and trinkets. Lil Blue Boo sewing patterns grew out of a love of new and reclaimed knits. Lil Blue Boo clothing is an eclectic mix of original hand cut silk screens, vintage finds, recycled fabrics, and comfortable style. I love coming up with unique one-of-a-kind and limited edition knit clothing for adults and children and I love sharing the process with others. I write daily for Babble.com's The New Home Ec on a variety of DIY projects.
A few of my favorite projects to check out:
Frida Kahlo in Buttons and the Mona Lisa in Buttons
Getting Organized
A Vintage Sign Using Canvas
Spin-spiration Folk Art
I recently have had some crazy curveballs thrown at me that have made me consciously decide to "choose joy" as a way of life. I've chosen to write publicly about loss, and the nitty gritty of unexpected surgery and chemotherapy in hopes that my experiences will help others. I was diagnosed with Choriocarcinoma in October 2011. Starting in the uterus, it spread to my lungs, liver and regrew in my pelvis area after an emergency hysterectomy. You can read more about all of this in The Cancer Chronicles. I recently shaved off my long, long hair too.….it was a great experience.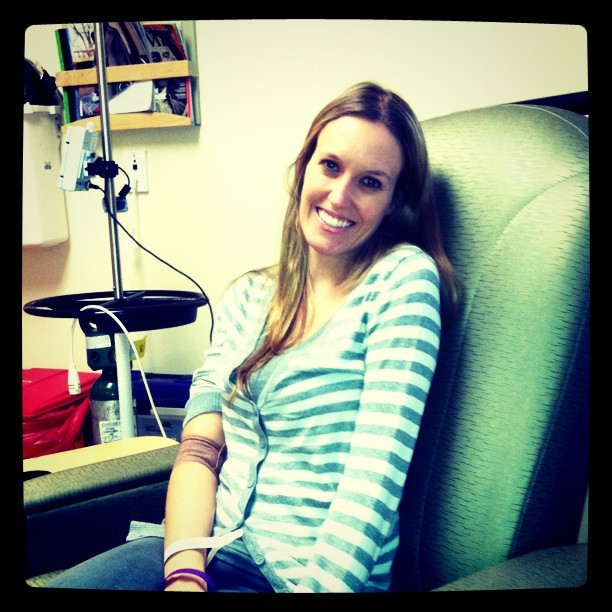 I am married to the most wonderfully supportive hard-working husband who just happens to be my best friend. We met in college in 1997 and dated until 2001 when we were married. He also happens to be the best father in the world. My husband, daughter and I have lived in Palm Desert, CA since 2006. We moved here from Charlotte, NC to pursue a more balanced lifestyle. I found out I was pregnant the day we moved!
I've always loved creating things. I grew up with a very crafty, creative mother and I have two very crafty, creative grandmothers that I was fortunate enough to spend a little time with at a young age before they passed away. I love creating with my daughter.
I learned to sew at an early age. It was the best "crafty" skill my mother taught me. I learned to paint in college at Wake Forest University from an amazing art teacher
Page Laughlin
. I was a mathematics major and ended up going into the financial industry, sometimes working 100 hours a week. Don't ask me how…..but I ended up in Leveraged Finance structuring and underwriting financing for oil companies.
After 6 busy years in investment banking (and somewhere in there getting my MBA), I started accepting painting commissions for colleagues in the little spare time I had. One day I just quit my job (well, actually I asked for a leave of absence to go and caddy for my
little sister Perry
). I was tired of never coming home the same day I went to work. I never ended up caddying for her….I ended up painting, sewing, drilling, journaling, mitre-sawing…..full time!
DIESEL
How could I forget Diesel! Diesel is our 2.5 pound Yorkshire Terrier. He will be 9 years old this year. He is so small sometimes I think he could be the smallest dog in the world. You can read more about him here.
A couple things that people are surprised to learn about me:
:: I used to fly airplanes…I was so close to getting my pilot's license….solo flight and everything…..but decided I just didn't "get it" and having to take Dramamine before flying was not a good sign. (I can't even drive a stick shift, should I really be flying a plane?!) My dad flew as a hobby and wanted us kids to be able to land it if something happened to him. You can read about him here, talk about someone with an abundance of energy…..
:: I love reading memoirs….of anyone, famous or not.
:: I once met Johnny Cash in a dream. I swear to God it was really him.
:: I used to show horses competitively and regret selling my thoroughbred Andy when I went off to school because I would probably still be riding.
:: I love being a mother but never had any desire to breastfeed or experience labor and I could not stand being pregnant. I'm a little scared my daughter will inherit my OCD, ADHD, stubbornness etc and be impossible to control.
:: I love being a wife and taking care of my husband. Sometime amazed that he puts up with my OCD, ADHD and stubbornness.
:: I eat 1 of two things every morning for breakfast along with a diet coke…..cheddar goldfish or McDonald's bacon, egg and cheese biscuit. My mother made us eat a lot of organic, barley, super-green algae, aloe juice etc growing up….and I think it backfired.
:: I studied abroad in China during college to learn Mandarin Chinese.
:: I can recite all the old testament books of the bible in under 14 seconds.
:: I can't stand to drink water. I drink about 5 diet cokes a day and only drink water when I run. I'm trying to change this. (Update: I haven't had a soda since October 21st!)
:: I have thought about opening a gun range. I am a really good shot….even with a heavy M-4 (similar to an M-16).
:: I love watching movies while I paint and as a result I have seen thousands (once I had Blockbuster print off movies I had rented from them…..it was a roll of paper about 10 feet long…I've switched to Netflix now to save money). I love movies that are based on true events.
:: I love donuts, mustard, bacon, broccoli, brussel sprouts, vinegar, deviled eggs, onions, chips and salsa, pancakes, peanut butter, chicken tenders, movie popcorn, nachos……but not together.
:: I hate asking for help…..for anything. I also don't like feeling indebted. But I love helping people and giving things away.
:: My daughter and I LOVE to make dance videos:
Lil Blue Boo clothing is an eclectic mix of original hand cut silk screens, vintage finds, recycled fabrics, and comfortable style. I have an amazing team of local women that I employ who all share the same passion I do for handmade, quality clothing that is made in the USA. We make everything "in-house" from the original patterns to the silk screened size labels!
(photos by Paint the Moon and Bloom)
Visit my workspace and behind the scenes!
I have a serious obsession for color, fabric and trinkets and I've pretty much taken over every available work space in the house and we are working on expanding a larger workspace. I love peeking into other people's work areas. You can see the evolution of my painting and sewing studios here. My workspace changes almost daily as my business changes and grows and I have to find more room!