This morning Sienna and I worked on the cardboard house. We focused on minimizing the exterior features we didn't like (the lack of window trim and texture) and enhancing the parts we liked (lots of window cutouts, the angle of the roof, front and rear entry doors). Our goal: increase value, add personality and make this house "the envy of the neighborhood."
Our color palette was "sherbet/beachy/princess/romper room."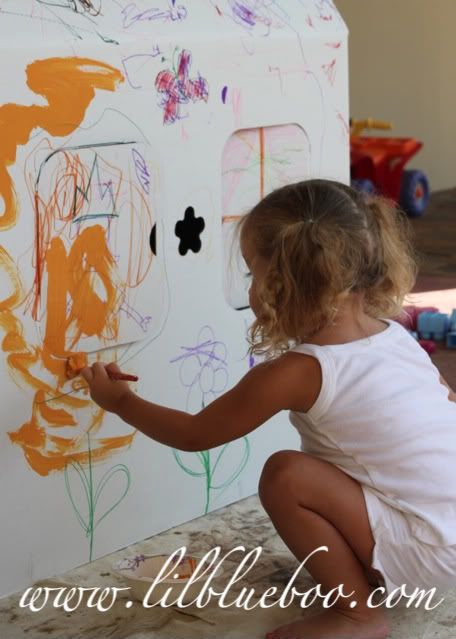 New shingles aren't in our budget so we spent mucho time on the roof……
….and decided that "trompe l'oeil" was the most economical choice.
Sienna had to spend considerable time "un-doing" my marker drawings from the night before…… especially the spider webs. It is very important to her that the house look well-maintained.
Sienna's favorite part? Mixing up the paint and cleaning the brushes.
Next time we'll tackle the landscaping, window coverings and door hardware……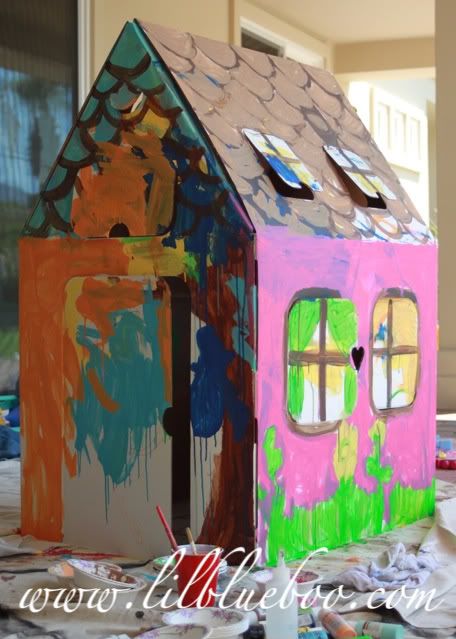 Update: Purchased at Costco for those who wanted to know. I might buy a few more and just make a big neighborhood!
A few tips for painting with children:
:: Lots of floor coverings (make sure to get the kind with a plastic liner so paint doesn't pass through). You'll enjoy yourself more if you don't have to worry.
:: Add enough water to the paint cups so the paint is easily "spread" with a brush. Make sure to use "fluffy" brushes that hold lots of paint….much more gratifying when you can cover large areas.
:: Designate "painting" clothes so you don't have to worry. Aprons are great, but they don't cover everything! Even I have my own designated painting jeans!
Comments