I'm so glad I don't have to keep this a secret any longer…… a New Year's challenge for you! And one that gives back! Announcing the Lil Blue Boo / Dharma Trading Design Challenge complete with fabulous prizes and donations for a good cause! Think of it as a "Project Runway" for kiddos!
1. Create a unique outfit for a girl or boy using a
Lil Blue Boo pattern
. Alterations to the patterns ARE allowed as well as additional coordinating clothing items and accessories! I want you to have as much creative room as you think you need!
2. Use at LEAST one of the following techniques in your creation: fabric dyeing, fabric painting, stenciling, fabric transfers, screen printing or other
embellishments
(including applique).
3. Multiple entries are allowed! So submit as many as you like! There will be a gallery spotlighting all of the entries.
4. After all the entries are received, a very distinguished, diverse panel of judges will narrow the entries down to 10 final designs and there will be a week long public vote on Lil Blue Boo! And then the winner will be announced!
Throughout the month of January I'll be highlighting new techniques you can use in the process!

First Prize
:
:: Choice of one of the following: 50 Person Tie-Dye Party Kit, Screenprinting Kit, or $50 Dharma Trading Gift Certificate.
:: $25
Lil Blue Boo Etsy Store
Gift Certificate.
:: Choice of boy or girl nursery painting from
my fine art website
.
:: "Challenge Winner" badge to display on blog or website.
Second Prize:
:: $25 Dharma Trading Gift Certificate
:: $25
Lil Blue Boo Etsy Store
Gift Certificate
Third Prize
:: $15
Lil Blue Boo Etsy Store
Gift Certificate
Each judge brings a unique perspective to the Challenge so that no design style or color combination will be overlooked! Judges will be looking for creativity, wear-ability, uniqueness, personality, etc.
Dana from Made
Dana's passion revolves around sewing children's clothes and using photography to showcase the clothing in a beautiful and fresh way. I love her modern style and how seamlessly all her designs flow through her site. A little known fact: Dana also has a film background. She'd never tell you this herself but I think it is awesome….she has
her own imdb page
.
Disney from Ruffles & Stuff
Disney has been sewing since she was a little girl. She made her first quilt she was only 6 years old! She is a stay-at-home preacher's wife who loves to sew for her daughter, herself and her home. She is inspired by historical fashion, femininity and nature.
I happen to think some of her impromptu fashion shoots could be mistaken for vintage Chanel ads!
Fun fact: Her lineage is full of talented sewers dating back to her great-great grandfather who came to the U.S from Sweden as a gifted tailor.
Candace from Sparkle Power
Candace is a self taught seamstress that loves vintage fabric and doilies. Her only wish is that there were more time in the day to make & create. I just love browsing the beautiful things she has made for her daughters and reading her honest and heartfelt posts. She currently runs the Sparkle Power etsy shop with her husband. Little known fact: The popular La La Love You prints in her shop were created last minute to fill in her first craft booth….and they have since become her top selling item!
Shari from Happy Chickadee
Shari is an artist who ran several successful art galleries in Canada before moving to Palm Desert to run yet another art gallery. Shari now co-owns the successful online boutique Happy Chickadee which specializes in unique girl's clothing and loves sewing for her daughter in her spare time. Fun fact: she personally installed the massive sculptures at our local Palm Springs airport and once had martinis with Robert Rauschenberg.
Rae from Made by Rae
Rae refers to herself a professional home executive which is probably an understatement. With her sewing patterns and other craftiness she has made quite a name for herself in the blog world. Fun fact: She is formerly a high school physics teacher.

1. Post photos of your finished outfit/outfits on your personal blog or website. Make sure to include what pattern and techniques you used for inspiration and a little about your creative process! Make sure to include the words "Lil Blue Boo / Dharma Trading Design Challenge" in your post and link back to the Lil Blue Boo blog.
2. Email me a link to your post along with your best photo of your creation for the Design Challenge Gallery. Feel free to add your blog watermark to that photo, especially if any children are in the photograph.
3. All entries due by February 15th at midnight (Pacific time). All entries welcome!*
*International winners may have shipping restrictions on certain prizes.
For every 10 entries received, I am donating a Lil Blue Boo dress to a child in need. I'll be sewing them as entries come in or taking dresses out of my Etsy store to keep up! I'll keep a running update of dresses donated! So spread the word and keep ME busy too! Shelter from the Storm
received a large donation of dresses
at Christmas time so for this contest I am going to reach out to
Martha's Village & Kitchen
. There were a lot of needy children there at Christmas time!
Grab this html code and paste it into your sidebar to display the Challenge badge to help spread the word and/or to show you are participating. The html will display the graphic shown below and will link back to all posts associated with the challenge.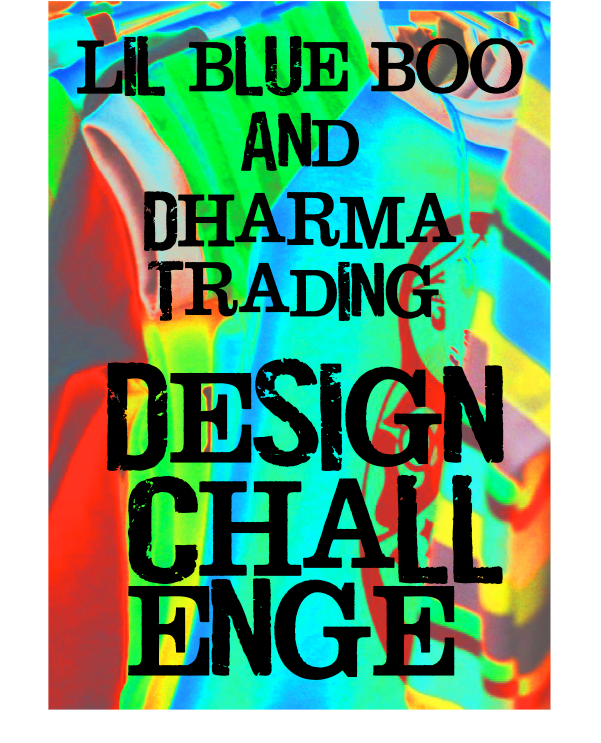 Dharma Trading has a great page for ideas and techniques that you can find
here
. Stay tuned for the additional tutorials I will be adding over the next few weeks as well!
We can't wait to see what you create!
Comments