Disclaimer: This post is a little graphic in places.
It's funny, anytime anyone complains around here I am SO quick to quip: "God only gives you as much as you can handle." I had to be reminded of this today.
My husband is gone for 4 weeks for work….and I know families do this ALL the time but we've never been apart for more than 5 or 6 days…..AND Mr. LBB does a substantial amount of the work around here to help me out. He makes breakfast for Boo every morning and takes her to school and he puts her to bed at night. He also takes care of Diesel and does most of the household chores.
Let me be clear, I'm not complaining,……but so much has happened recently, including the death of my father, it's almost become comical. If I seem a little loopy or off the wall lately here's why:
1. Someone took Boo's precious blankie from her school.
It was so devastating to her that I launched a FULL SCALE investigation over the course of a week: Blankie-gate.  In a moment of pure insanity I even contemplated bringing the police into it. Boo and I made flyers and posted them everywhere at her school: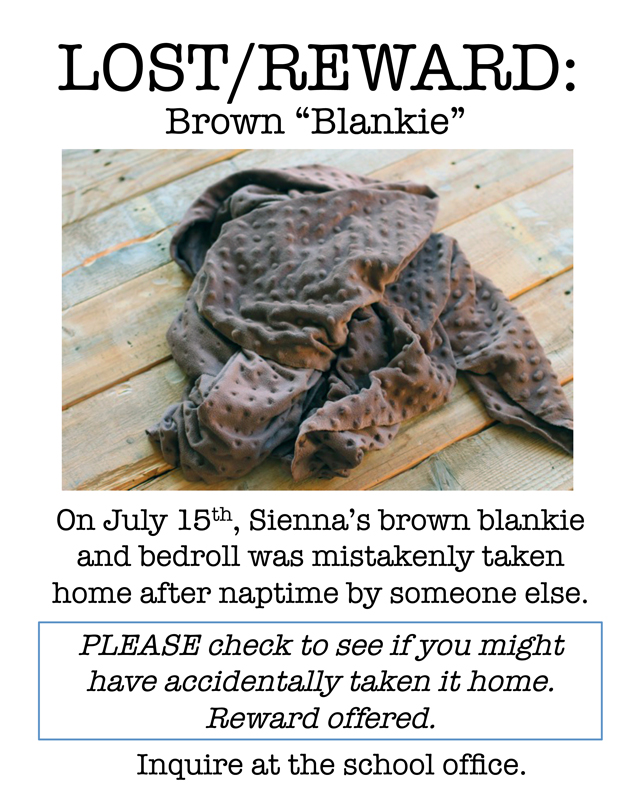 Guess what. It worked. The blankie was returned the day after the flyers were posted.
2. I've had to deal with the aftermath of a miscarriage.
Mentally I've been okay….physically not so much. The worst of which was losing about a pint of blood in a fast food restaurant wearing tiny white shorts. I felt like I was in a trauma scene from a Lifetime movie. My first thought: I should have worn that awesome disposable underwear the hospital gave me as a parting gift. But it gets worse….the doctor told me I was to bring any tissue my body passed in so they could send it to the lab for testing.  Public restrooms are my worst nightmare……and I had to reach my hand INTO that public toilet to save who knows what. I spent 30 minutes scrubbing my hand raw…and thinking of all the diseases the lab was going to find in MY tissue that was from the PUBLIC toilet.  During the whole episode I had these flashbacks to when I was about 6 or 7 and my mother had a bleeding accident with white shorts and she was ushering my brother, sister and I through a Sears store to get the ladies room as quick as she could.  I clearly remember hanging back about 30 feet….so embarrassed and hoping that no one would think that I was with her. I remember her looking so sad and flustered as she tried to clean herself up as much as she could while trying to wrangle two toddlers. I felt so bad about that for so long. Now I know how she felt.
3. I had to go into surgery for a D&C.
Let's just say the surgery was the easy part. The hard part was coordinating logistics for getting me to and from the hospital and supervision for Boo. Not only was my husband out of town, but my inlaws were out of town too. I have a hard time asking for help and even contemplated a taxi so I wouldn't have to ask anyone for a ride. It worked out though……Gicela kept Sienna for me, Lisa dropped me off for surgery and made sure I was admitted okay. My sister-in-law Carolyn picked me up and stayed with Boo and I until we fell asleep that night.
I'm not the greatest patient either. I threw a hissy fit when they said I couldn't eat the night before….my surgery was at 4:30pm…..that means I should be able to eat up until 4:30am!  That doesn't seem fair! I spent 30 minutes negotiating and they finally gave in when I told them that I would DIE if I had to go that long without eating. Oh, and they forgot to tell me that I was supposed to eat only clear liquids for 48 hours before….."Does McDonalds count as clear liquids? Because I just had a bacon, egg and cheese biscuit on my way to this appointment." I was granted an exception there too.
4. Late last night, Boo was admitted into the hospital for what they thought was appendicitis.
It turns out it is probably something viral and she's okay. But it was the icing on my manure-cake for the week.
In the hospital, when they were talking about keeping us overnight all I could think was:
I've left every light on in the house.
The dog hasn't been fed.
I have no clothes and I haven't eaten in 8 hours.
I have a doctor's appointment in the morning for my surgery follow up.
I'm so tired I might throw up…..even though my stomach is eating itself from hunger.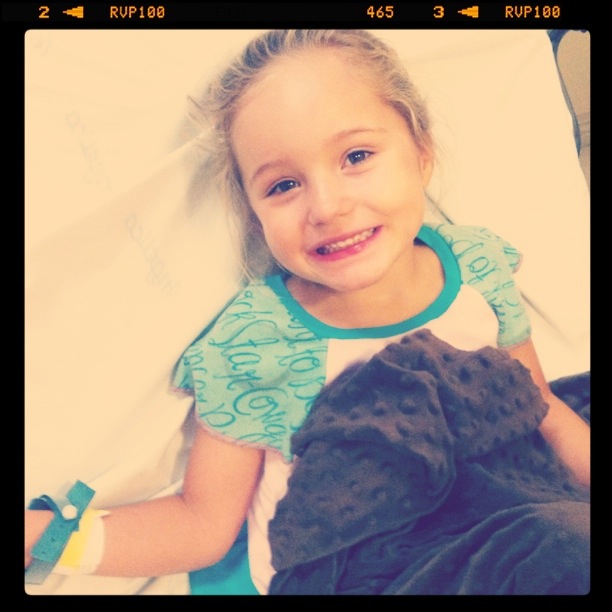 There were a few funny quotes from Boo in her fever delirium:
Can you please put the popcorn in the refrigerator?
Remember when it was the first day of the world?
I tooted on Papa.
Remember when I was a baby and I threw up in your hands? That was hilarious.
Thank God for my father-in-law who is a doctor at the hospital and was able to help the process along. At 11pm, I was sitting in the drive-through as the Walgreen's pharmacist was filling prescriptions for Boo, I told him I would just be taking a short nap until he was finished.
Shortly afterwards, I climbed into the bed next to Boo ready to collapse and the next thing I know her temperature was back up to 104.  I think I slept about two hours total last night.
Tomorrow is the last day I have a chance to drive to L.A. to pick up the rest of the fabric we need for the clothing line so I can get our fall styles finished before I leave for a trip with Boo to see my mother. It's not the fabric that's a big deal….it's that I have employees that depend on me for work and I have to make sure they are taken care of.   And with poor Boo sick…..whoever can watch her tomorrow will have to give her rectal suppositories for fever reduction.  That's a hard thing to ask non-family members to do.  Thank God for Lisa who is so sweet and understanding…..I know she'll do what she has to. (Lisa you better show up for work tomorrow haha!)
Lastly…..
5. A lady flipped me off for no reason in a parking lot because I was driving too slow….and after ALL the other things….THAT made me cry.
NOW, let me count my blessings and say how much I think single parents should be praised and appreciated. I now know it is the hardest job in the world. Even the littlest things, like running to the store to get medicine for your sick child, can become a huge ordeal because you can't just run out.
So….
If anyone else out there is feeling exhausted, overwhelmed and like they are at their limit…..remember God DOES only give us as much as we can handle. It's all manageable and will work out.  And if you happen to see someone that might be having a hard time…..or losing it……don't judge, ask them if they are okay or maybe just give them a smile.  There's no telling what they might be going through that particular day. And to the lady who flipped me off in the car……I'm sorry you were having a bad day too.
Image Source