Thanks to everyone for your sweet words and stories on my Single Parenting post. I'm glad so many others can relate….it puts everything into perspective right!? I made my trek to L.A. today and JUST missed the traffic on the way back. I'm so excited to finally finish up our new fall collection with the fabric I picked up today. The collection will be released the last week of August!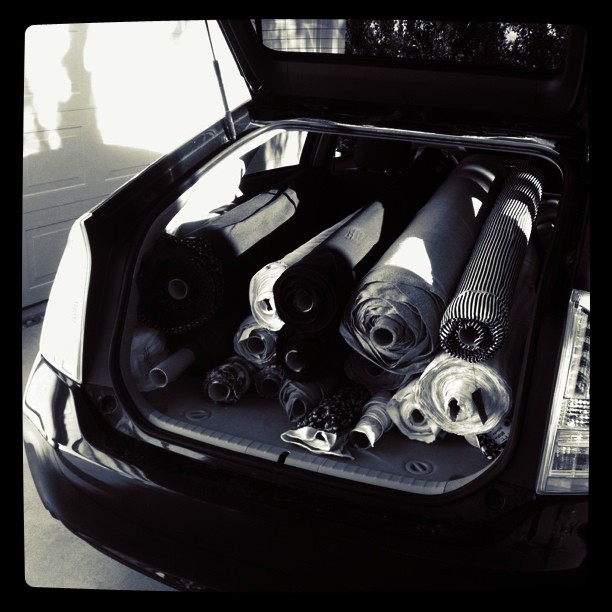 So many of you have emailed me about your experiences and embarrassing stories…..I've loved reading them all! Amy left a comment that there should be a "club for all women who have had unfortunate incidents in white pants, shorts or skirts"…..I'd join that group!!!
Anyways, on my drive to L.A. today I kept thinking about other embarrassing moments in my life….or ones that I've witnessed for other people. It's nice to be able to laugh at your most embarrassing moments down the road. I think it gets easier as we get older….I remember crying to my mother that "my life is ruined" over the littlest of things when I was a teenager. Haha….if only I'd known how SMALL a blip those things would be on my life radar.
So about embarrassing moments:
There are the moments that you wish you could disappear: It was my first day at a new private school in the fourth grade. We had just moved into Charlotte, NC from rural SC…..I'd never heard of the GAP, Guess or any other brand that most kids at the school knew about. My mom sent me to school wearing pink corduroy pants that were a tad too short on my lanky frame and a pink plaid shirt that she'd made….with a little tie that definitely resembled a bolo tie.  I could tell immediately that I didn't fit in. I tried to act as "cool" as I could…..and I thought it was working until I accidentally rocked a little too far back in my chair. I fell backwards and pulled my desk right back on top of me with a huge crash. I remember lying there with my highwater pants sticking out the other side of the desk and all the kids laughing hysterically.  It was the worst first day ever.
There are the moments that you wish you'd stepped in and helped someone out: Around age 13, I was in the church bathroom and a young girl walked out of a stall with her skirt tucked into her pantyhose. It was like the world was in slow motion and I couldn't register what to say…..and I let that poor girl walk right out and right down the aisle during the service in front of everyone. There were about 2,000 people in our church congregation. I STILL feel sick about it over 2o years later.
There are the moments that can change the direction of your life: I used to take flying lessons….my dad encouraged us all to do it in case he had a heart attack while flying the family somewhere. On my first solo flight, the instructor got out and waved goodbye. I taxied the plane to the runway and attempted to do my radio check. To my horror, the radio didn't work. I tried everything and couldn't get a response from the tower. There were planes behind me waiting to take off and so I pretended I was going to take off and then halfway down the runway aborted the flight and brought the plane back in. My instructor walked up to the plane and opened the door. My hands were shaking and I was close to tears….I choked out "the radio is broken…I didn't know what to do!" He looked at me for a second, then looked at the radio…..and then turned the volume button up. Radio fixed. I was mortified….and decided that day that I just wasn't cut out for flying.
There are the moments that become family folklore: One summer my dad flew us all to the Outerbanks for a vacation. He had to make some phone calls and told us all he'd meet us on the beach. We all got on our bathing suits and were playing in the sand and water.  My dad showed up a few minutes later and we noticed something was off…..he was just in his underwear. With his dark sunglasses on in the hotel room he'd forgotten to put his bathing suit on!  He was so embarrassed….but we were all rolling on the sand laughing so hard that it became one of our favorite stories to tell.
I'd LOVE to hear some of your most embarrassing moments!  Share them in the comments……we can all laugh about them together now.
Have a great Friday night!  XOXO