Yesterday we drove to my sister-in-law's house in Ladera Ranch to celebrate my nieces' birthdays. We knew it was raining there and we told Boo and she immediately turned to the dog Diesel and said "It's RAINING, Diesel!!!" I love that she talks to our dog like he's a human. We saw some incredible rainbows along the way….it was so windy Mr. LBB had to be really careful so our car didn't get blown off the road: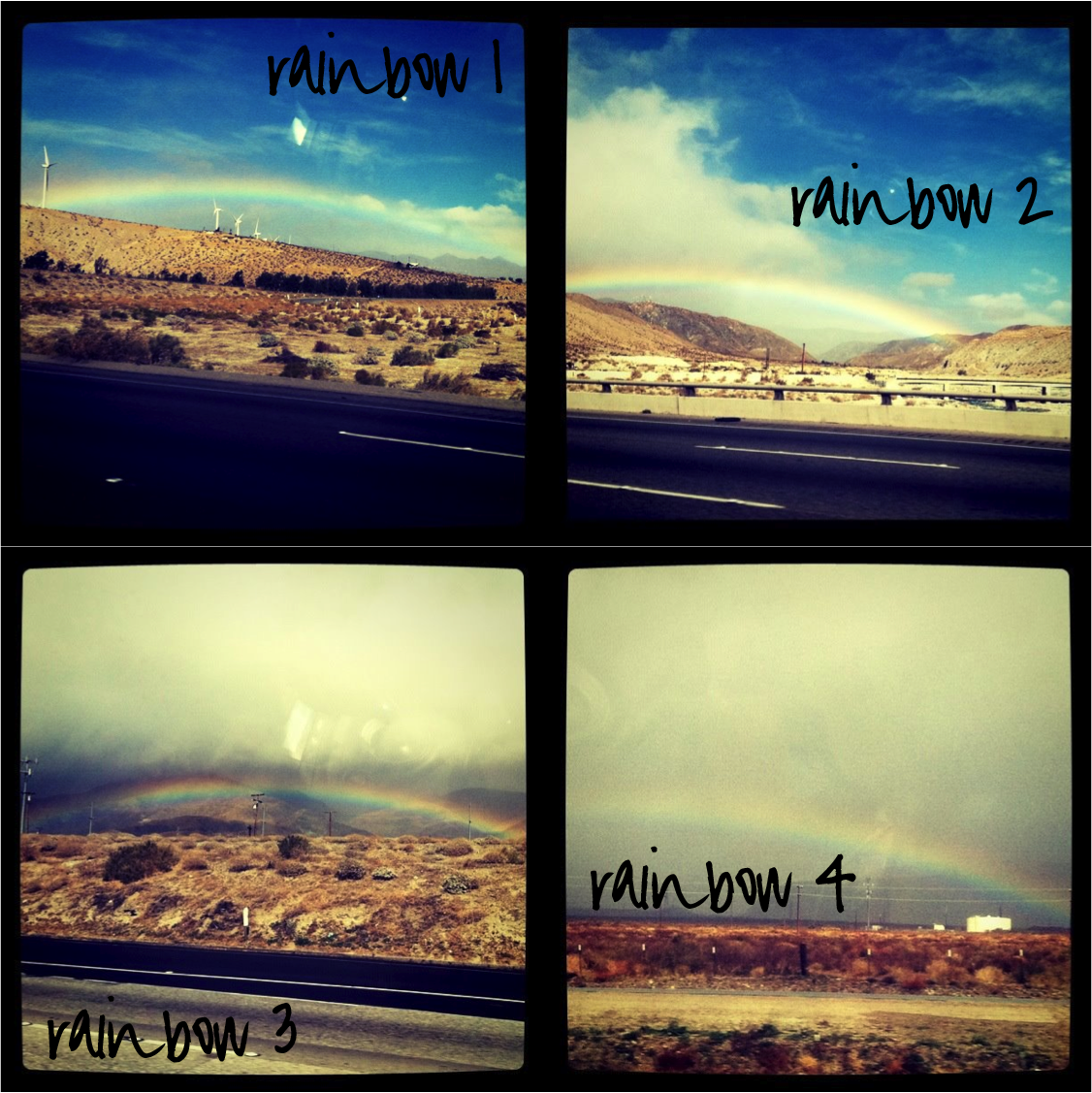 My two little nieces, Sawyer and Cari, were born only a day a part. These two gals are my little buddies. Seriously, they make me laugh all day long. And they couldn't be more different from each other.
Sawyer is so sweet and polite…..once I accidentally knocked her down and she apologized to me instead. She's very organized and follows every little rule. But she gets a one track mind….and reminds me of the talking dog Dug in UP…..when she sees something she wants, like maybe a potato chip…..she'll repeat "chip, chip, chip, chip, chip……" 4,000 times. She doesn't like to be dirty or messy. Her vocabulary is better than mine. Sawyer just kept calling me a pirate and saying "arggggh" and then laughing hysterically.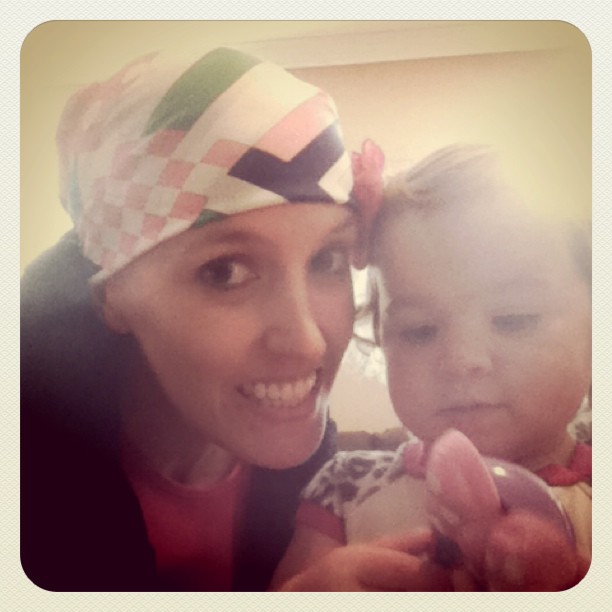 And then there's Cari……she marches to the beat of her own drum. I call her my little "pig pen" because she will do a face dive into dirt or sand and just lay there and enjoy it. And she'll eat a little of it too. She's the most independent child I've ever met….and the most fearless. She makes up her own language and it's awesome. She'll decide if she's going to talk to you…..and when she does you feel like you've hit the lottery, literally.  I took off my hat for the first time for Cari…..and she kept looking in my hat for the hair. Oh and she's almost impossible to photograph.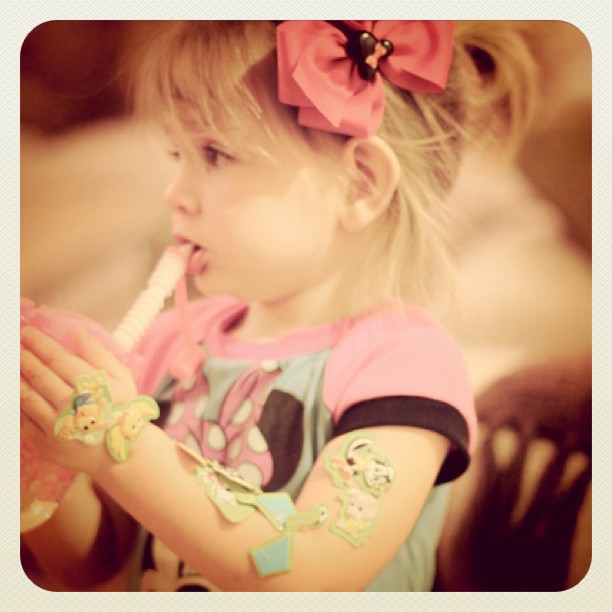 While we were gone for the day the crazy wind storm set off our burglar alarm. The alarm registered on 4 different doors…..THAT is a lot of wind. Poor Diesel! There were palms all over the place and you could tell the desert had been buffeted! The Internet was out and we went to bed and I slept in late this morning: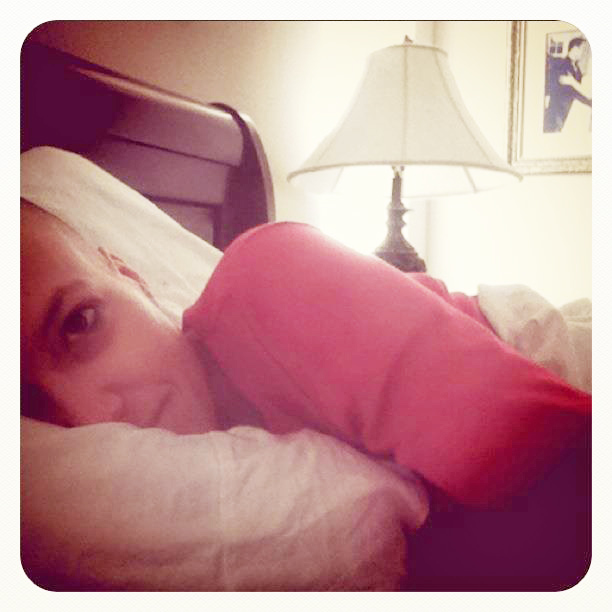 So I have a confession to make……I haven't been going to church. I haven't been in a long time….like years (except for holidays). I don't want you to misunderstand though…..I am very religious. I read my devotionals and I pray several times a day. Boo goes to a Christian school.  I grew up in a very religious home and I know every bible story inside and out…..I can even recite the books of the old testament in under 14 seconds (I use it as a party trick).  But I've just never felt like church was for me….why do I have to worship in public?  I'm the one that plays tic-tac-toe in church…..or makes my grocery list…..and checks off the items in the bulletin to keep track of the progress. Yes, that's me.
It's the first weekend since my mother left and she had been taking Boo with her to Sunday school. So I asked:
Me: Do you want to go to church this morning?
Boo: YES!!! I LOVE Sunday school!!! Get UP!!!
Well, I don't want to be guilty of depriving my child of the word of God…..so we got up and went to church. The church was PACKED when we got there and Boo TOOK off running and sat in the very front on the side where no one was sitting. I was sure they were reserved seats at first…..but she knew where she wanted to sit. So much for going under the radar and sitting in the back. We had to follow her and walk all the way down in front of everyone and sit where literally where everyone in the whole congregation could see us….and then Boo starts waving to everyone that she recognized.
So we sit down and the first thing I realize is: my NAME is on the prayer list…..which is a blessing, except I've been skipping out on church even when I felt up to going…..so I felt super guilty. Then the first announcement is that 2 church members had passed away from cancer in the previous days.  This isn't starting out so great. Next came the children's sermon in the front before all the children are dismissed for Sunday school….and the teacher brings out a huge ultrasound photo. I was just waiting for Boo to yell out something like "hey guess what, we were talking about this last night and my mom can't HAVE babies anymore."  At one point, my pelvis area started hurting and throbbing and I felt faint and couldn't stand anymore….so I had to sit down while singing. Then, I drank so much water….I had to walk in front of the entire congregation for an emergency bathroom run. The women's room was occupied so I used the men's bathroom and just prayed that no one would come in. When you have to go, you have to go.
Of course everything is in God's plan…..because today was the first day that I felt like God was IN church. I've never felt that way before. I like to do everything in my own time and I always felt like I was being forced into a time slot with God on Sunday mornings. If I feel like I'm being forced into something….I'll run fast the other direction. But on the other hand, every day I feel like I am overflowing with faith….and trust…..and peace……except that I am lacking in the scripture knowledge to back it up.  Today….I listened to every word….and for the first time, in my whole life, the words made sense to me.  I was interested. Pastor Julie's sermon was on Psalm 25 and I related to every sentence: YES, that's why I'm not fearful! God IS giving me guidance…..I just couldn't put it into the right words before. All that I am DOES belong to God…..that's why I have faith and know that this is how my life is supposed to be! That's what I've been trying to tell people!
The hymn after the sermon was Surely the Presence……and I felt like God was saying "don't forget this for next Sunday."

Then I got home and pulled out my dusty bible to mark Psalm 25…..and I found 100 post-it notes all throughout it that my mom left me marking passages. Thanks Mom.
So, I can't promise that I'll go to church EVERY Sunday. But, I'm already looking forward to next Sunday.
****
So….now I've had a few days to think about the fact that my cancer is chemo-resistant and there is something growing inside of me that hasn't been stopped yet.  Yes, it does cross my mind every once in a while that I might die from cancer.  I even asked Mr. LBB to make sure there wasn't any "cancer clause" in my life insurance policies. But it's not fear….it just crosses my mind. The only thing I actually get nervous about is being in horrible, horrible pain. Let's be honest…..I "dialed-a-c-section" with Boo…..because I had no desire to go into labor if there was an easier way to get her out……and I tried breastfeeding ONCE because it grossed me out and I thought I might throw up on the baby. This Thursday can't come soon enough…..for the start of the new chemotherapy…..I'm being really impatient. I've filled every day until then with an activity so this week will go fast. We are also starting to look outside of the desert at some specialists. Dr. L is doing the best he can, Dr. R at Loma Linda has been great, and I hate to go far from home, but that might be what it takes! No dilly-dallying around.
I hope you all had a wonderful Sunday with your families!
Show me your ways, O Lord. teach me your paths.
guide me in your truth and teach me.
for you are God my Savior,
and my hope is in your all day long. Psalm 25:4-5