I feel like a pool being tested for chlorine.  My mom left these ph strips for me to test my alkaline levels. It's kind of fun!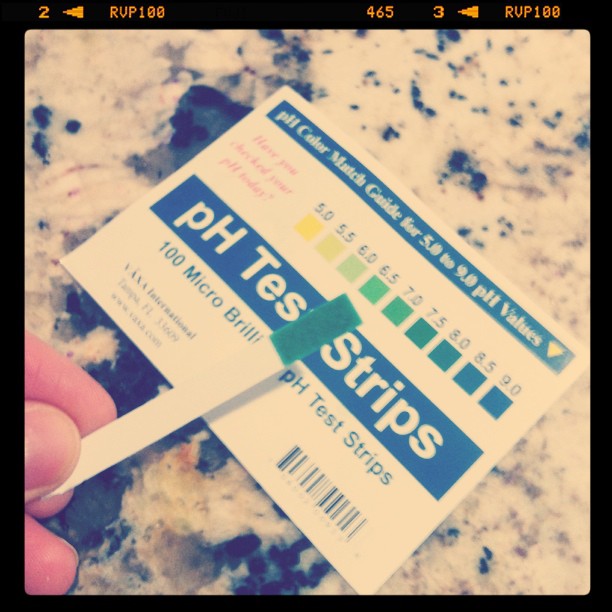 I can't go crazy with nutritional stuff……if it's complicated I get too overwhelmed and won't do anything. I let my mom read all the books and then she filters the important information to me. So, here's what I know about testing your ph in a nutshell:
:: Yucky diseases like cancer, heart disease, arthritis, osteoporosis, etc are associated with excess acidity in the body.
:: Cancer cannot exist in an alkaline environment.
:: Goal is to be in the healthy range….and that is done with nutrition and supplements.
:: Things I eat that causes my body to be too acidic: beef, artificial sweeteners (Splenda ugh), cheese, soft drinks
:: Things I can eat to bring my body the other way to alkaline: olive oil, broccoli, almonds, celery grapes, raw spinach
My takeaway: I ate donuts this morning…..but I also ate a ton of celery, cucumbers and a little cheese for lunch. It all balances out.
(P.S. You can get ph test strips at most health food stores.)

There are tons of websites out there. I'm a beginner so I don't want to point anyone to any sources. But feel free to leave your own resource links and thoughts in the comments for others to read! (I do like the easy chart on this site here though.)
I've got an appointment tomorrow morning at 9am with Dr. L to discuss my CT scan from today!  I'll fill you in tomorrow!