Well, I got my HCG numbers back yesterday and they haven't moved……despite the icky Cisplatinum drip last week. The good news is they didn't go up!  That means either the tumors are just being stubborn and not shrinking or some are growing and some are shrinking and balancing each other out. I think they are just being stubborn…..holding on for dear life as we try to annihilate them. I have CT scans on Monday so I'm excited for those. It's always nice to see what's going on inside.
Thanks to the steroids from Thursday…..I felt amazing. I've got this whole health regimen going on too which I swear has made a huge difference the last week…..I'll share soon as soon as I get photographs and put it in manageable format. Lisa said she heard me say on the phone during a phone call: sorry I'm talking so fast….just too much energy today!
I had a run-on sentence day……you won't want to actually read this…..but it's a great picture as to why I didn't do a blog post last night! 
I woke up at 6:30am and jumped out of bed, I did my makeup all pretty, I went to Dr. L's office for my Nuelasta shot, then I went to Clark's for a wheatgrass pallet and our other local health food store for a smoothie and an egg salad sandwich, then came home and made a bunch of phone calls and picked up Boo early from school. Boo and I went to the school thrift sale fundraiser and I bribed the lady at the back door to let us out with a quarter so I wouldn't have to wait in line 45 minutes to pay for a 25 cent rubber ducky. I researched and ordered an inexpensive wheatgrass juicer on my iPhone…..first time placing a mobile Amazon order….hope it went through.  We went to Marshall's…..I had promised Boo an insulated tumbler cup like mine and they had them there for $4.99, then we went ran 400 other errands (did you know they make special tennis balls just for kids? you can get them at Sports Authority…my FIL is teaching Boo to play tennis).  Next up: Target to stock up on breakfast cereal, Sephora so I could get some under-eye concealer to cover up my new dark circles, the dog boutique to get Diesel a new collar that doesn't choke him, and Walgreens to buy a stockpile of enema systems. The guy at Walgreen's thought I was nuts when I told him I was paying enemas forward as gifts. Oh, Boo ate it on the pavement outside of Sephora so the nice lady inside patched her up. We finally made it home by 5pm to say goodbye to Lisa and Gicela. We weren't allowed to talk to Lisa all day…..she was in Choose Joy necklace shipping frenzy. Are you tired yet? Boo and I practiced her tennis on the back patio and then we made some recycled crayons. Our friends George and Jodi came over for dinner and we all played Candy Land with Boo……resulting in the biggest meltdown in history when Boo lost. Then Boo mooned us a few times. Then she "sunned" us and we decided it was time for her to go to bed. Mr. LBB and I fell into bed and watched Moneyball. Great movie. PHEW.
Not part of the health regimen (the only healthy cereal, Crispix, is Boo's!):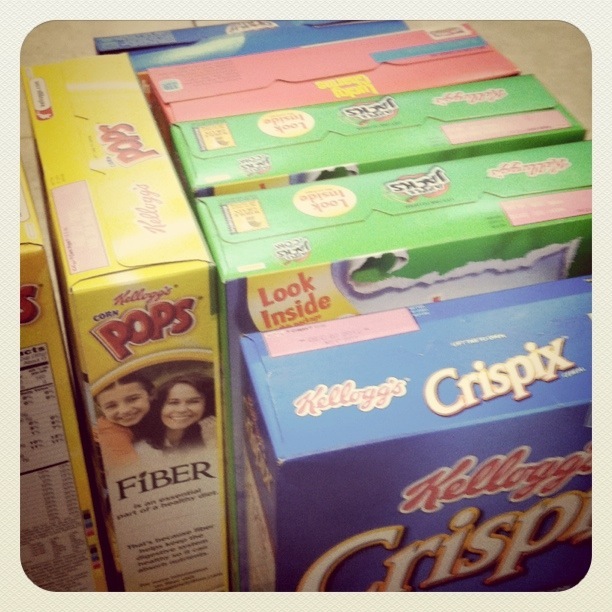 We might try to make it to the Wildflower Festival today. I've got exactly 4 more precious days until they kick my butt again with Cisplatinum!
Hope you have a great Saturday!
XOXO,
Ash