Lisa here! Last week I asked everyone on Facebook if they had any questions about Lil Blue Boo or Ashley they might want me to talk about in my next post. Let me tell you I received some really great ones. I love sharing little bits of info that no one would ever know unless they were a fly on the wall.
Question from Jessica: How did you and Ashley meet and what was your first impression of her?
Answer: Ashley and I met at a party (but I secretly "met" Ashley somewhere else).
In 2009 our mutual friend Amber was hosting a game night at her house  and I knew everyone on the evite but Ashley. I was excited to meet someone new, but a little curious as to who she was. What does one do when you want to find out more about someone?? You look them up on Facebook of course! She is going to die when she reads this! I swear Ashley, you did not hire a stalker. Really, I just wanted to see if I recognized her from her profile photo. Please tell me I'm not the only one to ever look someone up on Facebook!? A side note: make your page PRIVATE people (so I can't stalk you, lol!)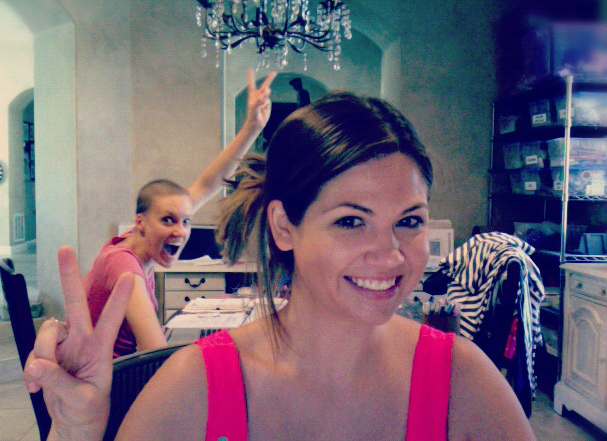 I don't think Ashley has the capability of being serious. She is always photo-bombing me, making fun of me, or making fun of herself.  Never a dull moment.
Just for fun, lets go back to '09. Thanks to the new Facebook timeline it was easy to grab some of her old status updates (remember when status updates were in third-person!?).
Ashley Swenson Hackshaw:
…thinks 10 inaugural balls sounds like a nightmare. I'd want to hang out in my new White House digs in my PJs.
…thinks whoever invented the laser level is a genius.
…loves Costco rotisserie chicken.
…thinks an earthquake while changing your child's diaper is NOT COOL.
Still sounds like the same Ashley!
My first impression of Ashley when I met her…pretty, tall, long blonde hair, witty, smart, knew a heck of a lot more about politics then I did. Ugh, I hated her (but actually really loved her).
We quickly discovered that we had a lot in common. We were both stay at home moms that liked to make things for our daughters. We  traded bows for handmade clothing. Oh, the good old days. We both had teeny tiny blogs and a love for photography. We clicked. Eventually, her blog started to take off, mine, not so much, ha! About a year later I went back to work full time, and Lil Blue Boo continued to grow.
When she asked me to join her at LBB I jumped at the opportunity. I knew LBB could be something really special, and there was no way I wasn't going to be a part of it. Fast forward to today…and I'm sending out autographed photos of Ashley. Yes, she really does get autograph requests. When I ask Ashley to sign a photo we try and act all serious, but then start giggling like school girls.
Ashley: Why would anyone want my autograph??
Me: I was thinking the exact same thing…hee hee, kidding.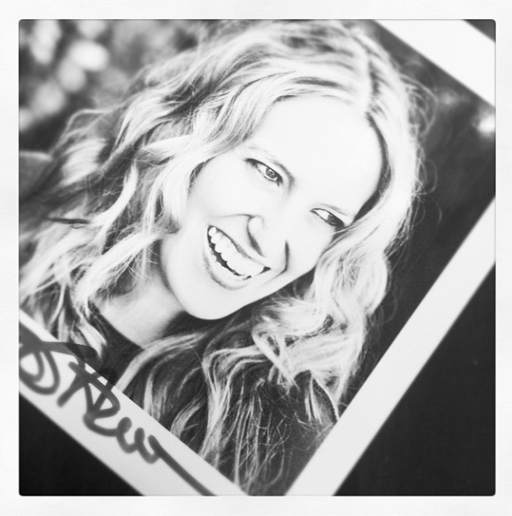 Here is one of  my favorite questions.
Question from Anonymous Reader: You and Ashley seem to get along so well! Is there anything that she does that really annoys you??
Answer: Why yes Anonymous Reader, thank you for asking! Gosh, where do I begin!?
Lets start with the cords. Those gosh darn cords! You see, a while ago the Mac crashed. After it was repaired, rather then restoring all of her main files back on to the desktop computer, she started working primarily from her  laptop at the conference table. This spot at the table has become her desk, DIY workspace, and kitchen. I have to step over the pile of cords that lay in my way EVERY.SINGLE.DAY.  I don't know, maybe she is lazy, or maybe she just wants to sit closer to me. I'm going with the former. Sorry Ash.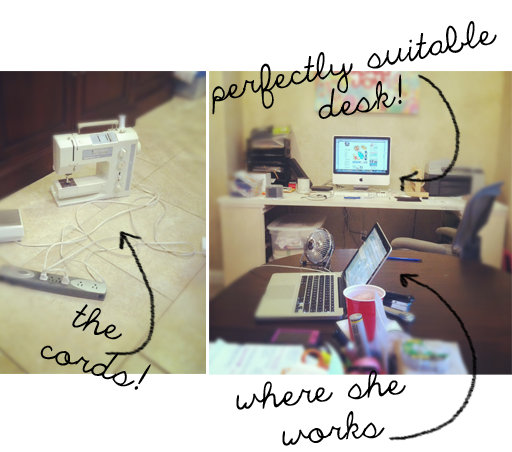 Then there is the fan. The infamous mini fan. Let me tell you a little story about the fan.
Ashley: We need a fan in here.
Me: Seriously! It gets hot in here with that chandelier.
Ashley: Yeah, and these hot flashes I'm having are killing me!
A few days later I notice the office got a new fan…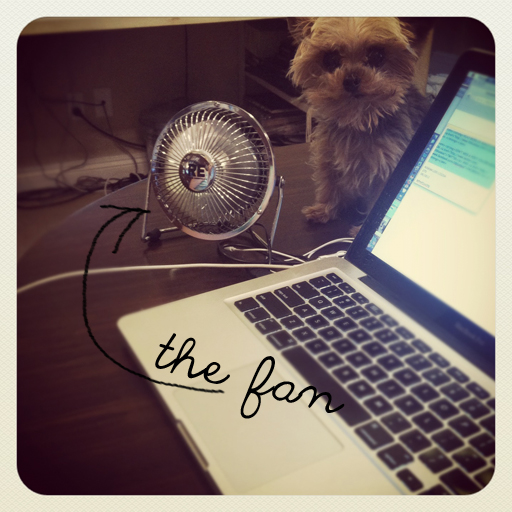 Hmmm…not what I was expecting. So, does she ever point that mini fan that plugs into her computer in my direction? That would be a no. Brett tried to point it in his direction while he was eating lunch  and was met with a harsh glare. Ashley told us where we could get our own, lol!
Now, this little fact doesn't really have anything to do with Ashley, but with Ashley's beloved dog. You all have seen Diesel appear in many pictures on the Lil Blue Boo blog. Well, did you know that I often times have to edit out a little something?? Yes, I have to Photoshop out Diesel's teeny tiny (sorry D) wee wee. Ugh, annoying, and gross.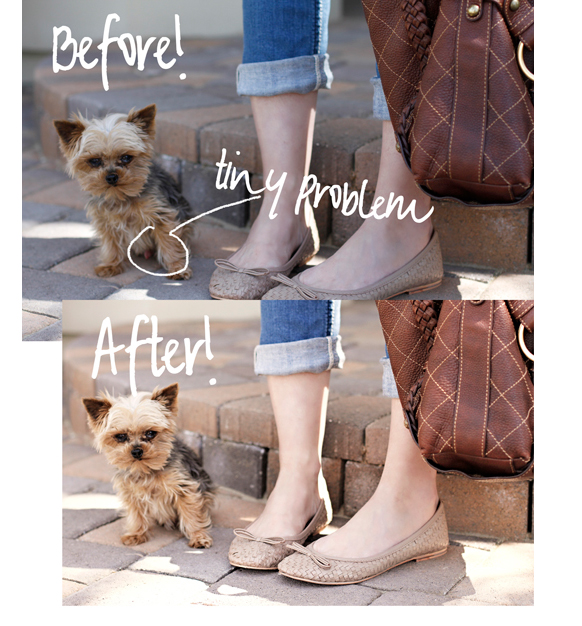 I will now leave you with that image stuck in your head. Have a fabulous day!
Hugs, Lisa
P.S. Any questions you have feel free to comment! Will work them into future post.