I do love it. And I'd be lost without it.
Me: I couldn't get to Jen's (my sister-in-law) without my GPS.
Mr. LBB: Well, when the lease is up [on the car] we'll get a handheld GPS if we need to.
Me: No, I mean I'm just saying if there was a nuclear war……and I had to walk hundreds of miles to civilization….I couldn't. I would have no idea where I was. I've never paid attention.
Mr. LBB: Well…..hopefully there won't be a nuclear war.
We've driven to Jen's house a gazillion times…..and I have no idea how to get there. All I know is she and her family live somewhere in California. I wasn't that great with geography to begin with…..but with navigation in my car it's only gotten worse. At my comfort shower, Jen asked my friend Katie if she was my "friend from L.A":
Katie: I'm from Rancho Santa Margarita.
Jen: Oh, Ashley told me you were from L.A.
Me: Sorry, L.A.'s the only city I know on the map.
Jen: So basically, if anyone is from southern California….they are from L.A.?
Me: Yep…..until I learn some new cities.
My sister gets me:
Perry: How do I get to L.A.?
Me: I don't know the roads….but drive west……and stop when you get to the ocean.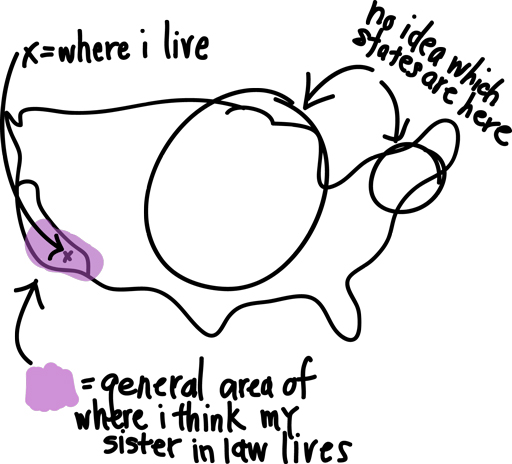 When Mr. LBB graduated from college (he's a few years older than I am), we drove a uhaul all the way from California to North Carolina full of old furniture his dad gave him.  I was the "map holder"….using the atlas to get us there….navigating a straight line across the U.S.   It was 120 degrees in the desert and there was no air conditioning in the truck. To keep the engine of the uhaul from overheating we had to periodically turn on the heat. Holy roasting.  I remember imagining that if we broke down we'd die of thirst before we got to the call box…..and our shoes would probably melt to the pavement. As we drove 2,346 miles,  I read him Vogue and gave him Cosmo quizzes….and he taught me about the highway system. Here's some random knowledge for the day that might help you in a trivia game one day:
:: North and south running interstates end in odd numbers (i.e. I-5 runs from California to Washington.) East and west running interstates end in even numbers.
:: Hawaii technically has interstate highways. Weird. But apparently they are called "interstate" because they were built as part of the federal highway system.
:: The U.S. interstate system is the largest public works program since the Pyramids. But I'm not sure the Pyramids can be classified as public works….
Comments