Over the weekend, on Facebook and a few blogs, I "overheard"some heated exchanges over a sign on a tupperware box.  Of course, I'll admit that I get myself lost in reading the drama late at night sometimes…..it's like a train wreck you can't turn away from.  The original photo has now disappeared from Pinterest and blogs….I'm not sure why…..maybe because someone was tired of being attacked? I don't blame them. I felt bad for them. Here they thought they had a great idea and then all the attacks and rebuttals started……over……a tupperware box. I can't even find the original source now: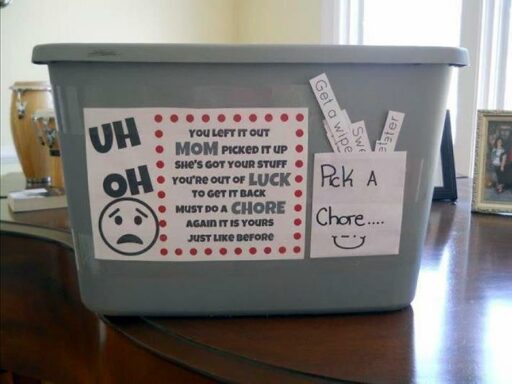 My first reaction was: who cares.
My second reaction was: if you don't like the idea of a tupperware box holding your kid's toys for ransom….then don't make one.
My third reaction was: wow, you have to have a thick skin to put yourself out there on the Internet.
Of course I didn't write any of these comments because you can't suck me in to the bottomless pit of mommy wars……
Nothing makes me run faster in the opposite direction than:
Women judging other women.
Women who complain about other women.
People who complain in general.
Parents nitpicking and judging perfectly good parents.
Parents nitpicking and judging perfectly good teachers.
Parents who constantly brag about how smart and gifted their kid is. Leave it to the grandparents.
People who "one-up" about anything and everything.

Why? It takes too much energy……I can sum this up in one graph: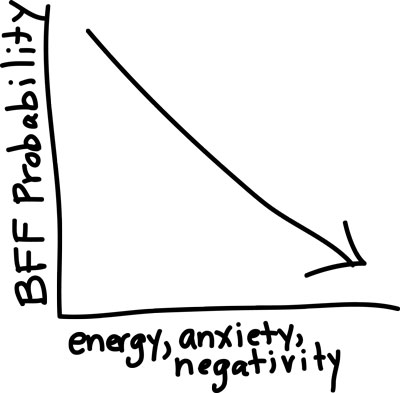 Wait, am I judging people that judge other people? I can't tell.
*****
Maybe this will make someone feel better about themselves today……here's where I fall on the parenting spectrum:
:: I spank. Mr. LBB doesn't. Boo laughs at my spanking. It's obviously not effective. I still do it. My parents spanked me. I turned out okay.
:: Mr. LBB believes in one scary, booming reprimand. It scares the bejeezus out of Boo….and me…but it's effective. And he only has to warn that he'll do it.
:: I think organic food is awesome…..and I think McDonald's and Chic-Fil-A only enhance it's effectiveness. Organic food seems really overpriced.
:: Mr. LBB and I don't curse or swear around our child. Ever. But she watches R-rated movies. And sometimes we curse behind her back.
:: I am obsessed with safety. The first thing I bought for our new house was a pool safety fence. I'll judge here: Pool fences will never be overpriced.
:: Boo always rides in a child seat….except for the times I've forgotten it. Mr. LBB has never forgotten the child seat. He's obsessed with safety too.
:: Boo has a strict bedtime…..somewhere between 7 and 11.
:: Oh and you might remember that I didn't breastfeed. Bring it.

:: Sometimes I take Boo to church just so she's entertained for an hour and a half.

:: I'm kind of a germ-a-phobe. If you have a messy, germy house I don't think there's anything wrong with you…..but I might make up 101 excuses why I can't come over to your house for a playdate.

:: I let Boo eat stuff she drops on the floor. I don't let her ride the germy 50 cent rides at the mall.

:: If I ever witness Boo being mean or bullying another child she'll have all privileges revoked. I won't tolerate it.
:: I'll admit I've encouraged Boo to shove another kid back to defend herself.
:: I don't want my kid to be the smartest kid in the class. Ever. It seems like too much pressure.
:: I'd totally use a tupperware with a sign on it to get my kid to pick up her stuff.

:: I turn into an insane lunatic over whining.

I'm a walking contradiction.  And I am an imperfect parent.
*****
I have two sister-in-laws that live in southern California….so we spend a lot of time together. And all three of us couldn't have more different parenting styles.
First, there's Jenn. (You know, the one whose house I can't find.) Jenn's parenting style is like a perfect little cupcake.  Her kids take a nap at the same time every day and go to bed on a strict schedule. They are always dressed and coordinated with bows in their hair. Her house is perfectly organized and there is a place for everything.
Then there's Carolyn. She flies by the seat of her pants. She doesn't care about having everything in it's place. She has three kids under the age of 5 and sometimes when they leave, you feel like tornado just came through.
I think I fall right in the middle of the two.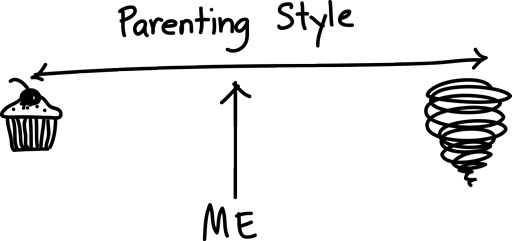 Both are amazing mothers I look up to….but in their own unique way.  And we all respect the others' parenting style.  And sometimes……I wish I had a better schedule like Jenn and that I could be more laid back about things like Carolyn.
And just because I do something now doesn't mean it's not subject to change. I'm always open to becoming a better parent.  When 40 people emailed me about the dangers of BPA……guess what I did? I threw out Boo's old bottles and bought new BPA-free ones. Actually, that's a lie. I gave the old bottles away to Goodwill. And I'm a horrible person for it. I wrestled for days over what to do: Do I send the old bottles to the landfill and let BPA leak into the groundwater…..or do I send them to Goodwill so someone can feed their baby BPA?  Decisions exhaust me and I gave them to Goodwill and left it up to them to make the decision.
I'm sure a lot of you don't agree with some of my parenting choices and I'm sure I don't agree with some of yours.  My feeling is…..if someone has an issue with the way you parent or I parent….it's their issue.  And guess what….sometimes I feel guilty for some of the choices I make when I'm parenting. And that's my issue.  I don't need anyone else's help in feeling guilty over it.
*****
Anyways, the whole tupperware box thing really got to me this weekend. It just seemed like such a super lame controversy. Yes. Super. Lame. Now I'm judging the controversy.
And something you'll never find here….me telling anyone how to parent.  I might tell you over and over how I parent…or I might encourage you to be a little bit nicer to other parents….and I might, just might tell you how lame your choice was to bash a parent over a tupperware box…..but I should make sure to include my disclosure statement:
Disclosure Statement (that I just made up): I don't have all the answers. I just do what works for me and my kiddo. As long as she's loved, fed, and clothed…..I think I'm doing okay.
Update: To my friends that are now emailing and asking if the reason I never scheduled a playdate was because your house wasn't clean…..it wasn't you….it was me. I have commitment issues with playdates. To the lady at the vet that wanted to schedule a playdate with your dog and Diesel….sorry, that was because of you. I don't do doggie playdates.