I've been telling my story….now it's time to tell yours!
These are so inspiring. I love all the smiles.
Thank you for sharing!

Meet Nicole!

Nicole was recently diagnosed with stage IIIc breast cancer (invasive ductal carcinoma). She is currently in her second round of chemo treatment and is experimenting with many fun ways to cover her bald head! I would say so! Follow her journey here.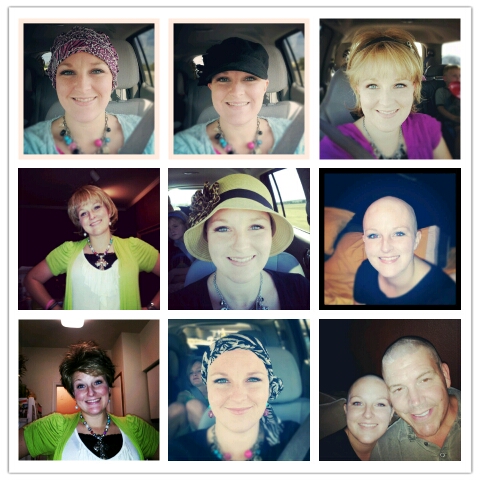 Meet Melissa!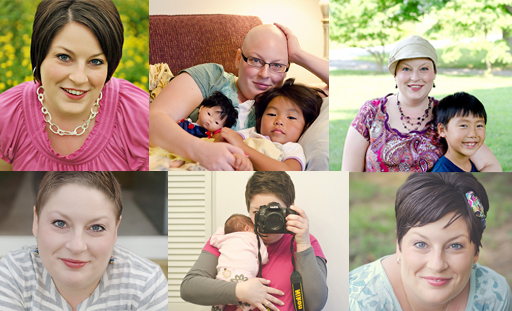 Melissa was diagnosed in March 2011 with stage 3c ovarian cancer. Melissa's photos chronicle her hair journey starting from before she began chemo, to living with a bald head, to hair regrowth, to her first hair cut and finally a photo of her today! Isn't she beautiful (with or without hair)!? She finished treatment in September 2011 only to find that the chemo had not done it's dirty job. Melissa is stable at this point, but still undergoing treatment.  Follow her journey here.

Meet Anne!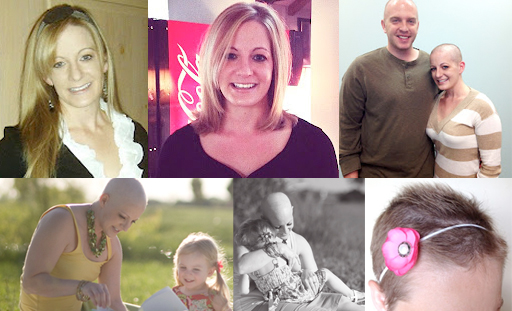 Anne was diagnosed with breast cancer at the age of 28. Shortly after beginning chemo she cut about 6 inches off to prepare for the impending hair loss. Her hair started to fall out pretty rapidly so she shaved her head (hubby did too!). Anne is now cancer free! It has now been 3 months since she completed chemo and her hair is growing back beautifully! She says she has finally worked up the courage to ditch the wig! Read more of Anne's story here.

Meet Harmony!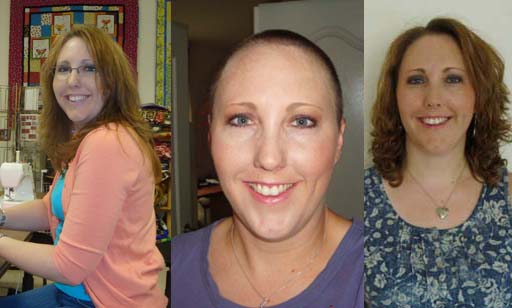 Harmony is a breast cancer survivor of 22 months! Harmony cut her hair short before starting chemo, cutting 11 inches off! After her first round of chemo she decided to go in to get her head shaved. Look at those beautiful eyes! She wore a wig for about 2 days before switching to bandanas.  These are photos of her before her diagnosis, after she shaved her head then two years later.

Meet Ella!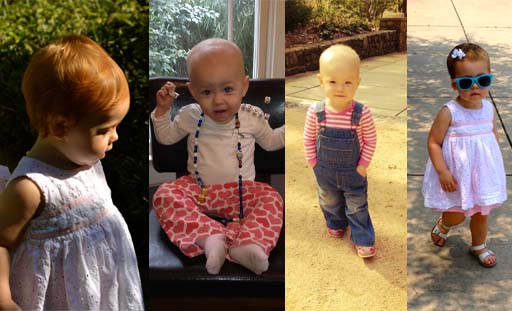 Ella was diagnosed with a type of kidney cancer in September of last year.  The first picture is her a few days after her diagnosis, the next two are during treatment, and the last one is of her rocking some hair growth (and her first post cancer hair accessory!) a few weeks ago.  Ella's mom Kacy tells us that Ella is currently NED (no evidence of disease)!! Read more about Ella at her Caring Bridge site.

Meet Erin!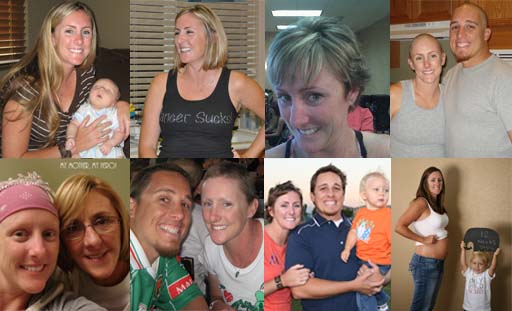 Erin was diagnosed with Hodgkins Lymphoma in August of 2009. The first picture shows Erin's long blonde hair before her cancer diagnosis. After she was diagnosed she decided to get that A-Line hair cut she had been dreaming about. When her hair started to fall out she was finding it everywhere, including the baby's diapers, so she decided to get a "transitional" pixie cut. Eventually she decided to have her husband shave her head (he shaved his too!). By the time she had reached her last day of chemo she had lost all of her hair including her eyebrows and lashes. The hair she lost was blonde and straight, but grew back dark and curly. Today, it is past her shoulders and we are happy to report she is healthy and expecting baby #2! You can follow her blog here.

Meet Rachel!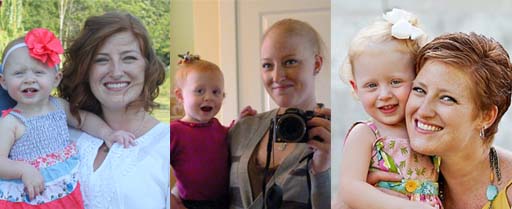 Last year Rachel was diagnosed with Nodular Sclerosis Hodgkins Lymphoma, Stage II.  After starting chemo her hair started falling out really quickly. It just kept getting thinner and thinner.  She wore hats through the first half of chemo, then wore a wig in public. Rachel has an adorable crew cut now. She is trying to decide whether or not she wants to keep it short or grow it back out. Either way she is beautiful! Rachel just had her three month post chemo scan and everything looked great! She is cancer free! Follow her here.

Meet Jordin!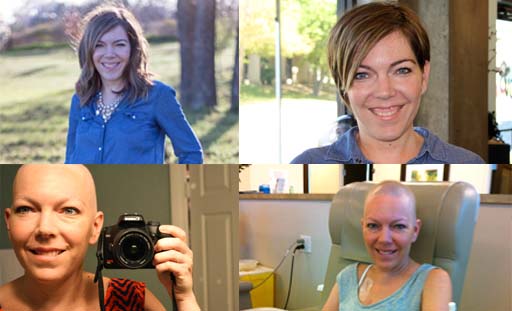 Jordin was diagnosed with Non-Hodgkins Lymphoma in January 2012. She cut her hair short before it started to fall out. We are happy to report that Jordin is cancer free and finished her last round of chemo about two weeks ago! Read more about her journey with cancer on her blog. Jordin recently wrote an article for South Lake Mom about not losing your sense of style while going through cancer. Check it out here!

Meet Sandi!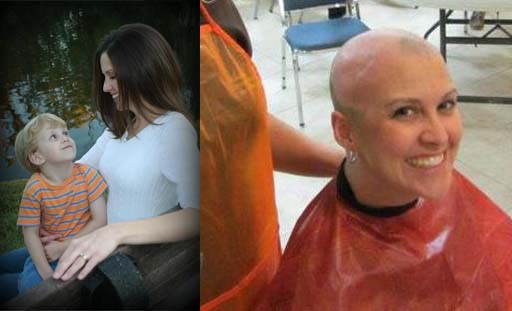 Sandi was diagnosed with a grade 2 Astrocytoma (brain tumor) in October 2011. Surgery to remove the tumor in November was unsuccessful so she went through six weeks of radiation treatment and is currently on a monthly regimen of chemotherapy pills.  Once her radiation was complete she had a head shaving party! Look at that smile! So beautiful! Prior to shaving her head her hair was falling out in large patches. Sandi is still going through treatment and you can follow her on her blog here.

Meet Joyce!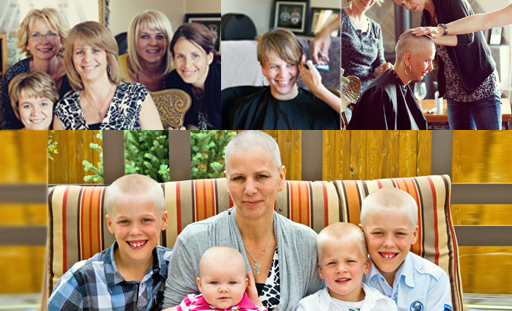 Joyce is 48 years old,  mother to 6 sons, 3 grandsons, 1 granddaughter and married to her high school sweetheart for 30 years. She was diagnosed with breast cancer in February 2012 and is currently undergoing her 4/6 chemo followed by 5 weeks of radiation. Joyce had a beautiful head shaving party where she was surrounded by friends and family. It was also captured on film. So much love in these photos!

Meet Laura!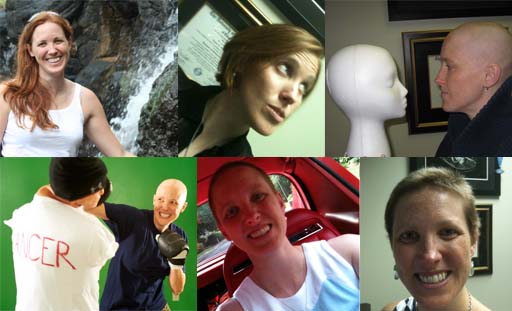 Laura was diagnosed with breast cancer in October 2011 and underwent a bi-lateral mastectomy.  After her first round of chemo, Laura cut her hair to her chin to prepare for the hair loss which started about 10 days later. As soon as it started to fall out in clumps her husband helped her shave her head.   She said the experience was very empowering! Throughout her chemo treatment Laura experimented with different wigs, hats and beanies. Laura had her last round of chemo in April and it took about 3-4 weeks before the hair sprouts started to come in. Currently she has a few strands of red hair, but nothing like before she lost it. She is looking forward to experience all different hair lengths!

Meet Cora!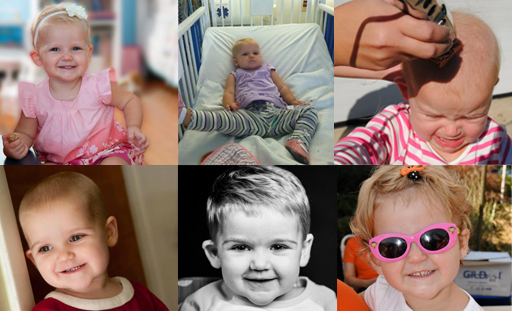 Cora was diagnosed with Aplastic Anemia in July 2011, a life threatening bone marrow failure disease. Her mother Heather can vividly remember the day her hair started falling out.  They were out walking the halls at Hopkins, Cora in a little push car. Cora was sitting back, feet up, hands clasped behind her head.  She reached out her hand and said "hair."  In her hand was a mass of baby blond curls. It was a very emotional moment for Heather. Due to the severity of Cora's disease, her only hope would be a bone marrow transplant from an exact genetic matched sibling.  There is a 20% chance of an exact match, so you can imagine their fear. However, Heather's middle son was an exact match and same blood type!  They call this the "gold standard of treatment" because there is no better scenario.  In September, Cora's big brother Andrew gave his bone marrow to his sister, ultimately saving her life.  His nick name is Captain CORAgeous.  You can read more about Cora on her Caring Bridge site and follow her Facebook page here.

Meet Wendie!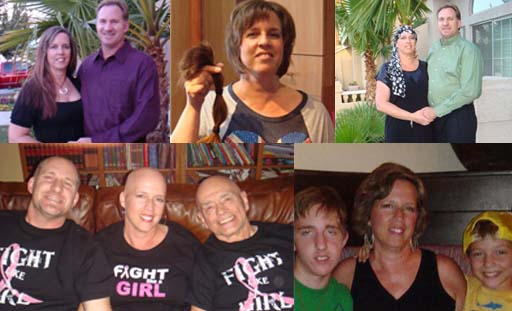 Wendie was diagnosed with breast cancer just after Christmas in 2010. The day before her first chemo treatment she decided to cut most of her hair off and donate it to Locks of Love. Exactly two weeks after the first treatment, her hair started falling out. She immediately went to her hair dresser and had it all shaved off. She felt more empowered that way. She tied up cute scarves to cover her head in the beginning. She was surround by a very supportive family. Her husband and father kept their heads shaved throughout her treatment and they all wore "Fight Like a Girl" t-shirts to chemo.  It's been a little over a year since Wendie's last chemo treatment, and 9 months since she finished radiation. Her hair is growing back beautifully!

Meet Jen!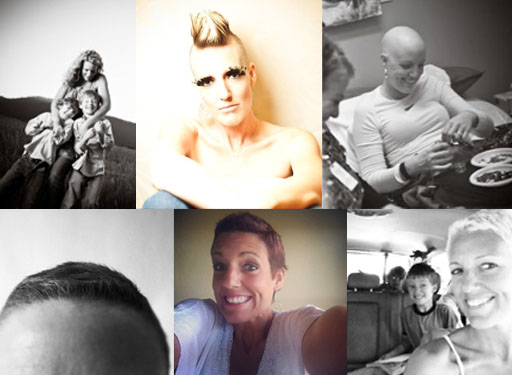 Jen was diagnosed with ovarian cancer on August 30, 2011 at 36 years old. Jen is the loving mother of Cooper, 9, Cohen, 6 and Oliver the Boston Terrier. She is a dear friend to many, a gifted photographer, designer and an artist in everything she touches. In July 2011, a 13 cm mass was removed along with Jen's uterus, ovaries, ovarian tubes and appendix in a rushed radical hysterectomy. Jen is a fighter and an inspiration. She documented the shaving of her head on her blog. She refused to let cancer take her hair and did it on her own terms. Her mohawk is awesome ya'll!  She's documented every step of her battle on Instagram (@amistillagirl) including two recent emergency surgeries. She still has a long road ahead of her but she's force to be reckoned with! Go read her story her at Am I Still a Girl.
Next up: What's in your chemo bag! Send photos, lists, tips and links to your story to:

Comments