Boo is experiencing some tough love recently. I know she's testing us.  It's working.
I'm nipping it in the bud……
There will be no sense of entitlement in this house…by anyone…ever.
I took the TV out of her room.  She lost about 15 toys this week for being disrespectful…..and I'm not sure she'll ever get them back. The toys now reside at "Sunnyside" on the top shelf of my closet. Honestly, I was prepared to throw every. single. toy…..forever. That's my commitment right now.
I made her watch selected scenes* from "Machine Gun Preacher" yesterday (a true story from Sudan)……like where the children get their first playground, and the scene where they have one tattered soccer ball to play with among 30 kids, and the part where the children trek into town at night on their own from the village to sleep wherever they can.  She teared up and hid her face when the children saw their crudely-built-car-tire-jungle-gym for the first time. Later, I overheard her telling Mr. LBB:
In Sudan, the preacher sold his car and all his tools to buy a playground. The kids didn't have anything…..they didn't even have parents Daddy.  It's a true story.

And now her TV is limited to Little House on the Prairie, The Waltons and Anne of Green Gables. I think we all could use a little bit of "Ma" and "Pa" parenting, right? Oh, and the reminder that Nellie Olson isn't truly happy….despite having anything her little heart desires….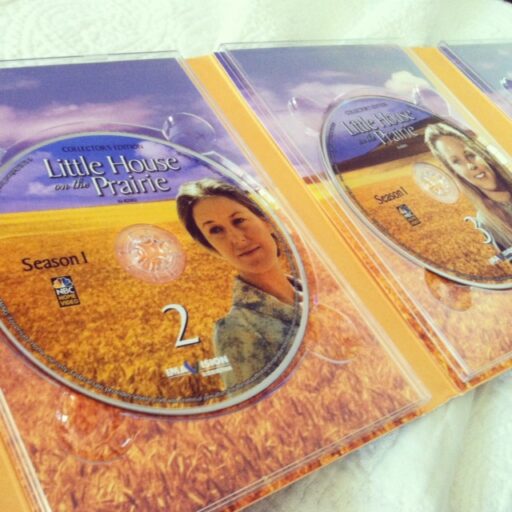 Boo and I made a pact that we will not raise our voices to one another. It's a two-way street.

By going backwards……we are moving forward.
Yesterday, after hearing "I'm sooo bored. I want to watch TV" she was told "well, look at all these crayons, scissors, papers and journals Mommy has sitting out…..surely you can find something to do here."
And guess what…..she did.
She has everything she needs.
*****
Recently, I read a newspaper article posted on Facebook and I wrote some of it down in my journal to remember….for myself, and one day as advice to Boo:
The world does not owe you anything. It doesn't owe you a living.
You owe the world something.
You owe it your time, energy and talents so no one will be at war, in sickness and lonely again.
In other words, stop being a cry baby, get out of your dream world and develop a backbone, not a wishbone.
Start behaving like a responsible person.
You are important and you are needed.
It's too late to sit around and wait for somebody to do something someday.
Someday is now and that somebody is you.
-(adapted excerpt from a Dear Abby column from 1960)
*****
I'm an American. I MAKE my destiny.**
This is why I choose joy every day.  I know that no one can create joy for me.  It's up to me. It doesn't mean I have the best of everything. My life isn't perfect. I'm given second chances every. single. day. I worry about finances, vanity, health, war, politics just like everyone else. And every once in a while I have to take a step back and tell myself: I have everything I need. Something good is going to come out of today.

Now to pass this on to my daughter…..
*Warning: Machine Gun Preacher is not a movie for kids…..it's very graphic and has many disturbing (and true) parts.  I only showed selected scenes to Boo that were appropriate.
**Update: I moved the quote credit down here to the bottom. The quote was by Romney. If you don't like Romney, then just pretend that I said it instead: "Quote by Ashley Hackshaw"…..because that's not the focus of this post…..nor do I want it to be.  Also, Romney doesn't even write his own speeches. Neither does Obama. So technically neither of them has ever really said anything. If you see red from anger, or try to make 7 words the focus of this post, I'm sorry, I can't help you out there……
Update 2: Does anyone else miss Michael Landon as much as I do?