I'll browse Pinterest every so often but I still prefer the old fashion way: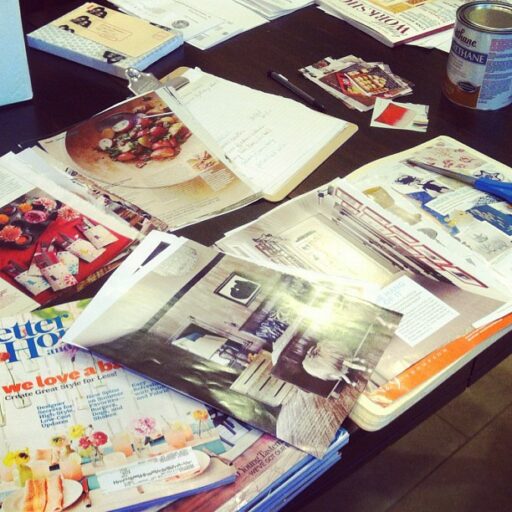 I love sitting down with stacks of magazines and cutting out pretty pictures.  The upside: unique inspiration and less regurgitation of ideas. The downside: running through 10 tape runners in one sitting.
I'm working on some redecorating ideas. I was working on redecorating projects last year when I had to put it all on hold due to health issues. I'm excited to get back on track…..especially since I've had walls covered in about 10 different paint swatches for the last few months. Time to narrow it down.
*****
12 months ago today I heard the word "cancer" for the first time. It wasn't confirmed yet but I had an inkling. I meant to write something more substantial today but I'm going on zero sleep for the last two nights due to a horrendous, persistent cough. I don't have a dainty cough either….it's kind of a dramatic full body cough. I don't know how I still have energy to cough honestly….but my abs are getting a good workout!   I stocked up on drugs today so maybe I'll knock myself out in a bit.  I'll write more tomorrow.   Hope everyone had a good weekend!
P.S. Fear Will Not Rule tees are back in the shop on an awesome vintage tee!
Comments