Boo: (upset) I got a 64% one of my worksheets today.
Me: That's okay….it means you're normal.
Boo: But Daddy will be mad.
Me: No he won't……..anyways sometimes it's good to set the bar a little lower….then imagine how excited he'll be when you get 65% and above!
(later) Mr. LBB: Can we at least set the bar at 74%?
It's all about managing expectations right?  I think it's about managing Boo's expectations too.  Her teacher said Boo cried over that 64%.  I rolled my eyes at how dramatic it seemed.
I showed her one of my report cards from when I was younger. I told her that the F was because I didn't study for that Latin exam.  I told her the C's were because I didn't like writing papers.  I told her the A's were in art and math because those were my favorite classes.  I told her that a few of those B+'s weren't really deserved because I had to beg for extra credit from one of my teachers to get them.  I told her that she has the ability to do much better than I did.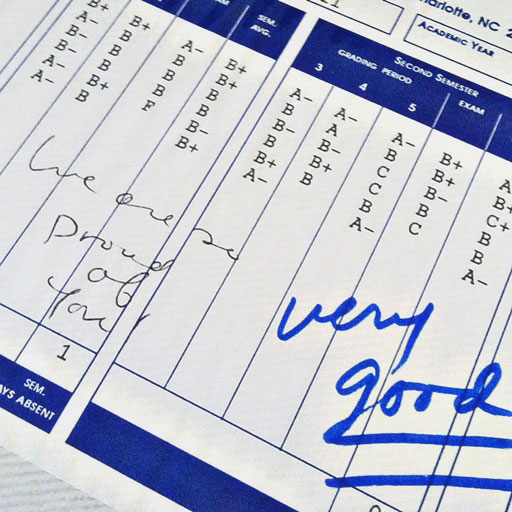 I want her to know that it's up to her.  I want her to know that she's going to fail at things. I want her to know that it's not the end of the world when she does. I want her to know that she has to work for it.  I want her to know that she has to be accountable. I want her to know that they are her achievements, not mine.
Yes, she's only 5 years old. But I've got to start somewhere right?
I'm not trying to raise a little valedictorian here…..unless that's what she wants to be. When she balks at doing her homework at night my reply is usually "That's fine….but you get to tell your teacher tomorrow. I'm not going to spend anymore energy trying to force you to do it."  That works every time.
Of course, Mr. LBB and I get all enthusiastic about everything she's learning so she'll get fired up.  She has to learn the states this year…….which means I have to re-learn them.  At least I know the 4 corners (sorry middle U.S. peeps), right?!  I got a C in geography…..boring.  But Boo loves maps….so here come the map projects…..
Click here to for more recent posts on adventures in parenting!