No Boo didn't get an iPhone…..but the black and pink one looks pretty real, right?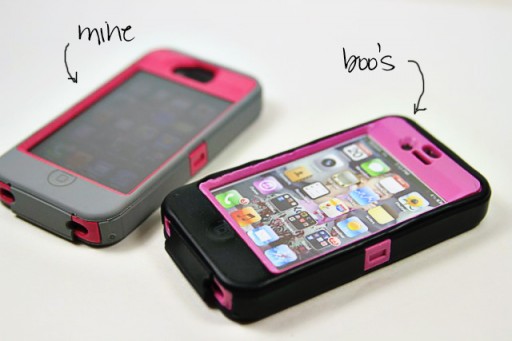 I had to get a new Otterbox today for my iPhone…..the old one fell off my car at 60 mph last year, bounced 30 feet onto a side road where someone found it. It kind of went downhill from there. And…..there's your commercial for the Otterbox.
Anyway, I kept the old one. I took a screenshot of my iPhone and printed it out. I attached the printed paper inside the old Otterbox….and voila…..instant toy iPhone: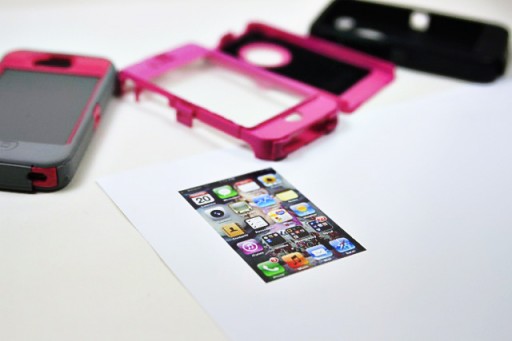 Tonight Boo and I went to Michael's…..which isn't anything new…..except for she took her wallet.  She's been doing extra jobs around the house to earn money.  After about 30 minutes of checking everything out in the store she finally picked something to buy.  I asked how much money she had.  Twelve dollars.  Okay, well that is $12.99 but you brought your 40% off coupon right?  Yes. As the woman at the register rang up her purchase the total came to $8.39.
Boo counted out her money slowly and then she looked up at me with a distraught look.  It turns out that she really only had six dollars.…..because each bill was folded in half and she had counted them as halves.  Twelve halves = six dollars.  I offered to lend her two dollars and she could pay me back when we got home……but she was so embarrassed.  I told her: I run out of money all the time too at the cash register…..but there's never anyone there to lend me any money……so, really, it's your lucky day!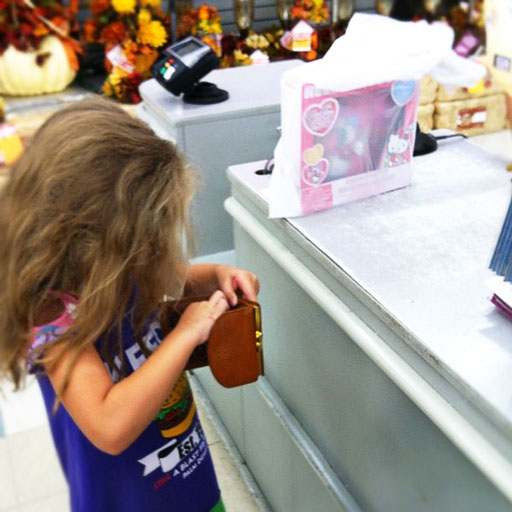 She's slowly learning the value of money….two halves at a time apparently.  It took her a long time to earn that $6 she had in her wallet.
So what did she buy?  A diary….with a lock.  And Mr. LBB and I have to leave the room when she hides the key.  I'm dying to know what she already wrote in it…..I mean she only knows how to write: Boo Hack, dog, cat, peg and a few other three letter words, right? I'm sure it's juicy stuff……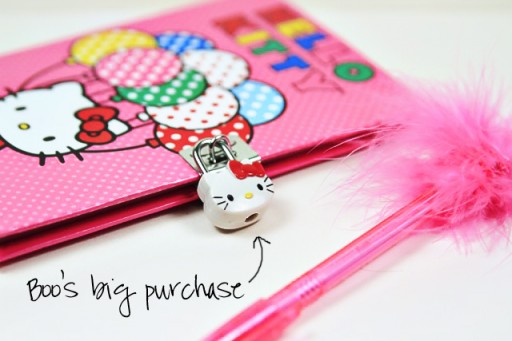 I remember one of my first big purchases with my own money.  I was in high school and my first real job was working at a law firm in downtown Charlotte.  My first paycheck didn't go that far….I had to pay $15 a day in parking…..but I used it to buy a leather wallet and a matching leather backpack.  I still have the bag and I still have the wallet……it's the one that Boo uses now: