I like chili and comic books too.  So that's that.
Boo cast her ballot yesterday at school: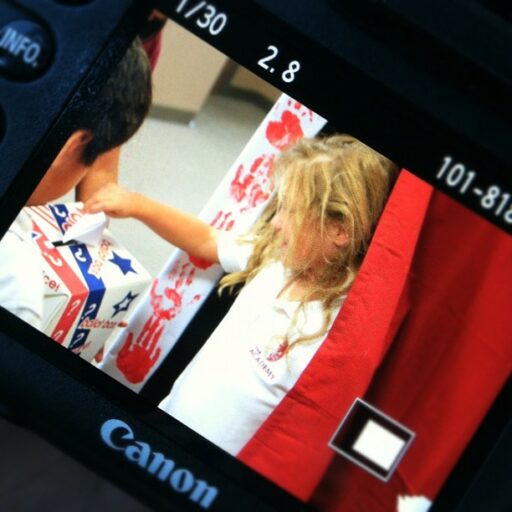 This is so much better than the convoluted ballot I had to fill out in CA…..is it just me or are all the propositions on the ballots impossible to interpret?  I had to do an incredible amount of research on each proposition just to make sure I voted the right way.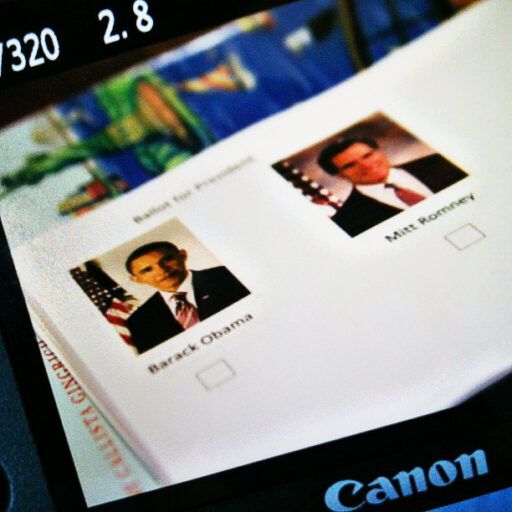 I loved every minute of election talk with Boo…..a few examples:
Me: Do you know who you are going to vote for today?
Boo: Yes. But I don't have to tell you.
Me: You're right….and I don't have to tell you either.
Boo: (laughing) I already KNOW who you are voting for. I'll tell you who I voted for if I win.
(I honestly thought she might write in Boo Hack…..)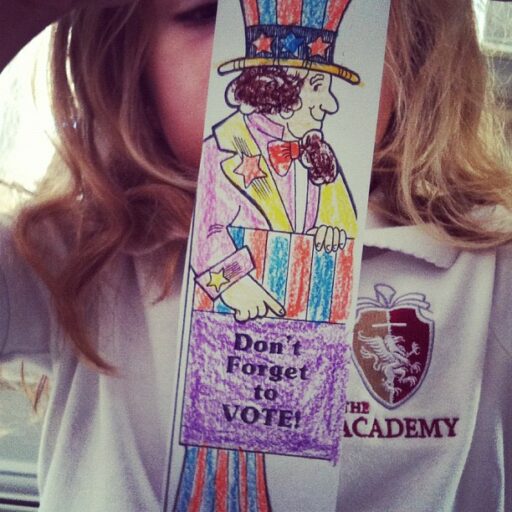 After school yesterday:
Me: Let's go home and watch the election.
Boo: It's over. Mitt Romney won. He got 49 votes and Obama got 3.
Me: Not your school election….the real election.
Boo: We HAD a real election.
Me: I mean the adult election.
Boo: Did you know Rock Obama is a "south paw"?
Me: What's that?
Boo: It means he's left handed….just like me. I'm a south paw. He also likes chili and comic books and he has two daughters.
Me: Good info!
Boo: Mitt Romney has 5 sons….and he gave a lot of money away.
Me: Does he like comic books too?
Boo: I don't think so. He's kind of serious. Oh, did you know my teacher had jury duty? On Oct 5th.
(she. never. stops. talking.)
It was fun having her color in states as the night went along: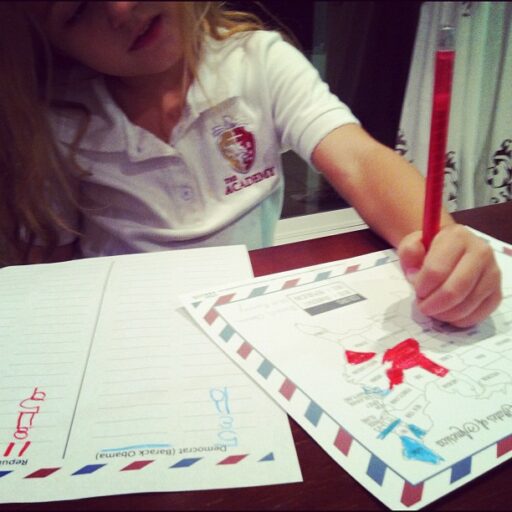 This is not meant to be a political post but it's probably as close as I'll ever get to one.
I told Mr. LBB that I felt like I needed to post something last night because if you know me personally…..I feel pretty strongly about politics…..so for me to leave something like that out…..it's not me being real.  I write about personal stuff….I shouldn't have to hide my political feelings for fear of backlash.   So I posted something…..
I'm more in the center when it comes to politics and I lean into the libertarian category.  I'm liberal on many social issues. I want more personal freedom, more tolerance, smaller government and a stronger economy.  That means I don't really fit into the 2 party system…..but guess what….I have to make a choice.  I  have a diverse group of friends who are all over the place politically.  They respect my view and I respect theirs…..although we banter back and forth throughout the entire election season…..but I've never had to defriend anyone.  Last election, when I said I wasn't voting for Obama, one friend called me "racist" and immediately defriended me.  This election a friend asked for specific examples of something and I gave her about 20. She defriended me without responding.  That's crazy. I've been called an idiot, racist, close-minded, ignorant, Mitches (thanks Beyonce!) etc……which is funny because I feel like I'm pretty smart and informed…..I read no less than 15 news sites every morning from every political point of view. My husband and I own our own businesses. I navigate the tax laws monthly.  If I don't understand something…..I make sure I figure it out. I don't have  a uterus…..so I'll stay out of that.
Anyway, last night I posted on Facebook that I was disappointed in the election outcome but that life goes on. Anyone that knows me knows that I don't dwell on disappointments for more than about 3 seconds.  I was already figuring out how I would seize today……  One of the first comments on the post was:
Hmm…Unsubscribing. You can spread your negativity elsewhere. Today is a great day for our Nation.
Okay….here's my full post:

Well tonight didn't go as I wanted it too…..but I expected half the nation to be disappointed either way. I believe everything happens for a reason. Just a few words of encouragement for both sides tonight: Life goes on tomorrow. Hang in there. Stand tall. Encourage others. Pay every kindness forward. For the small businesses: just make it through 4 more years…… hope to see you on the other side! Hard work…. honesty….. humility….. respect….. accountability…. self reliance…..and you've got this!! We live in a great country. We all share the hope for it. God bless America. Support American business!! Support small handmade businesses! #choosejoy
Unsubscribe away if you think that is negative because you'll be disappointed in anything and everything else I've ever posted or will post.
The comments went downhill from there with insults and attacks on other commenters.  I spammed many of the ugliest ones that were directed at people other than me……and honestly I just got too tired to read through them anymore to keep doing it…….so I'm sorry.
Yesterday, I voted for what I thought was best for the country……not what was best for me.  I know the majority of voters did the same.  We all share the hope for our country. Good for you if you got out and cast your vote….no matter who it was for.
*****
My biggest concern right now is what we are telling our children from the rhetoric I saw from both sides on the social networks last night and throughout the entire election…..I repeat…..from BOTH SIDES. I've taught Boo that "hate" is a bad word. We never say we "hate" someone.  And why take the energy to hate someone…..what a waste of perfectly good energy! I'm also trying to teach her that, in reality, there are not SIDES.  There's radical left, left left, left center, center, right center, right right, radical right…..and a whole other multitude of dimensions after that.   If you use the phrase "you people"….you are mistakenly categorizing many of those together. And we really have more in common than we might think sometimes.
Whenever Boo and I would discuss the election I broke it down as easy as I could for her with facts.  And guess what the first thing she said at school was when they talked about the election?  "Obama is expensive." I was mortified…..but at the same time I was proud that she didn't use something like: hate, communist, racist, idiot, murderer, liar, failure.   I don't think those words should never be used in a political conversation seriously…..and especially around children. And I see it being flung all over the news, and Facebook and Twitter.  And FYI, I told Boo that Romney was expensive too….just less expensive in my opinion.
name calling: the use of offensive names especially to win an argument or to induce rejection or condemnation (as of a person or project) without objective consideration of the facts
So that's that.
I sent Boo off to school today with the assurance that everything will be okay and that there is nothing to fear.  I showed her the newspaper with the photo of President Obama and his family and explained that even though Mommy and Daddy don't agree on everything that the President does….we have to be respectful of him.  I told her that President Obama was a humble, gracious winner last night and that he tried to give the American people encouragement.  I told her that we needed to pray that he would be able to fix the economy…..because without the economy no candidate can take care of anything.  I told her that President Obama loves this country. I told her that we want nothing more than for President Obama to succeed…..because we love our country. I told her that Mitt Romney lost graciously and that he tried his best and that's all that matters. I told her that Mitt Romney loves this country too. I told her I gave Obama a chance the last four years but sometimes people need second chances….but President's don't get third chances…..and we should be thankful for that…..and maybe that should apply to more political offices. More importantly, I told her to make sure she was respectful at school about the President and to not worry if others weren't respectful of our family's choice. That's their issue. I told her that almost the same amount of people voted for Obama as voted for Romney…..and that's a LOT of people that feel strongly on different sides.  I just imagined how angry some people were this morning and what their kids went off to school thinking…..it made me sick to my stomach that any child would start their day off like that.
Anyway, let me end this post.  I'm not going to tell any of you what to do…..because I don't want anyone telling me what to do (it's that personal freedom thing) but here's what I plan to work on going forward:
I'm not going to hate you.
I'm not going to judge you.
I'm not going to insult you.
I'm not going to defriend you.*
*for just having a different opinion…..although I reserve the right to delete and block posts that hate on and insult others…..hate on ME all you want…..but I'll draw the line somewhere.
I'm not going to gloat.
I'm not going to complain.
I'm not going to point fingers.
I'm not going to say you were wrong for voting a certain way.
I'm not going to say "you people" and follow it with a rant.
I'm not going to live in fear.
I'm going to be compassionate.
I'm going to work twice as hard.
I'm going to work three times as hard.
I'm going to depend on myself.
I'm going to be honest.
I'm going to be humble.
I'm going to be respectful.
I'm going to be tolerant.
I'm going to be accountable.
I'm going to be responsible.
I'm going to give back.
I'm going to try and do the right thing.
Have a great hump day….
xoxo,
Ash