Oh how I love this photo…..the little artist at work. Boo has been taking afternoon pottery classes at her school with the older kids: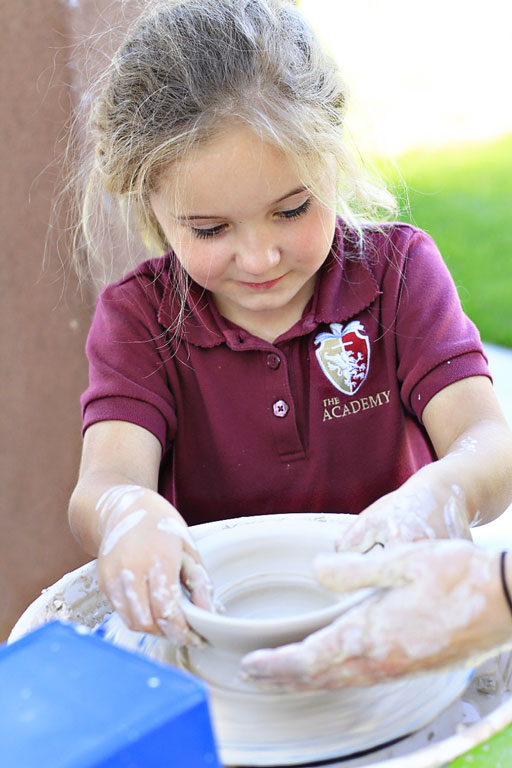 Look at that mess!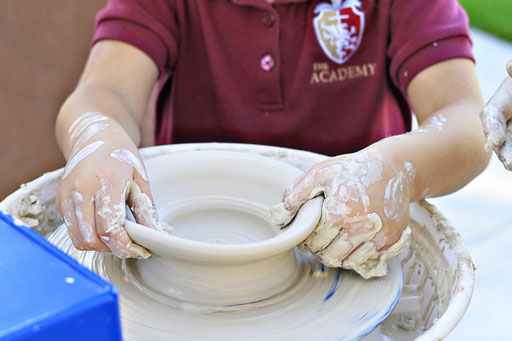 The pottery classes are taught by trained instructors from the Old Town Artisan Studio in La Quinta. As a kid I would have withered away without art…..I love these little artists at work…..it just makes me swell up with happiness:
If you are in the Coachella Valley and looking for a great school, The Academy of Palm Desert Presbyterian Community Church is having an open house this Sunday.  Come visit and see the classes in action and meet the teachers!
I've been very involved in promoting enrollment this year because I think it's the best school in the desert: small classes, highly qualified teachers, after school tutoring, etc. There is financial aid available to make private education affordable and other incentives: church member discounts, referral fees and sibling discounts.   If you enroll by next Friday (March 22nd) there is a significant early bird discount for next year.  It's not yet a widely known school in the desert because the 1st through 7th grades were added last year.
*****
I'm dedicated to this school if you haven't noticed. I intend for Boo to go there for the next 8 years (and it only goes through 7th grade…..baby steps!).  I'm constantly pitching ideas….I probably drive them nuts….like screen printing classes for the older grades?! Who wouldn't want to do that?  I hope I get to teach it soon!
When I was sick and going through chemotherapy, the school and church was so supportive….especially for Boo.  I think they are one of the biggest reasons that she handled it all so well.
Here's a little video I made recently of a day in the life….if you visit you might see me walking around on any given day with my cameras….I've designated myself "Academy photographer" until I have a chance to add photography classes to my list of things-i'd-love-to-teach-the-kids ; )

Click here for more information about the open house on Sunday!
P.S. You don't have to be Presbyterian to attend The Academy.  It's a wonderful, accepting environment. We have Catholic, Episcopalian, Jewish, and non-denominational children from all backgrounds.
P.P.S. Speaking of art: More than 2,000 local students in grades K through 12 were challenged to write an essay or create artwork reflecting this year's theme, "American Idols: Who is your role model?" in the 2013 Palm Desert Art & Essay Contest.  The Academy won this year's perpetual award with 100% participation and 15 students won awards, 11 of the 15 were 1st and 2nd place awards.

Comments