Boo put her money in a gumball machine and this was her prize: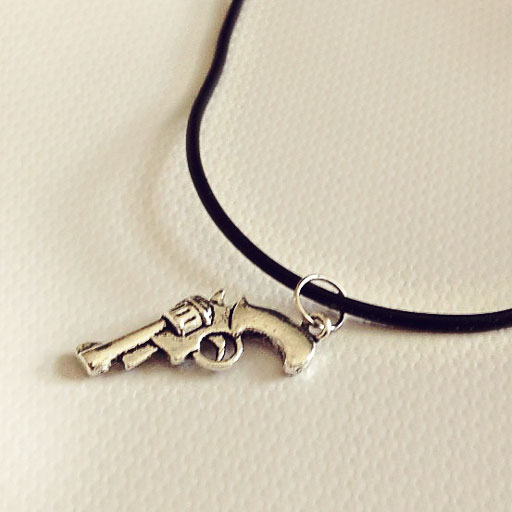 She was wearing it when she and Mr. LBB walked through the door yesterday and I immediately asked her to take it off.   But then I questioned myself… You see, when I think back to my childhood….I'm pretty sure my parents wouldn't have even thought twice about my wearing a gun necklace…..we would have associated it with cowboys, or a cap gun….not murder and violence. In the early 90's, my mom, dad, sister, brother and I were going on a ski trip for Christmas and security flagged my little brother's bag….opening it up they found a cap gun, a set of handcuffs and a bottle rocket.  My parents were mortified, my nine-year-old brother was confused (don't people play war on vacation?), all of airport security was amused…but they confiscated it all…it was totally innocent. We knew right from wrong. But, could you imagine that same scenario today?
And so I looked at Boo….who has never played a violent video game, says "yes ma'am, yes sir" to be respectful, has family members in the military, whose parents own the same gun on her necklace and that gun is properly locked and stored….why am I making a big deal about a gun necklace? Oh, wait…maybe because a kid was suspended from school last year for making his Poptart into a pastry gun?
(Note: I worry that this young kid who ate a gun shape into his Poptart has been crushed creatively for life….I eat shapes into Poptarts all the time…it's what artists do….I just don't have the self control to not eat the "art" afterwards.)
I wonder how the world will be when Boo is older.  How long can I protect her from all of the madness and confusion?
The answer: By teaching her to stand for something.
And so, in our house, this gun necklace symbolizes cowboys, police officers, our founding fathers, the 2nd amendment, gun safety and everything that is right with the world.
There's so much darkness right now in the world. I can barely watch the news without getting upset. But….if I had to put a positive spin on it I'd say that the dark makes it much easier to find shining beacons of faith and hope and love.  And I always try to make sure and point them out to Boo.  I find myself in the car (where I always have her full attention) and I'll say "let's pray really quick for those firemen up on top of that mountain, okay?"….or "is there anything you've been worried about lately?" ….or "you know that hummingbird that was following us? Don't you think God was trying to get our attention?" ….or "what would you do if…..?" And finding these teachable moments for her makes me be so much more attentive to what's going on right in front of me.  And I try to find ways to teach her about God that will resonate with a little kid, in creative ways so she doesn't even realize I'm teaching.  And I know that if I don't teach her about God….sadly the world we live in today will teach her otherwise.

*****

As I was on a long drive to L.A. recently I was listening to a radio show about the removal of God from schools and one comment stood out:
Where was God during Sandy Hook?
God: I wasn't allowed in the school.
And then they read this:
I believe that God is deeply saddened by this, just as we are, but for years we've been telling God to get out of our schools, to get out of our government, and to get out of our lives. And being the gentleman that He is, I believe that He has calmly backed out. How can we expect God to give us His blessing and His protection if we demand that He leave us alone?

Let's see, I think it started when Madeline Murray O'Hare (she was murdered, her body was found recently) complained she didn't want any prayer in our schools, and we said, OK.

Then, someone said you better not read the Bible in school… the Bible that says thou shalt not kill, thou shalt not steal, and love your neighbor as yourself. And we said, OK.
I was talking with my pastor about it (I do think God was with those children and teachers at Sandy Hook)….but I went on to say how worried I was with God being taken out of everything:
Me: And you don't see the ten commandments anywhere anymore….in schools, in public buildings.  
Pastor: Well, let me ask you this: do YOU have the ten commandments hanging up in your home?
Busted. No…..I didn't have the ten commandments hanging in our home. But they are now.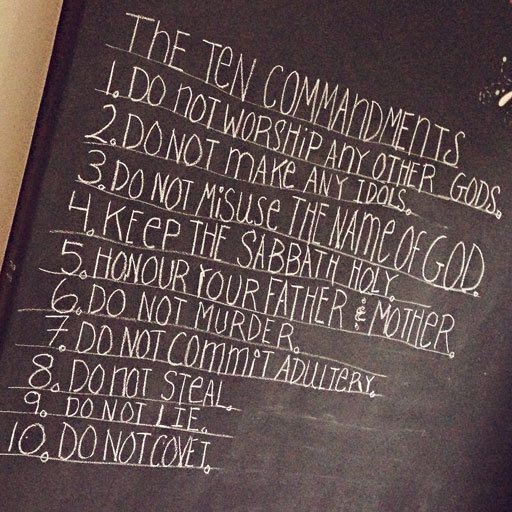 It is impossible to rightly govern the world without God and the Bible. – George Washington
I was in the thrift store this morning with Boo and I bought this random book because of the title: Standing for Something. I haven't been able to put it down:
Men and Women of all denominations have helped settle this land Catholics and Protestants, Jews and Greeks, Muslims and Hindus. With few exceptions, those who helped establish this great country believed in and worshiped God, although their interpretations of Him may have varied.

They built for us a tremendous inheritance because they were men and women of faith and conviction. They had no government to fall back on, but they looked to God in every extremity and thanked Him for every blessing.

Our great concern, our great interest, must be to preserve for the generations to come those wondrous elements of our society and manner of living that will bequeath to them the strength and the goodness of which we have been the beneficiaries. To do so, we must retard and then halt the decay we observe about us, which comes of forsaking the God whom out forefathers knew, loved, worshiped and looked to for strength.
*****
When I was paying at the thrift store today, the cashier charged me a different amount that I expected:
Me: I don't think that's right.
Cashier: It's $1.35….50% off.
Me: Oh, that's great!
Cashier: Oh….wait….you thought I was undercharging you?  No one's ever pulled that one on me before.
Kind of sad…..I thought walking away. That's just being honest right? I guess I hope that I can bring Boo up in such a way…..that if she's ever undercharged $1.35….she'll speak up.
I'd love to hear your thoughts on any of this. What do you teach your kids about guns? What do you think about God and prayer in school?
Read the follow up to this post here: Life Stinks. We Have a Pew for You.