I want to live everyday from a place of gratitude.  Sometimes I'm pretty darn good at it, and other days I fail miserably, but when the grateful days way outnumber the bad days I think that's a good place to be. 

I want Thanksgiving to be more than just a day. The more thankful we are, the more joyful we become.  Choose it: You have enough. You are enough. Practice this every day.  We are always searching for it, but true joy can never be found without sincere gratitude. Sincere. Gratitude. The prayer I pray the most is thank you, thank you, thank you.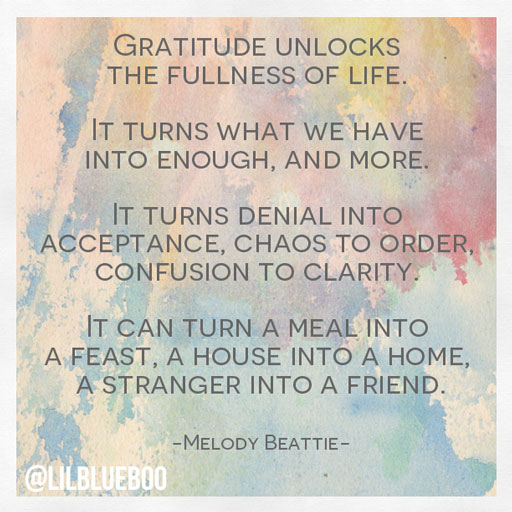 Boo: Are you going to make a turkey?
Me: Do you like turkey?
Boo: No.
Me: Me either. I'm not making a turkey.
Boo: Everyone else is making a turkey.
Me: I've never made a turkey.
Boo: The grocery store can make it for you.
Me: When you are old enough to make a turkey, you can make a turkey.
Boo: I don't really like turkey.
Me: I'm not making a turkey.
Mr. LBB: Don't make a turkey.
I'm thankful my family accepts me for who I am and I don't have to make a turkey.
We ate at Ruth's Chris instead. Steak, shrimp, chicken. Mr. LBB actually did order turkey. I was torn on supporting an establishment that was open on Thanksgiving and I asked my sister-in-law if we should boycott. She was working there today. She said they had 800 reservations today alone and she was happy to work because patrons are spending time with their families. The worst scenario would be to have to work and there not be a good turnout. We made sure every server we came in contact with knew how thankful we were that they were working.  I'm thankful for Ruth's Chris.
We held hands and said the Lutheran blessing my grandfather always said:
Come Lord Jesus be our guest, let these gifts to us be blessed.
During dinner Boo helped us make a list of things we could be thankful for: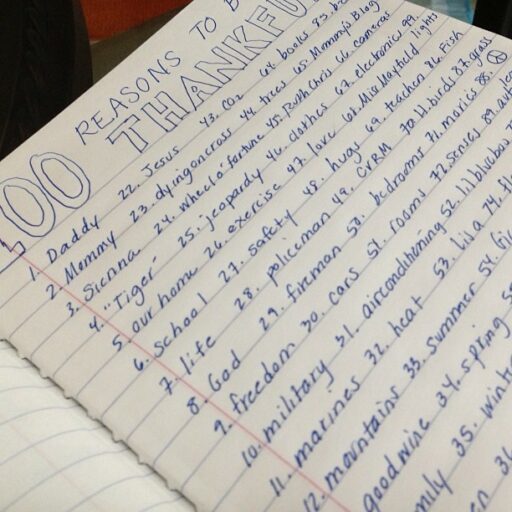 So much to be thankful for today and every day.
And from my family to yours:
Have a Thanksgiving full of gratitude and joy!