Note: I struggled over whether to post this.  I rarely get into the viral things going around the internet, because usually I don't care, but this one struck a chord with me.  Mostly because I am really struggling with the culture of outrage right now. I know I'll offend someone, but I always think it's better to go with what my gut says to write and not what is going to be popular especially when it agrees with my heart.  I got an email yesterday from someone who obviously didn't mean to copy me on it….I guess she was writing an article on "Flagrant Americanism" and my views fall into that category somehow:

Flagrant: (of something considered wrong or immoral) conspicuously or obviously offensive.
Americanism: a custom, trait, or tradition originating in the United States.

I'm not that intellectual, so I have no idea what that means. But I have seemingly managed to offend someone with a post about making friends with other cancer patients. It kind of sealed the deal on hitting "PUBLISH" on this post.  Flagrantly I go…

*****
A few days ago I read an article on the Huffington Post that resulted in Nordstrom removing a pillow from their shelves recently because a customer complained about its message. The message:
To hell with beauty sleep, I want skinny sleep.
The saying was on an e-card a while ago that made the rounds. It was one of those funny memes shared over and over: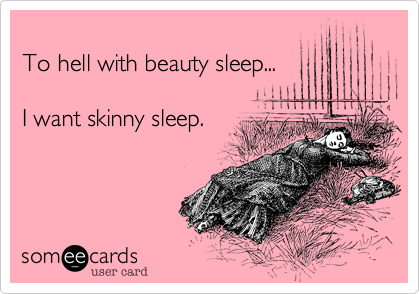 Ok, so it's a bad joke, but I'm more concerned by the fact that someone was outraged or offended enough over a pillow in a store to ask that it be removed.  Outrage is an epidemic right now.  It's like people look for things to be offended by. It's easier to blame than to take responsibility.  Here's the thing, I am sympathetic to the woman who was sensitive to the pillow.  I'm glad she said something about it, it's good to speak up…because eating disorders thrive in silence. Eating disorders are serious, and also an epidemic.  But eating disorders also thrive on the demands of others, and asking that a pillow be removed is looking to someone on the outside to fix something inside.  Eating disorders are about control, and they sometimes morph into many other types of behaviors: shopping, alcohol abuse, hoarding etc.  Removing a pillow isn't going to solve the eating disorder epidemic, it's only redirecting the denial so desperately sought to dampen some desire or hunger.
You see, I, too, am an eating disorder survivor. An entry in my diary from 2001 shows what a dark place I was in years ago:
I'm just so tired. Looking in the mirror today I noticed that my face is a little thinner.  I always tell myself that there is a line I will draw but I think I'm way beyond that.  This strict detox program I'm on is nothing but an excuse not to eat.  I'm scared to go to the dentist. I'm scared to go to the grocery store for fear I'll buy everything with no self- control when I get home.  My anxiety attacks are at an all time high.  Dr. C's medication is keeping the heart palpitations at a minimum but the flushed cheeks and constant sweating are enough to bring them back again. I have nightmares that my teeth are crumbling into pieces and falling out.
I have also struggled with other forms of addiction in the past.  I get it. There are triggers everywhere. My triggers include everything from Bud Light commercials and margaritas to P90x commercials and skinny jeans.  I learn to deal with them. That is part of the healing and recovery process.
Eating disorders are not about the word skinny on a pillow.  Skinny is not a bad word.  I am naturally thin, many people say skinny.  Does this make me less of a person? Does this make me a bad example for my daughter? Eating disorders are about emptiness. Eating disorders are about anger. Eating disorders are about a hunger for self-love. Someone very close to me once said: it's not what you're eating, it's what's eating you.
And the story of appetite became, essentially a story of substitutions, or a chain of substitutions, in which each failed attempt to fill emptiness leads to another attempt and another: longings in search of replacements, forever attaching themselves to things, to people to behaviors which then take on lives of their own, become organizing principles, fragmented of hope that always promise transcendence over pain and longing and always disappoint. –Caroline Knapp, Appetites
The thing is, I want my daughter to be able to walk through public places and discern for herself what is reality….and what is meant to be a funny pillow. I want my daughter to be able to see through advertising messages that play on our deepest insecurities and emotions because they are never going to go away. Anorexia has been around since the middle ages, maybe longer. I don't want the world to be sanitized for her.  I want her to learn independent thinking.  I want to help my daughter form her own values, by showing her how to question the ones our culture throws at us. It is my job to present her with alternatives.
If we happen to run into a pillow that talks about skinny sleep, it just gives me another opportunity to tell my daughter that she is going to be judged her whole life, regardless of which side of the weight spectrum she falls on. I want her to know that she is going to be criticized, that there will be attempts to make her feel like she isn't enough. Learning to navigate this trauma, learning to live through disappointment, is how she will grow and become stronger. I want her to know that the media presents an unattainable image of beauty.  When she points out a pretty woman on an advertisement, I show her how it's been photoshopped. I want her to know that beauty will always be a source of power in our society, but it is fleeting, and beauty is also in the eye of the beholder.   I want her to know that other sources of power are generosity, kindness and gratitude.  Her joy and happiness will hopefully grow from this knowledge.
A startling statistic I learned in a parenting class last year was that 36% of children in "executive" families (where the parents are executives of some kind) end up undergoing some type of treatment for drug abuse. This means that the best education, the best technology, the best clothes etc are not enough. As a parent I will attempt to define a vision for her life that is counter culture, and in order to do that I have to live a life that is counter culture. I stay out of the malls as much as possible unless we need something, I don't buy beauty and fashion magazines to leave around the house, and I don't talk about dieting and exercise unless it's in the context of healthy living: how we spend our money and our time reflects our values.

I DVR shows ahead of time so that I can watch them with her.  I limit her access to TV shows and she doesn't have unlimited access to an iPad. She doesn't need it, we have fun in other ways. I don't expect the culture to change for us, I just don't buy the culture, and it's my responsibility to teach my daughter to be strong enough not to either.  And most of all I know that it's going to be unpopular, she's going to revolt, but I am focused because the stakes are high.
Each of us first needs to assess the extent to which we have "bought into" the beauty ideal. If a major portion of our time, energy, and conversation is spent on dieting and clothing then we are actually part of the problem. If we are disgusted by our own aging, and chat nervously about wrinkles and upper arms, we provide no hope for our girls. We cannot expect our daughters, students and adolescent friends to be any better than we are. If our ideal of perfection in adulthood is wearing a size 6 and having an absolutely taut pelvis or eyelids, then our girls are doomed.  –Joan Jacobs Brumberg, Fasting Girls
You know what I thought about when I read that article? This:
What about the ramifications of actions?
Someone's business created that pillow: someone had to design it, someone had to make it. Then they probably sold it to Nordstrom.  I imagine some young woman at a company creating that pillow idea and being all excited that it got into Nordstrom, telling all of her friends. And that excitement led to inspiration for more products. Yeah, not so much anymore. Tweeting publicly and demanding that a product be discontinued because you don't like it is pretty much a form of bullying.  You've forced a store into making a decision for everyone else because of you. Stop making it all about you, that's the worst message to send to a child. If you don't like it, don't buy it. That's how the free market works, when it's fair. Supply and demand.  Now no one can buy it.  And all the pillows go to some pillow graveyard (or Marshall's or TJ Maxx, they'll still sell them somehow, they aren't going to end up in a dumpster, that's not how this works either). Let's get outraged about the victims of world hunger and political unrest, not being a victim of a satirical pillow in a store. Because where or where will it stop…Diet Coke? Skinny lattes? Short stacks of pancakes? Plus sizes? I could find a gazillion things to be offended by everyday if I looked hard enough.
The good news I want to spread is that there is hope: it is possible to unlearn the behaviors of hunger and appetite, but it can only be done by directing the focus inward.  The will has to be there. Blaming the media and everyone else will never work.  After years and years of struggling with body image and dying to be thin, I learned that until I figured out what was missing, I would never be satisfied. For me it was pursuing the things that I loved instead of taking the career track that everyone told me I should. It was also about becoming spiritual, which for me was finding God and focusing on community and charitable causes larger than myself.  These things are now more nourishing to me than food.  They fill what was empty, and my eating disorder is buried well beneath it all. I haven't had a relapse in over 10 years. My hope is that others can find this as well.
Un-outraged,
Ashley
P.S.The ironic thing about the pillow though is that sleep actually does help you lose weight. There are studies that link sleeping more to weighing less. And we all look better when we are well rested right?
P.P.S. This advertising plays on my emotions, not because I'd ever want a Maserati, but because I love art and film-making.  This is epic.  I can look past the advertisement and see a bigger message: We had to learn to deal with them, how to overcome them.
(link here if you can't see the video)