Watching the Oscars tonight, my favorite awards show. I would love to be an Academy screener…I watch at least a movie a day…I think I could fit them all in.
Love this infographic courtesy of Mediarun: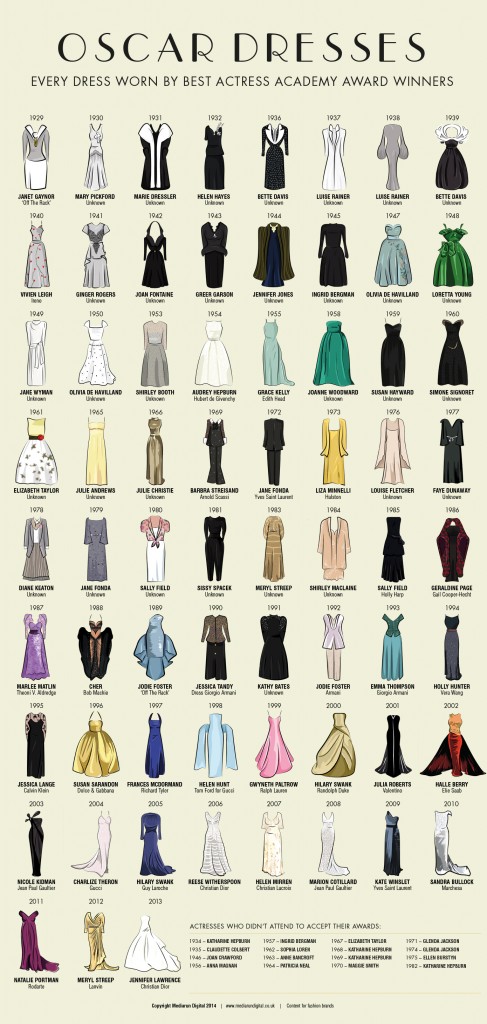 A few Oscar dress tidbits:
Gwyneths's 1999 Ralph Lauren (Movie: Shakespeare in Love)
was knocked off within days. Gwyneth was credited for bringing pink back into fashion.  (
source
)
Susan Sarandon's 1996 Dolce & Gabbana (Movie: 1995 Dead Man Walking) was designed to match her hair color. It was also the first time a celebrity had worn a Dolce & Gabbana to the Oscars.  (source)
Jodie Foster (Movie: 1988 The Accused) bought her 1989 Oscar dress off the rack, like the rest of us.
My all time favorite Oscar winners for Best Picture (even though I love them all):
The Artist (2011)
Gladiator (2000)
Braveheart (1995)
Schindler's List (1993)
Terms of Endearment (1983)
Ghandi (1982)
One Flew Over the Cuckoo's Nest (1975)
Ben-Hur (1959)
Gone With the Wind (1939)
Random:
In college, Mr. LBB looked eerily similar to Jared Leto.
If I had to pick a favorite dress, I'd pick Hilary Swank's 2005 Guy Laroche dress. I wouldn't wear it though, unless I looked like Hilary Swank in it.
People always tell me I look kind of like Hilary Swank. Maybe it's our front teeth.
My favorite actress: Diane Lane.
My favorite actor: Denzel Washington.
Movie I quote the most in daily conversation: Dodgeball
Movies I've probably seen more than 10-20 times (not necessarily on purpose): The Shawshank Redemption, Frida, An Officer and a Gentleman, Abyss, Coal Miner's Daughter, A Few Good Men, and Gladiator
I've met Angelina and Brad in so many of my dreams that I think I know them. (Usually we are just on playdates with our kids at the park talking about movies.)
I haven't seen any of the movies up for Best Picture this year yet. (Canceled my Netflix so it can catch up to me….)
Update:
I was rooting for Hollywood Housewife's hubby's movie to get Best Makeup.
This is my favorite Oscar photo of all time. And it crashed Twitter.
I'm having anxiety watching the pizza being handed out…..what if Harrison gets pizza on Calista?
Oh my gosh….those typewriters behind Robert DeNiro. Drool.
Matthew McConaughey's speech. Loved it.
So which was your favorite dress over the years?  Favorite movie?