Hair schmair. I really could care less if I lose my hair. Seriously. It will be pretty awesome to be able to get ready in 5 minutes flat every morning. No one will be able to tell if I've showered or not except if I start to smell. Mr. LBB wants to shave his head too…..I said NO WAY. He has to keep his luscious "Bradley Cooper" locks because I have to LOOK at him every day. I'm trying to prepare Boo for the reality that I most likely will lose my hair in the next 2 two weeks. It's not going so well. If anyone has another technique they think I should use I'm ALL ears.
Me: Look! It isn't so bad!
Boo: I don't like it.
Me: Think about how quickly I'll be able to get ready in the morning. You'll never have to wait on me again.
Boo: I still don't like it.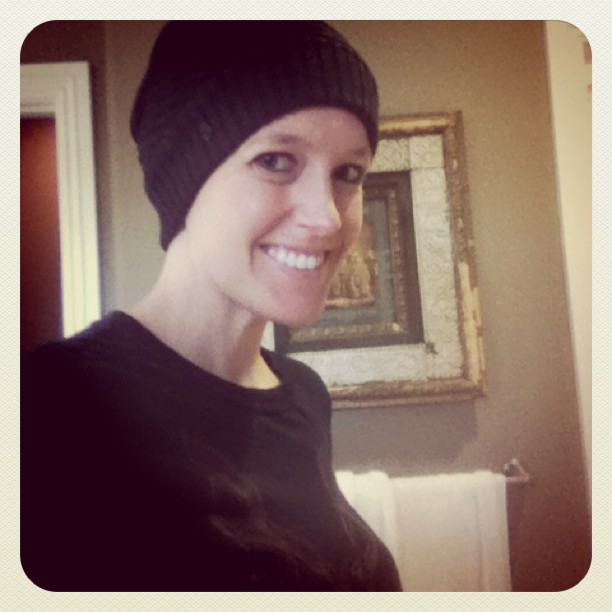 Me: Hey, don't you think it would be really fun to shave my head? I'll let you do it. You'd be the coolest kid ever!
Boo: I don't want to be cool! I just want you to keep your hair the way it is.
Me: Mommy is sick and the medicine that is going to help me get better is going to make my hair go away for a little while.
Boo: Well find ANOTHER way to get better!  (in other words…..get a second opinion?!)
Me: Grandma's hair is really short. You like her hair right?
Boo: Yes, but I like everyone's hair just the way it is RIGHT now.

Me: Only a few more days until Christmas!
Boo: OH no…..that means your hair is going to go away soon.

I guess it will be traumatic for her right at the beginning but she'll get used to it. I don't want her to be scared of me or embarrassed. I think about myself at that age and how embarrassed I'd get of my mother for the littlest things…..it's not that I was unkind, it's just that age range when you are just trying to figure out where you fit in. The last thing you want as a kid is a bald mom. 
On another note my boob looks as big as a cantaloupe in this photo! I look like I might topple over….too bad it's just an illusion and I don't even fill out an A cup.
I've got my little bag packed for tomorrow with some magazines and my laptop. The nurses say that most people try to sleep through their treatment….um, I never sleep. Hello, I'm new here….and I can't stay still. Oh and I like to document my whole life by Instagram pics so could you snap my photo real quick as you insert that IV? I'm not worried or scared about the IVs, drugs or needles…..I'm worried about getting claustrophobic and restless. I'm the patient that unhooked herself from everything after being rushed to the hospital JUST to get out of there. I'm the patient that tried to negotiate being discharged at 12:30am after being admitted for internal bleeding. Maybe they'll agree to hook the IV bag to my jacket and I can walk around the hospital grounds……otherwise they might need to sedate me!
I still have a "super cough"….so I'll spend most of the day trying NOT to cough which will just make me cough more. I had to take pain medicine this morning because I pulled a few muscles where my surgery was just from coughing. Most normal people might have anxiety about having cancer and undergoing chemotherapy…..not me….I just have anxiety about having to sit in a chair for 6 to 8 hours and coughing all over everyone while they sleep peacefully next to me. And how I'm going to get lunch delivered to the infusion center so I don't starve to death? : )

Happy Monday!