Are you familiar with HauteLook? From the owners of Nordstrom,  HauteLook is a free, members only, shopping site that hosts major sale events featuring amazing brands at incredible prices. You will find apparel for women, men and children, shoes, home decor, toys and more! Here's my current HauteLook holiday wishlist. All of which is up to 75% off right now!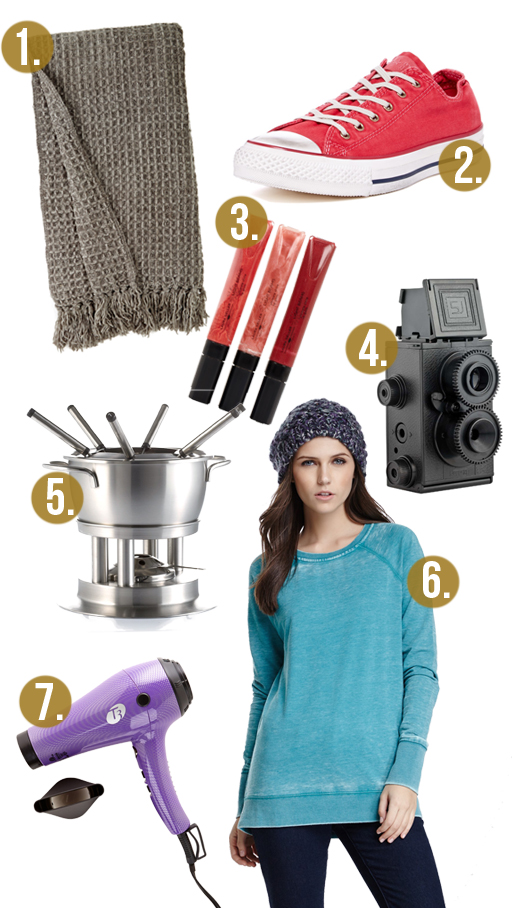 1. Cozy Platinum Shenandoah Throw.
2. A new pair of Converse. Love the washed look!
3. Festive Treats Light Beams Ultimate Shine Lip Gloss Set.
4. A DIY Twin Lens Reflex Camera Kit. So cute!
5. A Fondue Kit by Stokes for the next girl's night in.
6. A comfortable Threads for Thought Rocky Sweatshirt.
7. The amazing T3 Featherweight Luxe Hair Dryer.
You can sign up for HauteLook here to find out about their latest sale events on the hottest fashion, home and beauty brands! It's free to join!
*This post is in partnership with HauteLook. If you would like more information on sponsoring the Lil Blue Boo blog and to read our disclaimer policy please go here.