Never a dull moment at Lil Blue Boo. My last update I managed to fit the words "laxative, beer bong, Grecian and Team Edward" all into one post and it all made sense. This time it's: maxi pad, maternity jeans, mathematical equation and donuts. Yes, my blog is random…..you never quite know what I'll be in the mood to write.
I had my chemo this morning at 8:30 am. Just a half pound of weight lost….I thought for SURE I'd gain weight after Thanksgiving. My butt is so flat and sad looking saying "feed me, puhllleeeaseee!" I reply: "I'm trying! But they can't fit donuts in IVs!"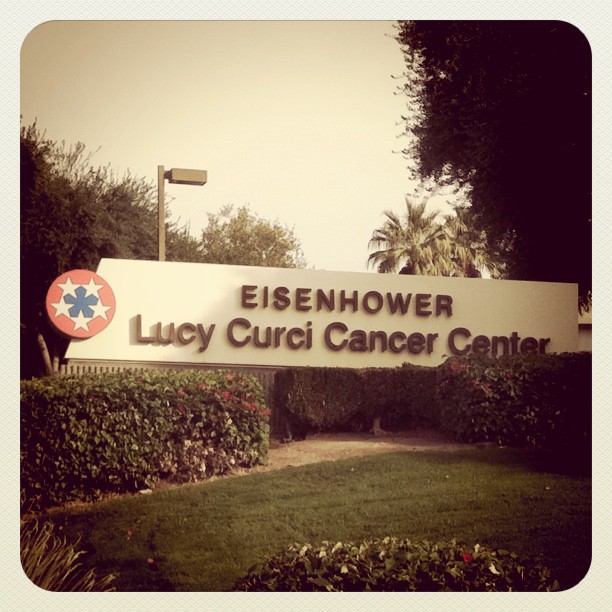 Lisa is sick with a bad cold so we are wearing masks around here today. My mask is from the Lucy Curci Center and is lightweight and comfortable….Lisa's mask is from an apocalyptic nuclear war emergency kit, seriously, that's Lisa for ya. I kept laughing because her mask was so thick and she kept saying:
"I feel like I'm wearing a maxi pad on my face!!!"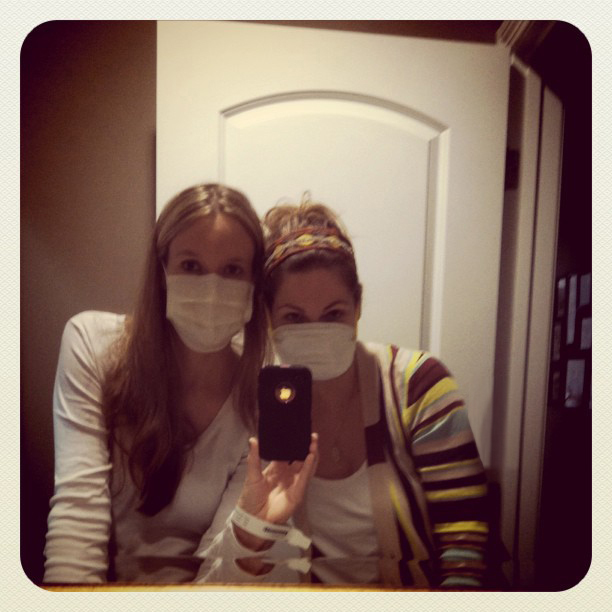 I worked my little tushie off this morning because I had some energy and I knew the chemo would kick in by afternoon. It felt really good to work for a while. This weekend Mr. LBB and our friend Chris and his son carpeted the outdoor studio. I really, really wanted to dig in and organize some things but didn't quite have the energy.
Holy smokes…..I can't believe the response to the Choose Joy bracelets today. Seriously. Floored. Tears. Speechless. More tears. Giddy. I ordered 2,000 bracelets thinking that they would last a few months……and we already sold more than 1,400 in the first few hours. Mr. LBB and his assistant Bonnie had the bracelets at work today sorting and packaging. I'm going to have to get more help just to ship bracelets out! I feel like it's my dad's parting gift to me…..something I can really use to try and make a difference….all from a tiny piece of paper he left behind in his office. That gives me chills. Thank you so much for wanting to spread this message.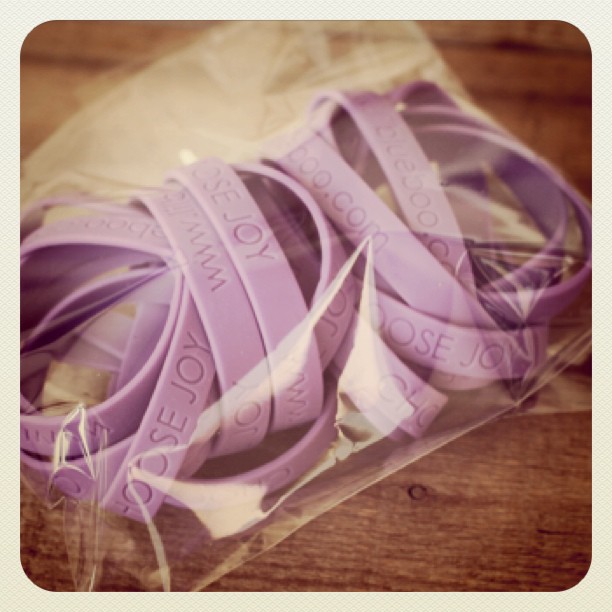 I've got this new project I wanted to start. I've gotten emails, unexpected packages and encouragement from so many of you….it just blew me away. In a way it's made me feel guilty that I'm sucking up too much kindness and encouragement from the earth and that I need to find a way to deflect it to others that need it.  Every once in a while I consciously go out one day and before I come home I have to do something nice for someone….something.that is unexpected. I'll pick a day soon and make it a day that we can all do something unexpected for someone else on the same day. Hopefully it will keep going on a daily basis! At night I brainstorm ideas and keep lists:
Take extra coupons to a store and hand them out to others who didn't bring them.
Go out of the way to tell a manager about how great a waiter/waitress was.
Help someone who seems to be struggling with their groceries.
Bring in the neighbors trashcans.
Buy coffee or breakfast for the person behind you in line.
Write a short note to someone who has had a hard time recently.
Smile at the person ringing up your purchases and ask how their day is.
Drop off a new journal and a new pen to someone who could use some reflection.
Offer to organize a friend's kitchen cabinets.
Every little thing that has been sent in the mail has been so appreciated. I hope many of you won't mind if I share them with others who need some joy and encouragement. I don't need one material thing. But the kindness and generosity you've shown me has given me the opportunity to share with others and I thank you for that from the bottom of my heart.
*****
I do want to share one delivery that will make you laugh. If you've followed me for a while you know my obsession for donuts (heck, I have an entire series devoted to donuts called The Donut Chronicles). After returning from Thanksgiving, we found 10 dozen Krispy Kreme donuts had been hand delivered to our front door…..personally delivered by CEO Jim Morgan. The king of donuts?!? At my front door?!? And I wasn't here?!? (If you happen to read this Mr. Morgan, thank you so much…..I'm not sure The Donut Chronicles can ever top this. I think it might have to retire.) My dad knew so many wonderful people and Jim is one of them. My dad's legacy pops up in some way every single day…..even through donuts. That's something we'll remember forever "remember when I was going through chemo and had 120 donuts delivered to the front door?" Minus the dozen we ate ourselves, we had fun hand delivering the rest of the donuts to friends and family and neighbors. If I wasn't going through chemo though I can guarantee you I would have eaten an entire box myself.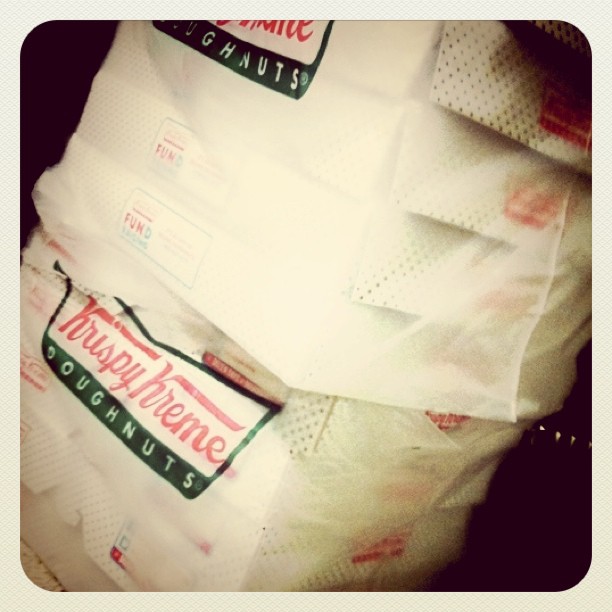 Highlight of my day? Wearing jeans! The chemo makes my skin so sensitive that it makes it impossible to wear normal pants/jeans with my huge incision so I ordered a pair of Gap Maternity jeans (the only ones long enough for me!). The butt needs to be taken in just a bit but they rock. The huge elastic band covers my scar perfectly and I can tolerate it. So I might need a few more pairs to tide me over the next few months!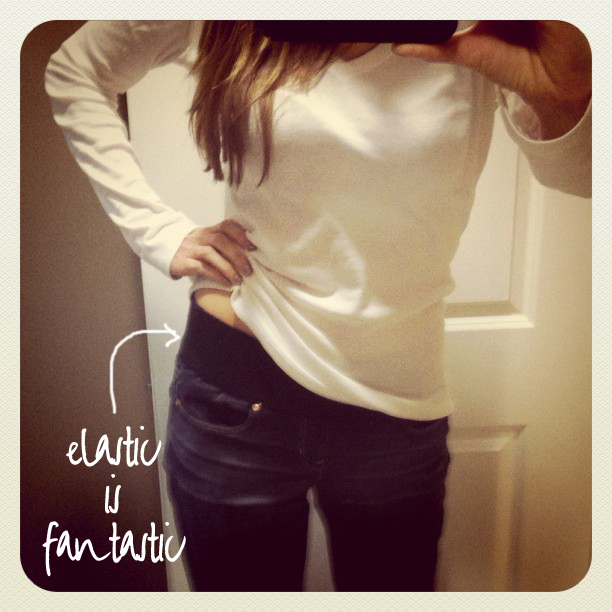 My levels continue to go down. I did a mathematical equation and the way the numbers have been it looks like I'll be doing chemo into March. Maybe next week will be a huge drop and it will change my calculation : ) Angie was the closest with her guess last week in the pool with 1999! I need to find a little prize around here for her. Put in your guess for next week…..it's my chemo pool….I'll make chemo fun somehow!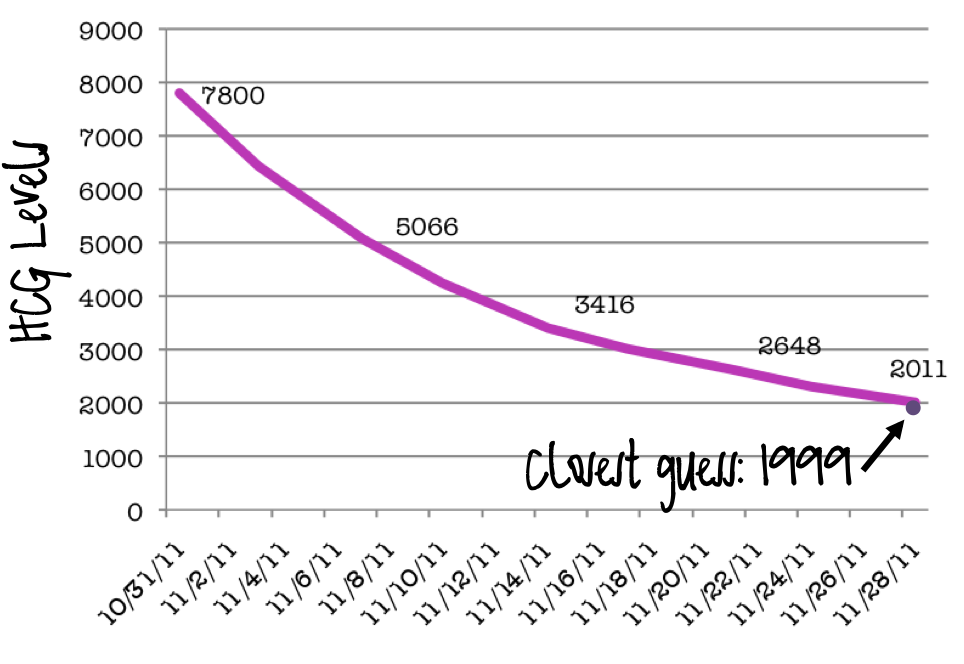 Before I sign off tonight….I want to share someone special with you. I'm so moved and inspired by a woman named Jenny Swett. She found out in 2009 that she had breast cancer and then it spread to her liver, her brain and her bones. Jenny is undergoing additional radiation soon and once that is done she'll start hospice. She is such a pillar of strength for me. I pray every night for a miracle for her and her family and hope you will too. We were introduced by her mother online and I know we were meant to be friends. You can read her and her mother Debby's updates here.
"I have to say though, I'm not scared. I'm really, not. I feel like I was chosen to live this and I honestly look at it that I was given a gift to learn what most people learn in half the time, if at all. It was also a gift to be given this time to learn to live in the moment and accept life for what it is. The thing is, we make it so complicated. Life is simple, it really is."
Life IS simple, it really is. Thank you Jenny.
Love to you all.
Choose joy!
Ash