A little backstory (back about, oh, a week):
We went to my brother-in-law's church this weekend.  We just woke up Sunday morning and a little voice told me to go. It seemed so random because we hadn't even talked to my BIL about it, but now I think it wasn't so random. As we sat and listened to the message about sacrifice….
"Sacrifice mean you give up something that matters to you."
"God is saying: Jump….I'll catch you."
"Sacrifice proves that I trust God more than I trust myself."
…Mr. LBB and I kept looking at each other over and over as the pastor spoke….because it felt like it was tailored for us….ever feel that way?  You see, I've been praying and praying over the last few months for what direction to take with my work and our family life. I feel like I'm being led in a certain direction: to do more. to pursue things that matter. It's been more of "when should I jump" I guess.  Then at the end of last year around Christmas a few things happened that really set things in motion. It's a long, crazy, amazing story to tell about what we are going to be doing, so I'm sharing it in pieces over the next two weeks, but the first little tidbit is that we've decided to sell our house.
It's been a decision we've been weighing with a heavy heart over the last year because it's the house we always thought we would grow old in.  It's a house with years of love and labor put into it.  It's the only house Boo has really ever known. It's a spacious house that was renovated with a large studio space and separate office/casita so that I could make a living in it. But things change.  We expected to fill the house with a large family and that just hasn't happened yet.  Also, to expand our family we would need the funds that we've invested into the house.  So it's a catch-22. But more than just those decisions there are some enormous changes coming down the pipeline for us.  In December/January a few things happened that made all the heaviness go away, at least most of it.
So anyway, without sharing too much too soon, a few weeks ago we put the house up for sale by owner.  I was always kind of hesitant to share the front of the house because it just seemed kind of intrusive.  But now I don't really feel that way because soon I know this will be: our "old" house.
Anyway, this is just a small part of the whole story, but I'm kind of doing having to do it in pieces because it's a lot to cover.
Let me start with some BEFORE photos of the house from when we first started work on it, back in 2007/2008.  We lived in a little condo about a half of a mile from the house until the big work was done and we could actually inhabit it.  This is right after I had all the dead landscaping torn out: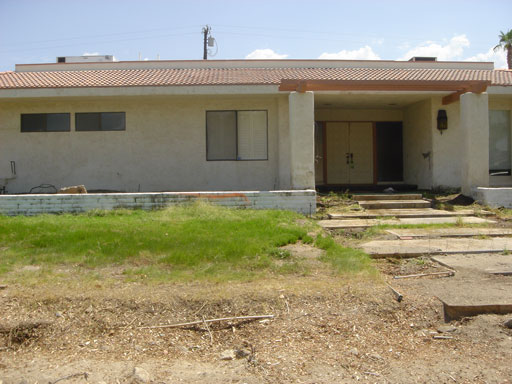 We bought it as a foreclosure and the bank had let it fall apart over the span of a year.  It had been vandalized, left open repeatedly, and most of the landscaping and trees had been allowed to die in the desert heat because they disconnected the water.  Mr. LBB and I had a vision for it though….it was a large lot and had some good bones (I know it's hard to see the good bones at this stage but bear with me!):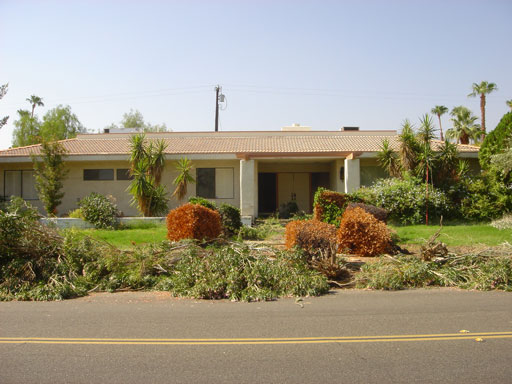 The concrete in the back had been patched over for years and the pool was original from the 1970′s.  There was a huge concrete wall that cut the yard in half to make a dog run in the back of the yard: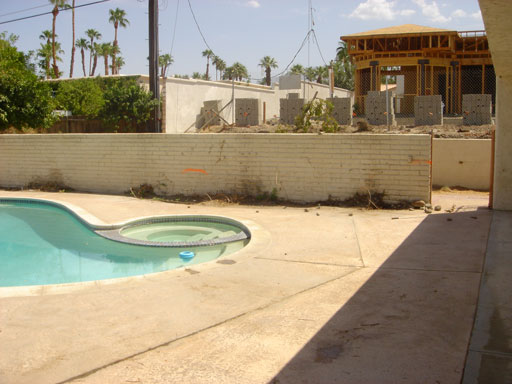 The first thing I wanted to do was remove every single overgrown plant, bush and tree.  Funny, but every person I approached for the job refused to cut down the olive trees in the front.  They said they couldn't bear to cut them down.  I just wanted them cut down so that we could put a circle drive in the front.  I never could find anyone to say yes….so I left them.  I guess that means they were meant to stay….and I'm so glad everyone refused to cut them down because the mature olive trees are beautiful now….nursed back to life over the last few years.  They are kind of pesky with their rainfall of olives once a year but we've learned to spray them with a fruit prevention.
So want to see the house now?  After 6 years of hard work? (Click continue reading) CONTINUE READING