One of my favorite things to do is to sneak into the kitchen at the Hemlock Inn and see what the cooks are up to. I love listening to their stories. Wally and Donna just happen to be married and if I'm lucky I'll catch them singing old country songs while they cook.
Donna started working in spring of 1998 as a kitchen helper to cook Gladys Hensley.  Gladys died last year at the age of 86.  I was so moved when Donna and Wally told me that for the last few years before Gladys died they had picked up Gladys on Sunday mornings to take her to church with them. (Donna also invited me to my first revival if you remember). To make a long story short, when Gladys turned 71, she finally retired from cooking for the Hemlock. Donna liked it so much in the kitchen she stuck around. Yay for all of us.
Recently Donna told Harper ("the intern") and I that she'd teach us to make biscuits one day. I took notes which you'll see at the bottom of the post with the recipe.
More importantly though here's what I learned from Donna this afternoon about how she learned to cook:
I grew up cooking for my family because my mom and dad worked in the cotton mill on the 3rd shift. I'd cook dinner and wake up my parents and they'd eat and then go off to work. We'd make meatloaf, pinto beans, stewed potatoes, and fried chicken. Typical southern cuisine. We were latch key kids but my daddy knew one of the local policeman and he'd stop by to check on us every so often.  You grow up pretty fast when you are cooking and doing laundry for the whole family. Both of my parents were gone by the time I was 18.

I also learned to cook by watching my grandmothers. I remember my country grandma, Minnie J, had country hams hanging in the smokehouse. She'd take the tops of onions and tie the tops with twine and hang them up in the smokehouse too. Those would last a year to 16 months. She'd can almost everything else. I remember my arms being red from skinning beets. Whatever produce we didn't eat or can, Grandpa would take in the truck to sell. He'd take his wheat to Southern Biscuit Flour Company. It's still in operation today!  My grandfather still plowed with a big work horse and a walk behind plow. He had a mule named Rosemary, but she wouldn't plow unless my daddy led it. (Wally pipes in: That's a Jenny.)

My city grandma was Lillian. She was single and worked in a cotton mill on 2nd shift (4 to midnight). I remember our meals with her were cans of Bunker Hill Stew, shotgun biscuits, and instant mashed potatoes. My city grandma smoked one cigarette a night and we'd fall asleep watching the Johnny Carson show. I learned from both worlds it was like I had two lives. Actually I think I've had nine.

My country grandma hated my city grandmother because she had running water and a bathroom. My city grandmother wore pants and bermuda shorts bought from the store and my country grandma had an outhouse, a well and made her own cotton print dresses.  She wear those dresses until they were worn out and then she'd cut them into pieces and make quilts from them. I still remember the pieces on the quilts and which dresses they came from.
(Note: I feel like I left out so many awesome details….I need to get a tape recorder!)
Here is the recipe for the biscuits we made (we didn't include the butter though). Enjoy!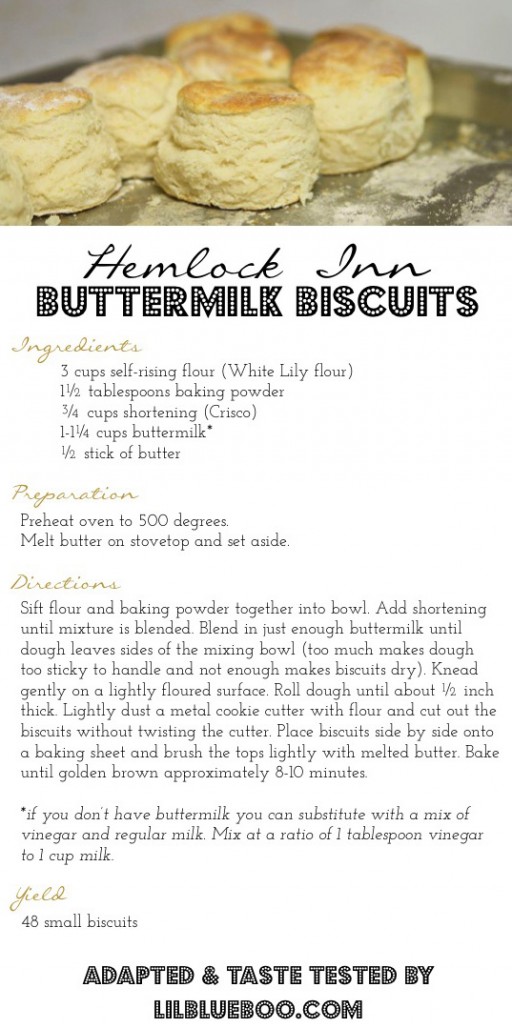 And a photo step-by-step.  Donna doesn't measure anything out:
"Gladys taught me that one big scoop of flour in the sifter makes one pan of biscuits.  That's how I measure."

Love you Donna!
P.S. The Hemlock cookbook has all the recipes of the food served at the inn.  You can get it here. My favorites are the banana pudding, the carrot custard and the black eyed pea salad.  I'll share some more recipes soon.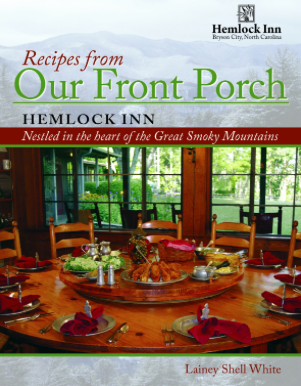 (Recipes from Our Front Porch on Amazon)