Watching the Oscars tonight, my favorite awards show. I would love to be an Academy screener…I watch at least a movie a day…I think I could fit them all in.
Love this infographic courtesy of Mediarun: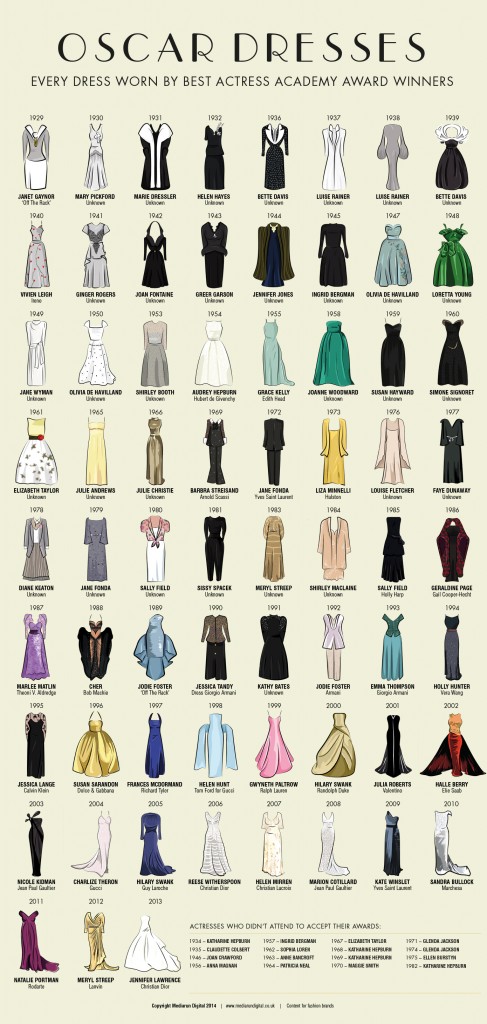 A few Oscar dress tidbits:
Gwyneths's 1999 Ralph Lauren (Movie: Shakespeare in Love)
was knocked off within days. Gwyneth was credited for bringing pink back into fashion.  (
source
)
Susan Sarandon's 1996 Dolce & Gabbana (Movie: 1995 Dead Man Walking)
was designed to match her hair color. It was also the first time a celebrity had worn a Dolce & Gabbana to the Oscars.  (
source
)
Jodie Foster (Movie: 1988 The Accused) bought her 1989 Oscar dress off the rack, like the rest of us.
My all time favorite Oscar winners for Best Picture (even though I love them all):
The Artist (2011)
Gladiator (2000)
Braveheart (1995)
Schindler's List (1993)
Terms of Endearment (1983)
Ghandi (1982)
One Flew Over the Cuckoo's Nest (1975)
Ben-Hur (1959)
Gone With the Wind (1939)
Random:
In college, Mr. LBB looked eerily similar to Jared Leto.
If I had to pick a favorite dress, I'd pick Hilary Swank's 2005 Guy Laroche dress. I wouldn't wear it though, unless I looked like Hilary Swank in it.
People always tell me I look kind of like Hilary Swank. Maybe it's our front teeth.
My favorite actress: Diane Lane.
My favorite actor: Denzel Washington. CONTINUE READING