My family. My books and journals. Water?
We were going to go to church this morning but I have a horrendous cough.  We stayed home instead and made biscuits with apple butter.  Brett and Boo know me way too well because I got books from the two of them this morning:
A Million Miles in a Thousand Years: How I Learned to Live a Better Story by Donald Miller
and
Love Wins by Rob Bell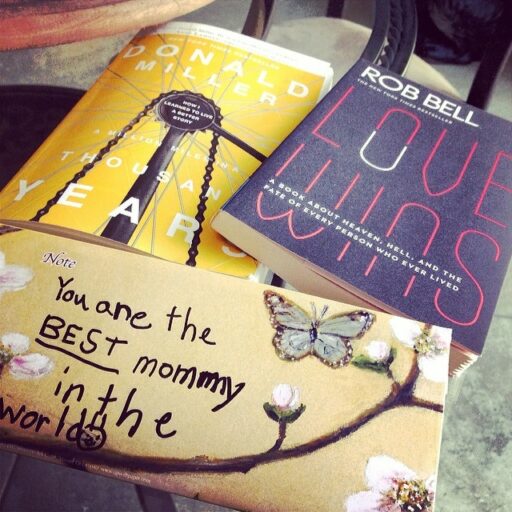 The Best Mommy in the World. That's what my card says.
We spent the rest of the day packing up boxes and sorting more things for our move.  I did manage to get a photo of Boo and I yesterday at the Mother's Day Tea at school: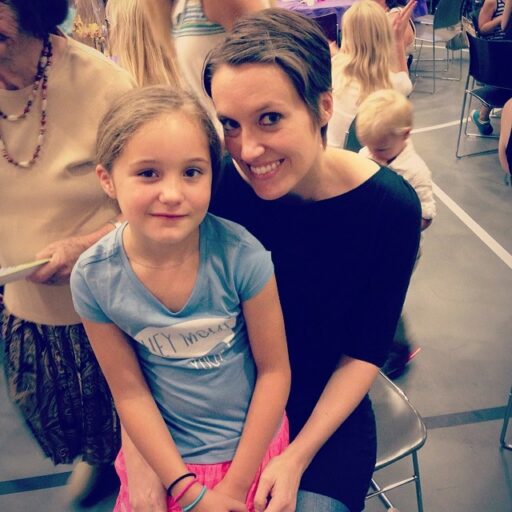 It's been a process getting rid of 30+ years of belongings and collections as we gear up for a simpler life. Last night we went to our usual pizza place and Boo took all of her 10K+ loose crayons for their almost empty bins. She even refilled them herself: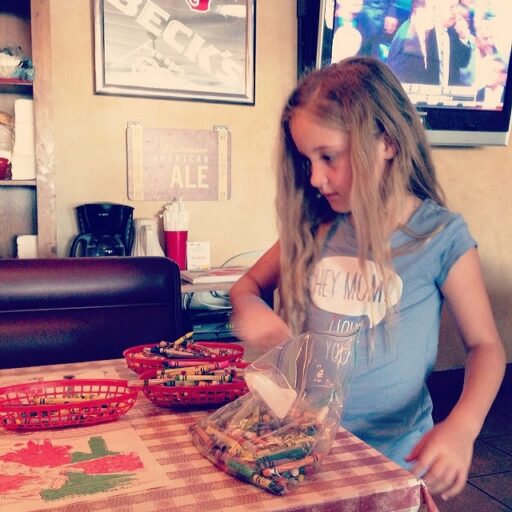 This has been good for us.  The more we get rid of the more we want to get rid of. It's a domino effect.  I've made at least 2 thrift store runs a week and we plan to have a big moving sale for the remaining items right before we leave.  And the house we'll hopefully still sell furnished (furniture, plates and silverware, pots, artwork…even the fish in the fish tank!)
Boo doesn't want to really keep much at all….just her books and her dolls.  (Goodbye Barbie Dream House!)  Brett and I have narrowed our closets down to the bare necessities.  I've kept some craft supplies and tools so I can keep doing DIY on the blog but really we are only taking what we can haul with us.  No movers, no storage.  I feel like I've been playing that "what would you take on a deserted island" game for the past few weeks!
Except I do have that one issue: books. I haven't really been able to get rid of any.  Actually not true…I did remove 2 from the pile, but only because they were duplicates. And I sorted my piles by memoir, fiction, self help, etc.  OCD. And when I try to pack them I end up rearranging piles: might want to read before I leave. pack last. leave out of boxes. hide in suitcase. hide in camera bag.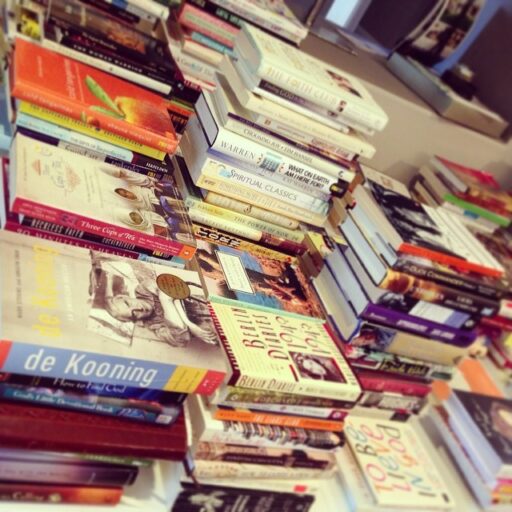 I did hand pick some items for the blue label page to help fund our move and the next few months as we figure things out.  Thank you for all the support. What's on the page is just about the last of everything.  I can't wait to get through all of this craziness so I can focus full time on writing finally.  We are leaving June 1st regardless of whether the house sells. We'll just leave it. And rely on faith that it will sell in its right time.
(Note: Need to figure out the best way to get Internet in the car on the way cross country: hot spot phone or just stand alone hot spot?)
Hope you had a wonderful day!