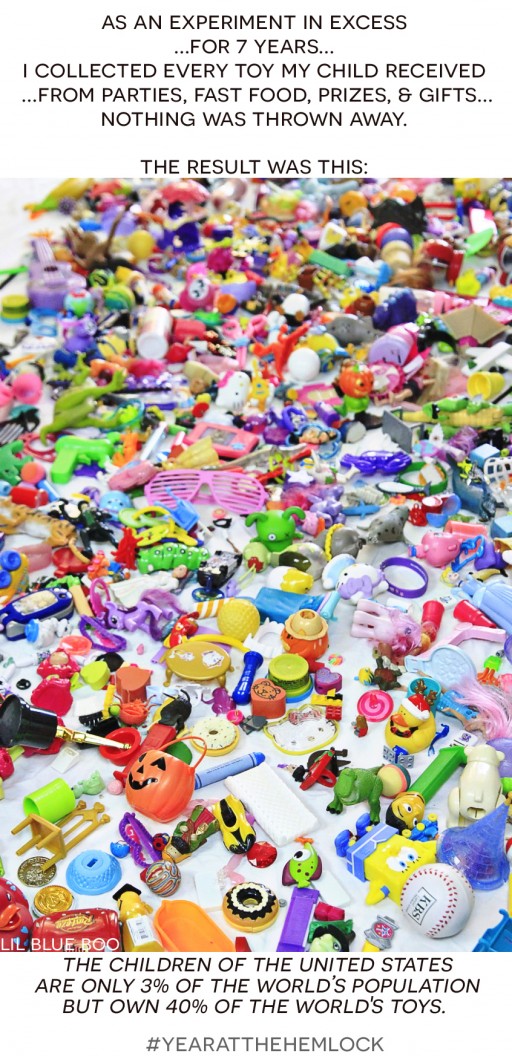 For the first seven years of Boo's life I never threw away a single toy. Every plastic party favor, every lost game piece, every McDonald's toy, every lost Barbie shoe…all went into a large plastic bin in a coat closet.  I first started doing this mostly because I couldn't bear for it all to just end up in a landfill.  I remember a National Geographic article I read about 10 years ago that had a dead baby Albatross split open with all the plastic pieces it had accidentally been fed by its mother.  Eventually it was so full of junk from the landfill that it couldn't eat actual food and died.  That picture is in my head every time I go to throw something away now: mommy bird feeding Barbie shoe or Polly Pocket purse to baby bird.
The crazy thing is I didn't even buy 99.9% of these toys.  They were all free….party favors, Halloween prizes, homework rewards etc.  As it started to fill up a plastic bin over the years I became more and more aware of how much our children consume these days. Keep in mind that all of these toy pieces were collected by ONE seven-year-old whose mother does not buy much of anything….then multiply this amount of toys by the number of children in the U.S:
SEVENTY-FOUR MILLION
I was saving all of these toys in hopes of making something out of them….maybe a sculpture or a collage….anything so they wouldn't end up in the trash.  When we had to sell everything for our move cross-country the toy bin did not make the cut and Boo ended up selling about half of them at a yard sale (and those are probably in the landfill about now). I was able to convince my earthy friend Megan to take the rest off my hand….she would make sure they aren't thrown away.
A statistic:
The children of the United States are 3% of the world population and own 40% of the world's toys.
That makes me want to throw up.
I rarely buy my kid anything and we still ended up with a gross amount of excess.
When we moved to the Hemlock Inn in June for a simpler life she was allowed to bring her Legos, her wagon and her dolls.  That's it.
And she's played with them maybe a total of 3 times all summer.  For the last 3 days she's been playing with sticks.
She never missed a single of those toys I confiscated and hoarded away in the closet bin.
The less she has, the happier and more content she is.
The more her imagination runs wild.
The more she loves to read and write and make and build.
Me too.
Less is more.
I love this advice from The Minimalists…it's not rocket science:
Spend half the money and twice the time with your family.
The return on your investment will be exponential.
If you've seen the movie Wall-E you know how this all ends otherwise: