Is it time to update your child's room or playroom? Adding pops of color here and there can take any room from drab to fab. By adding colorful poufs to a reading corner, fun animal pillows to a bed or window seat, or brightly colored decals to the wall you can create a fun and cozy room that they will definitely want to spend time in. Some of these items would work in your bedroom too!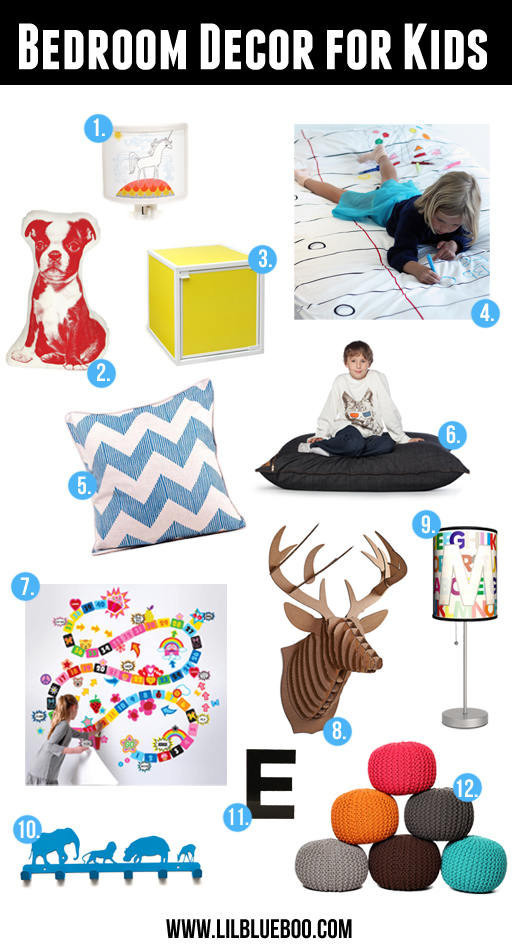 1. Unicorn Night Light | 2. Mini Terrier Pillow | 3. Yellow Modular Box | 4. Doodle Cover | 5. Chevron Pillow | 6. Lounge Pillow | 7. Cupcake Land Wall Decal | 8. Cardboard Deer Trophy | 9. Monogrammed Lamp | 10. Animal Coat Hanger | 11. Enamel Monogram for Wall | 12. Knitted Poufs
Fab is an online design curated shop featuring quirky, fun, modern and colorful products. You will find clothing, home decor, art, gadgets and more! Items on Fab are only there for a limited time so if you like something…act quick! Register a free account with Fab to receive updates for Fab's newest sales and find something fun for everyone!
*This post is in partnership with Fab. If you would like more information on sponsoring the Lil Blue Boo blog and to read our disclaimer policy please go here.