We were watching Frozen Planet recently and there was a mother polar bear nursing her babies:
Boo: What are they doing?
Me: They are drinking milk out of their mommy's boobies.
Boo: WHAAAT!?
Me: That's what most babies do……um, except for you.
Boo: Will milk come out of my boobies?
Me: Yep, some day.
Boo: When I have big boobies right?
Me: Let's see how many more times we can say "boobies" in this conversation.

Yep, that's me…..I didn't breastfeed. Judge me all you want.  That was my decision…..and Boo's always been a healthy, energetic, smart little kid.
The first thing I thought when I saw the Time Magazine cover was: who cares? I try to stay out of people's parenting business. As long as your kid isn't in danger….good work. Honestly, I don't even know what the Time Magazine article is about……and I decided I wouldn't read it because I know the cover was a ploy just to try and GET me to read it…..and that annoyed me.  However, sometimes this tactic works…..put a secret paparazzi photo of Brangelina getting married on the cover of Time and I'll purchase it in a second. If it's Will and Kate related…..I'll purchase it in a millisecond.
I have no idea what "attachment parenting" is…..but I'm pretty sure I don't fall into that category.  Or maybe I do? I'm pretty "attached" to my kid. I wonder if there even is a category for me?  Why do we have to be put in categories anyways? Ugh….it's like high school all over again.  If I didn't breastfeed….am I in the "out" group?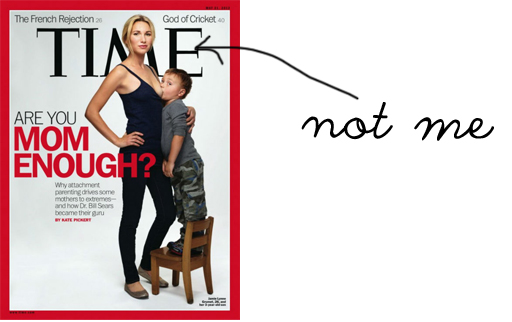 I've told various parts of my birth story before. "Birth story" sounds weird…..let's call it "what happened when I had Boo." The second I found out I was pregnant I was overwhelmed with happiness…..the next second I thought: oh sh@#, the baby has to come out somehow now!
I had white coat syndrome times infinity……every time I stepped foot in the doctor's office my blood pressure shot through the roof. I'd lay on the table, start sweating, and all the cocoa butter I'd applied that morning would come sliding off onto the table.
Me: Omg.  The baby has to come out my fine china*. I'll die. I just know it.
*Note: I do not use the word vagina. I could never have been a doctor. My child will be referring to her "hoo hoo" or "fine china" for the rest of her life.
Dr G: Don't worry. You'll do fine. It's a long way off.
Me: You can just cut the baby out right?
Dr. G: We can just plan on a c-section.
Me: And there are lots of drugs so I won't feel a thing?
Dr. G: Yep!
Me: Perfect. Add me to the calendar.
And at that moment all the anxiety went out the window.  There was no reason for me to have PTSD before the event even happened.  I never had any desire for a natural birth. My worst fear was going through labor for 2 days and then having a c-section anyways. My body never even showed any signs of going into labor.
My amniotic fluid was low for the last three months of my pregnancy.  My blood pressure started getting higher and higher. Dr. G and his nurses tried to keep me from doing any activity but I would forget. I would lay there resting and then yes, I would FORGET that I was supposed to rest. The weekly conversation at the doctor office would be:
Dr. G: Have you been resting?
Me: Yes, I think I have.
Dr. G: Well, what did you do today?
Me: I steam cleaned the carpets, worked on my nephew's wall mural, and reupholstered a chair.
Dr. G: That does NOT count as resting.
Me: Really? But I didn't break a sweat!
Getting closer to my due date I would be watching TV and everything would be out of focus…..I think there's a technical name for that when you are pregnant….but really it's just high blood pressure…..so I'll just say I had high blood pressure. And soon after Boo entered the world.
I knew I would never breastfeed (honestly the only reason I ever considered it was because I can be super cheap and breast milk was free food.) The nurses tried to get me to breastfeed. I tried once…and I got nauseous. The nurses tried over and over to talk me into it.  I threw a tantrum. They gave me the cold shoulder for the rest of the time in the hospital. It didn't bother me. God gave me the perfect little baby.  I was in love.  She wouldn't care if I breastfed her or not.  We were out of the hospital in 3 days.  I was driving and back to normal in 10 days. It was how everything was supposed to be.
My mother begged me to pump for a few days so Boo would have some colostrum (I don't even know what that is). Sometimes you just want to please your mom. I pumped for 2 days. That was enough of that.
Boo never slept in our bed. She slept in a pack-n-play nearby for about 2 weeks before going into her own room. I need my sleep. Mr. LBB needs his sleep. Boo needs her sleep.
For everyone else…..I think whatever you did……you rock. Did you breastfeed? awesome. Did you have a water birth with no drugs? awesome. Did you only have 2 hours of labor? awesome. 24 hours of labor? not so awesome, but glad you got through it okay.  Is your kid 4 feet tall and still breastfeeding? awesome.
Keep up the good work.
Want to join in on the discussion? Check out the Lil Blue Boo forum!