We went to the top of the Palm Springs Tramway last night for dinner. I don't know why we don't go there more often…..it's pretty amazing. You leave the 114 degree desert….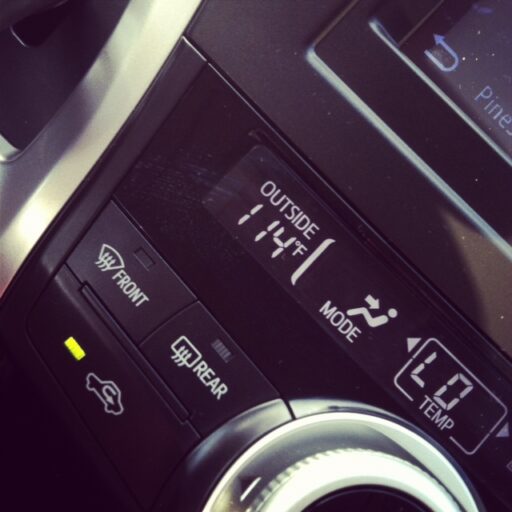 …..and in less than 15 minutes you are at the top of San Jacinto in this beautiful forest and it's 60 degrees. It's a little like entering the other side of the wardrobe into Narnia…..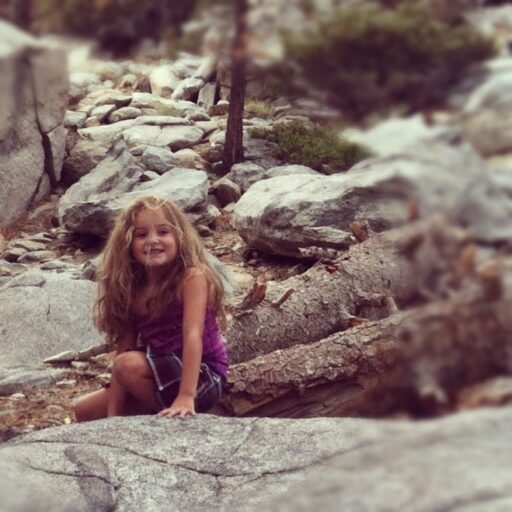 I'm not going to lie….the tram ride kind of scary. So are the ledges at the very top. I immediately start thinking: Who inspects all the bolts? Do they inspect them on a regular basis? Like every day? I think they should have to inspect them every day! And right when I'm thinking about all that, some guy behind me is talking to his partner about what would happen if an earthquake hit.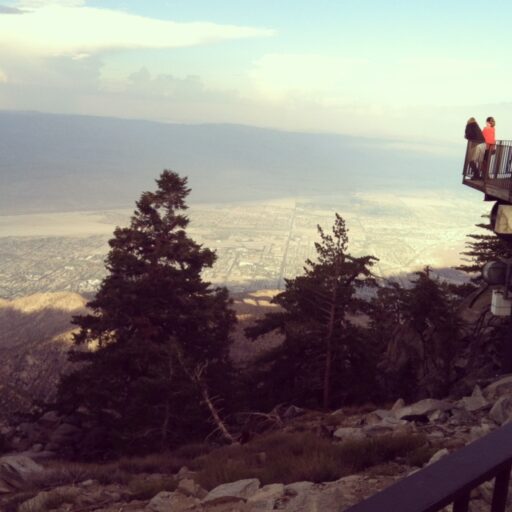 And so we ate dinner. And then walked to the highest point. And you can see the windmills off in the distance…..up close they are creepy…..and from up high I think they look like cemeteries: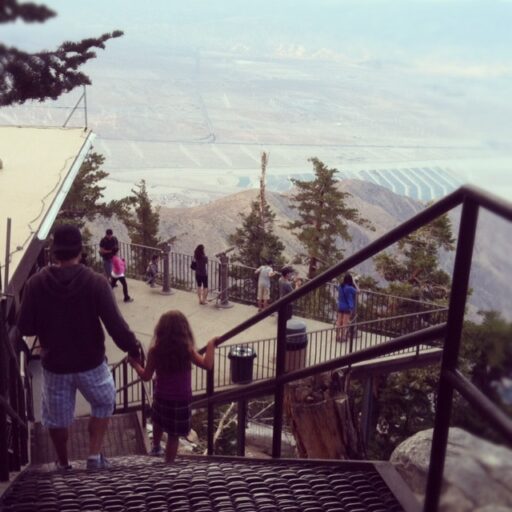 Boo seems to do the same pose every time so I just started mimicking her. (Yep, she's wearing her school uniform for the third day in a row……although we made her change her shirt.)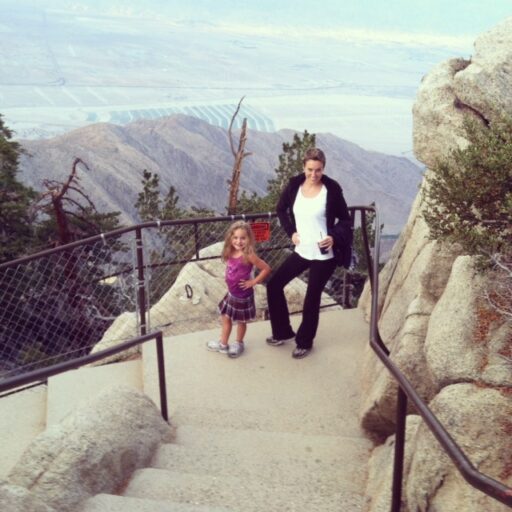 We hiked down the long, steep, winding path to the ranger station.  At the bottom, my Narnia experience continued when we ran into a large group of women. They asked me to take their photo. I told them they were the best looking group of hikers I'd ever seen. And they were…..they were all wearing heels, wide brimmed hats and dresses. They look like they'd been transported straight from the Kentucky Derby.  I'm sure I would have noticed a few of them holding mint juleps if I'd payed closer attention. Now I wish I'd taken my own photo of them. (To the group of fabulous women I met at the top of the tram last night…..if you are out there….or if someone knows them…..can I please have a copy of that photo?  So I can prove to myself that you were actually there and I didn't just imagine all of that?)
After our short hike, and barely making it back up the hill……I told Boo we could go and see the "taxidermy" animals. After I explained what taxidermy was (I'm pretty close to an expert after reading Jenny Lawson's new book), Boo ran into the animal exhibit.
Boo: Where is it???
Me: This is IT.
Boo: No, WHERE is the tax-a-dirty?  Where they stuff the dead animals?
Me: Oh……sorry….um….. they don't actually stuff them here.  It's just the finished animals on exhibit.
And with that one sentence….I think I ruined her whole night.
Boo moped around the exhibit asking me to read the sign under each animal. And every time it went something like this:
Me: This is a Lodgepole Chipmunk. He eats acorns and seeds and insects…..but FaveREDS Starburst left behind by little kids is his most favorite food ever.
Boo (forlorn and shaking her head, not even noticing the details I added:
Oh, this poor…..poor…..chipmunk.…
At that point, we had thoroughly depressed every other person in the exhibit because they all left pretty quickly.
******
As we walked to our car, I pointed out the old tram cars to Boo….the old square shaped ones that they replaced year ago. As soon as we got in the car, Boo's questions start pouring out…..
Boo: Why did they keep the old ones?
Me: Because it's interesting. People like to see the old ones. Aren't you glad they kept them?
Boo: Well I wouldn't have known there WERE old ones so it wouldn't have mattered. (long silence) Can you tell me the story of the old ones?
(Ohhhh…..I love telling stories. Good thing I read all the historical signs.)
Me: Well, like 80 years ago, a guy named Crocker decided it was way too hot in the desert this time of year. So he decided he needed a tram to take him to the top of the mountain. It took 23,000 trips by helicopter to build it. It was a rectangle-shaped tram, so people always were fighting for a front row seat.
Boo: How did they know which side was the front?
Me: Good question. Going up, the front was the front and the back was the back, but coming down the front was the back and the back was the front. That was WAY too complicated, so one day they decided they needed a round one….that rotated.
Boo: And they bought a new one?
Me: Yep. From Switzerland. They ordered a state-of-the-art round-shaped tram that held a lot more people. That means they'll make more money too. And maybe now the food will get better. The best part is that now almost everyone gets a front seat. They shipped the new tram over on a big boat and then some lucky guy got to drive it from the ocean to Palm Springs. It probably came in pieces and they had to put it together. I'm pretty sure that they had a detailed instruction book just like your legos.
Boo: Wouldn't it be funny if they put it together wrong and it was a diamond shape?
Me: Well, then they'd have the same problem as before only worse…..there would only be ONE front seat. Hey, want to stop and see Big Marilyn?
Boo: Did they build her because they missed her?
Me: I guess so.
Boo: But we don't miss her because we didn't know her, right?
Me: We can still miss her if we didn't know her….
Boo: Yeah…..
So we stopped to see Big Marilyn……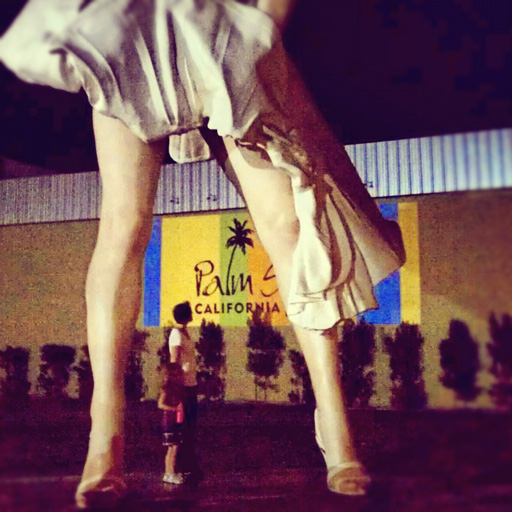 ……and stared in awe, again, at her lovely and gigantic white lace undies.
******
Boo fell asleep during the remainder of the car ride and Mr. LBB carried her back to her room when we got home.
And like she always does, she woke up the second her head hit the pillow….and started right where she left off:
Boo: I don't understand why they need a driver.
Mr. LBB: A driver for what?
Boo: For the tram. They shouldn't need a driver for it.  It just goes back and forth on the strings….in a straight line.
Mr. LBB: The driver has to park it though….and keep order.
And then, she laid her head back down, and after a long silence from her bedroom, we heard:
Oh……that poor, poor chipmunk……