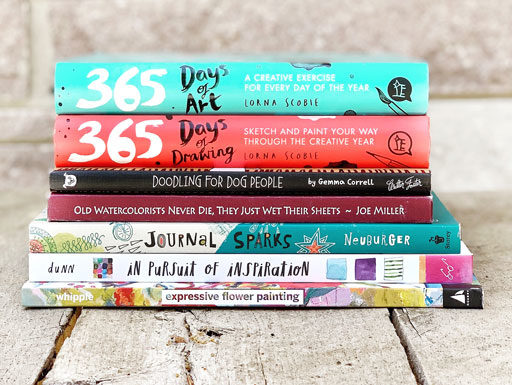 A handful of art and creative books I'm loving now: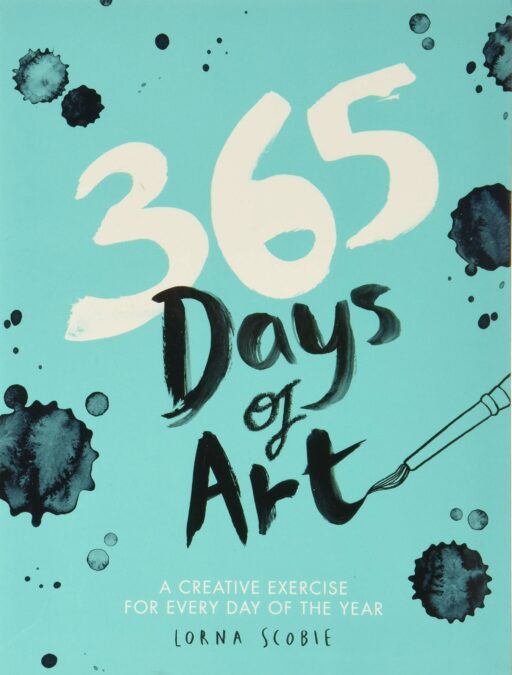 365 Days of Art: A Creative Exercise for Every Day of the Year by Lorna Scobie
I don't remember how I stumbled upon Lorna Scobie's books but I'm so glad I did. I love all the ideas and prompts. There's never a dull page. Filled with exercises with color, calligraphy, pencil, paint, patterns etc. I don't even go in order…I just open it like a magic eight ball.
"365 Days of Art is an inspiring journal designed to help readers and budding artists nurture their creativity and explore their feelings through the medium of art. Featuring an activity for every day of the year, from simple tasks like drawing shapes and lines, to more mindful exercises like coloring-in, painting with primary colors, and drawing what you see. With beautiful, vibrant hand-lettering and watercolor illustrations, the book pairs inspiring quotes with supportive prompts and exercises to spark reflection through your drawing, writing, painting and more."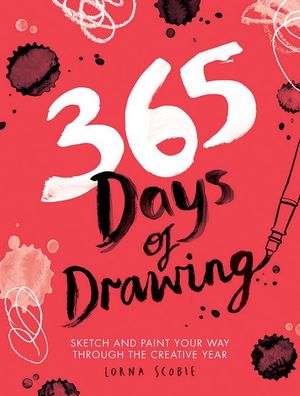 365 Days of Drawing: Sketch and Paint Your Way Through the Creative Year by Lorna Scobie
I love the focus on drawing in this book. There are lots of different ways to approach drawing and sketching and art in general.
"Get lost in your creativity with 365 Days of Drawing, a thoughtful and inspiring art journal designed to help you carve out moments of self-expression. Lorna shows you that drawing does not have to be scary – it can be done with any materials, in any color, in any style and can be done anywhere.
Each activity has been given a loose category: imagination, tutorial, relaxation, color theory, and observational, so that you can practice a broad range of drawing skills. Each 'theme' is designed to expand your creative skills and spark the artist within. With helpful prompts and pages that encourage you to try new materials to draw with, 365 Days of Drawing is guaranteed to stir your imagination and put a little creativity into every single day."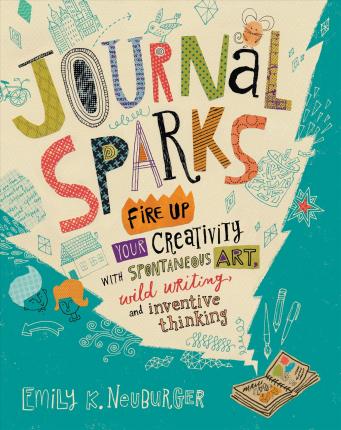 Journal Sparks: Fire Up Your Creativity with Spontaneous Art, Wild Writing, and Inventive Thinking by Emily Neuburger
I love the imagination in this book. So many imaginative ways to fill a page. There are no rules to journaling. And the back few pages are filled with stickers…
"Using words, drawing, collage, and observation-based list-making, award-winning author Emily K. Neuburger highlights the many paths into journaling. Her 60 interactive writing prompts and art how-tos help you to expand your imagination and stimulate your creativity. Every spread invites a new approach to filling a page, from making a visual map of a day-in-my-life to turning random splotches into quirky characters for a playful story. ​It's the perfect companion to all those blank books and an ideal launchpad to explore creative self-expression and develop an imaginative voice — for anyone ages 10 to 100!"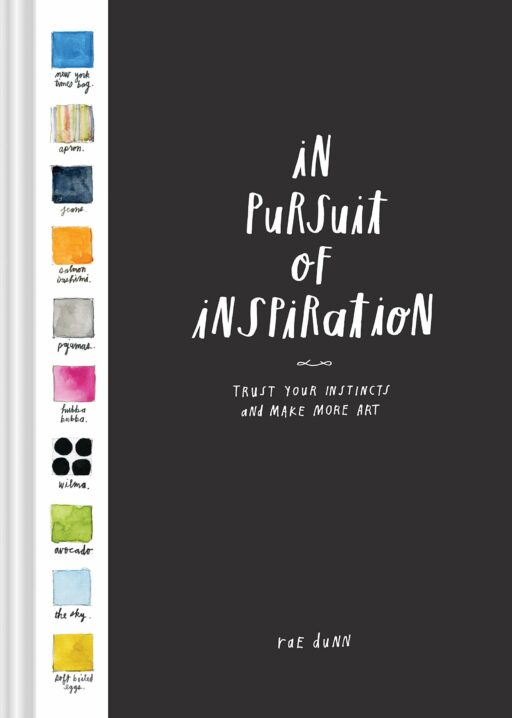 In Pursuit of Inspiration: Trust Your Instincts and Make More Art by Rae Dunn
Who doesn't love Rae Dunn?! This book is filled with her signature style and inspiration. I love the stories mixed in with the collage and art…and her beautiful lettering.
"In this visually rich hardcover volume, beloved artist Rae Dunn shares her favorite techniques for approaching a blank page. From drawing with your nondominant hand to sketching with objects found in nature, each chapter offers a simple yet surprising catalyst to help readers get in touch with their own creativity. Full of gorgeous watercolors, sketches, original patterns, dreamy photography, and hand-lettered insight from the author, In Pursuit of Inspiration offers a unique glimpse into the process of a successful fine artist. It's the perfect how-to book for artists of all skill levels who prefer freeform experimentation to step-by-step instruction."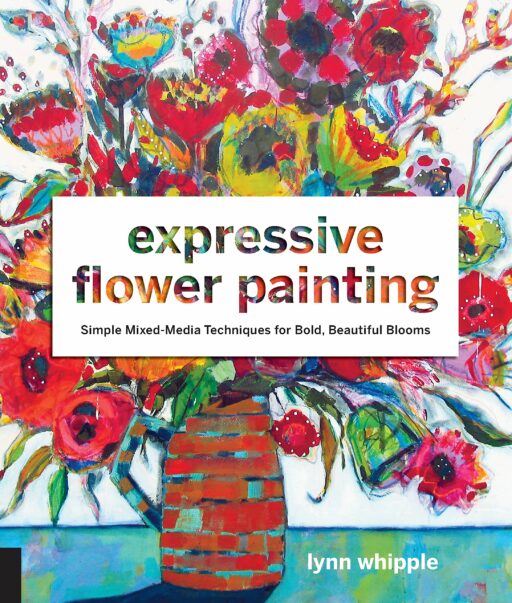 Expressive Flower Painting: Simple Mixed Media Techniques for Bold Beautiful Blooms by Lynn Whipple.
Since I've been exploring more floral paintings this year I've loved Lynn Whipple's layering approach. She goes step-by-step to how she paints so loosely and freely. They are like surprise still life paintings.
"Lynn Whipple paints wildly and in small to large formats with a combination of acrylic paint, charcoal, and colorful soft pastel. Expressive Flower Painting presents a range of creative painting exercises that help readers develop vibrant nature paintings. This exciting book is an in-depth expansion of Lynn's class called Big Bold Bloom Wild Painting, with additional content.
Expressive Flower Painting covers mark making, layering techniques, how to do "spin drawings," color methods, painted backgrounds, working from life, and how to successfully combine a wide variety of media for the maximum effect."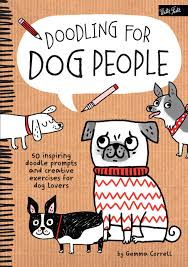 Doodling for Dog People: 50 inspiring doodle prompts and creative exercises for dog lovers by Gemma Correll
This one is self explanatory. I bought it for Sienna for Christmas but I've used it more than she has. It has the cutest approaches to drawing pups. (Gemma also has a whole bunch of the cutest most imaginative books!)
"Doodling for Dog People is designed to appeal to seasoned artists and doodle enthusiasts alike. Packed with more than 50 fun and inspirational prompts, doodling exercises, and canine-related factoids, professional illustrator Gemma Correll sparks the imagination and spurs canine lovers to explore, experiment, and brainstorm ways to draw and doodle their favorite furry friends with her cute and clever art style. The artist's simple, unique, and whimsical approach is sure to inspire, entertain, and guide artists of any skill level. Doodlers will find inspiration for drawing different types of dogs, dogs in outfits, dogs in action, and even doggie accessories. An interactive book, Doodling for Dog People demonstrates how to draw whimsical doggie doodles, while encouraging artists and doodle enthusiasts to develop their own style and techniques. With its portable format and plenty of open doodling pages, this quirky doodle book is perfect for on-the-go creative types."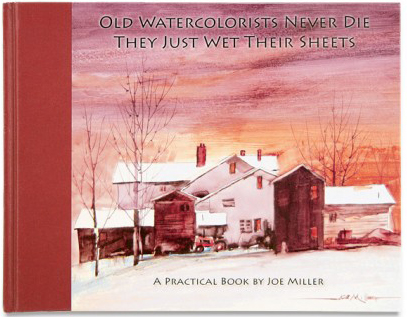 Old Watercolorists Never Die, They Just Wet Their Sheets by Joe Miller
I love this book so much. I first picked it up at Cheap Joe's because I couldn't stop reading it in the store. There is so much artist wisdom in this book and lots of great advice for beginners and experts.
"Cheap" Joe Miller loves to share his enthusiasm for life and for art! In these books written by and/or illustrated by Joe, he shares his experiences and his artwork, and hopes they'll be as entertaining as they are instructional. Joe Miller – Pharmacist turned artist, Joe Miller offers you a glimpse into his art, and his life. Inside you'll find a little humor, a few art tips, a little wisdom, lots of art and some Joe ramblings that hopefully will tickle your funny bone."
More collections of books I love are linked up here.