Volunteering in a used book store has one amazing perk: I have a lot of time to browse thousands of books…and read a few chapters before I buy them. Here are a few memoirs and non-fiction titles that I read (and a few I re-discovered) last year. Since I found them all while working in the store they are all over the map. I know I've probably left some out…so I guess look for a part two at some point. Lesson I learned: forget the best seller lists…spend a few hours in a used book store and you'll find some lesser known treasures. Maybe you'll find something to add to your reading list this year. Enjoy!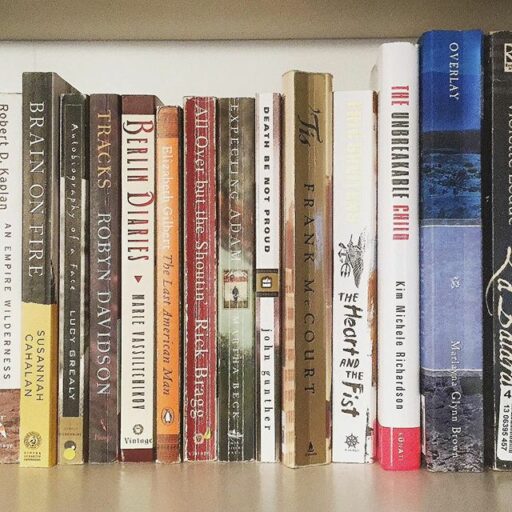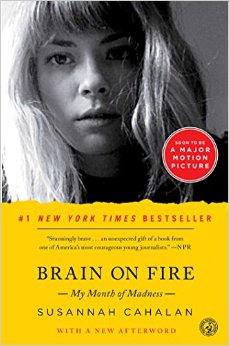 Brain on Fire: My Month of Madness by Susannah Cahalan (2013)
When twenty-four-year-old Susannah Cahalan woke up alone in a hospital room, strapped to her bed and unable to move or speak, she had no memory of how she'd gotten there. Days earlier, she had been on the threshold of a new, adult life: at the beginning of her first serious relationship and a promising career at a major New York newspaper. Now she was labeled violent, psychotic, a flight risk. What happened? In a swift and breathtaking narrative, Susannah tells the astonishing true story of her descent into madness, her family's inspiring faith in her, and the lifesaving diagnosis that nearly didn't happen.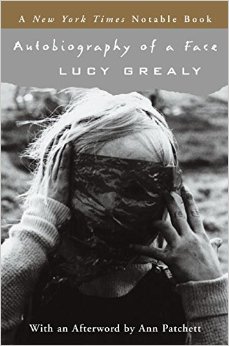 Autobiography of a Face by Lucy Grealy (2003) – I loved Lucy's voice in this book. I can't believe I hadn't heard of this book before. It should be up there with Liar's Club and Glass Castle.
"At age nine, Lucy Grealy was diagnosed with a potentially terminal cancer. When she returned to school with a third of her jaw removed, she faced the cruel taunts of classmates. In this strikingly candid memoir, Grealy tells her story of great suffering and remarkable strength without sentimentality and with considerable wit. Vividly portraying the pain of peer rejection and the guilty pleasures of wanting to be special, Grealy captures with unique insight what it is like as a child and young adult to be torn between two warring impulses: to feel that more than anything else we want to be loved for who we are, while wishing desperately and secretly to be perfect."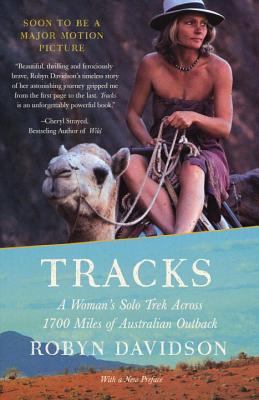 Tracks: A Woman's Solo Trek Across 1700 Miles of Australian Outback by Robyn Davidson (1995) – I stumbled onto the movie Tracks on Netflix. Loved it so much I had to read more about Robyn and then realized she had written a memoir before the movie was made. And then I found it.
"Enduring sweltering heat, fending off poisonous snakes and lecherous men, chasing her camels when they get skittish and nursing them when they are injured, Davidson emerges as an extraordinarily courageous heroine driven by a love of Australia's landscape, an empathy for its indigenous people, and a willingness to cast away the trappings of her former identity. Tracks is the compelling, candid story of her odyssey of discovery and transformation."
Berlin Diaries: 1940-1945 by Marie Vassiltchikov (1988)
"A Russian emigre princess, Vassiltchikov (1917-78) arrived in Berlin soon after the outbreak of World War II. This secret diary is replete with graphic descriptions of what life was like during those increasingly desperate times when saturation bombings, fire storms, and food shortages became the terrible norm. Of exceptional interest, too, are the entries pertaining to her close ties with those who attempted to assassinate Hitler in the "July Plot." This absorbing personal account of Berlin's Gotterdammerung represents a valuable opportunity to understand World War II from the perspective of Germany's courageous civilian population. Though no less brave than Londoners, Berliners suffered far more. "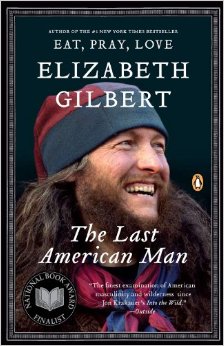 The Last American Man by Elizabeth Gilbert (2003) – Okay not technically a memoir but still one of the most interesting lives I've read about. Sky burials, living off the land, rejecting modern culture…it was riveting.
"In 1977, at the age of seventeen, Conway left his family's comfortable suburban home to move to the Appalachian Mountains. For more than two decades he has lived there, making fire with sticks, wearing skins from animals he has trapped, and trying to convince Americans to give up their materialistic lifestyles and return with him back to nature. To Gilbert, Conway's mythical character challenges all our assumptions about what it is to be a modern man in America; he is a symbol of much we feel how our men should be, but rarely are."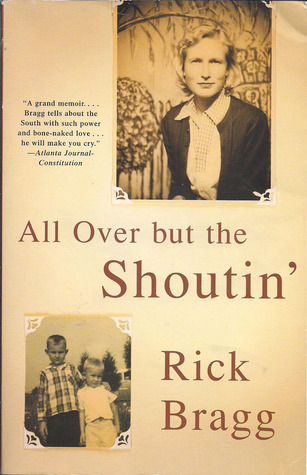 All Over But the Shoutin'  by Rick Bragg (1998) –  If you read Southern Living you have probably read Rick Bragg's work. I first read this book around 1998 and rediscovered it recently. So glad I did. I forgot how wonderful and haunting the writing is.
"It is the story of Bragg's father, a hard-drinking man with a murderous temper and the habit of running out on the people who needed him most. But at the center of this soaring memoir is Bragg's mother, who went eighteen years without a new dress so that her sons could have school clothes and picked other people's cotton so that her children wouldn't have to live on welfare alone. Evoking these lives–and the country that shaped and nourished them–with artistry, honesty, and compassion, Rick Bragg brings home the love and suffering that lie at the heart of every family. The result is unforgettable."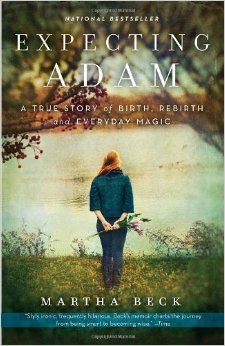 Expecting Adam: A True Story of Birth, Rebirth, and Everyday Magic by Martha Beck (2011) – This book was a nice surprise…I related to so much of her experience.
"John and Martha Beck had two Harvard degrees apiece when they conceived their second child. Further graduate studies, budding careers, and a growing family meant major stress–not that they'd have admitted it to anyone (or themselves). As the pregnancy progressed, Martha battled constant nausea and dehydration. And when she learned her unborn son had Down syndrome, she battled nearly everyone over her decision to continue the pregnancy. She still cannot explain many of the things that happened to her while she was expecting Adam, but by the time he was born, Martha, as she puts it, "had to unlearn virtually everything Harvard taught [her] about what is precious and what is garbage."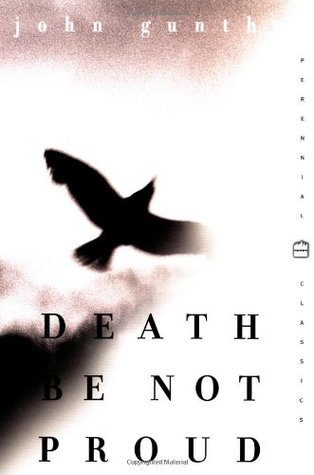 Death Be Not Proud by John Gunther (1949) – This was assigned reading at some point in my schooling. I recently picked it back up and didn't remember one word of it. I was glued to the pages and so moved all I could think about was how empathy changes throughout a life.
"Johnny Gunther was only seventeen years old when he died of a brain tumor. During the months of his illness, everyone near him was unforgettably impressed by his level-headed courage, his wit and quiet friendliness, and, above all, his unfaltering patience through times of despair. This deeply moving book is a father's memoir of a brave, intelligent, and spirited boy."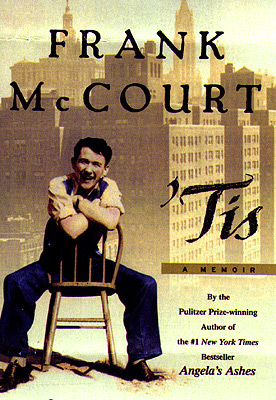 'Tis: A Memoir by Frank McCourt (2000) – I don't know how I missed this book because I've read everything else of Frank McCourt's. It's Frank McCourt so I knew it would be good.
"When Frank returns to America in 1953, he works on the docks, always resisting what everyone tells him, that men and women who have dreamed and toiled for years to get to America should "stick to their own kind" once they arrive. Somehow, Frank knows that he should be getting an education, and though he left school at fourteen, he talks his way into New York University. There, he falls in love with the quintessential Yankee, long-legged and blonde, and tries to live his dream. But it is not until he starts to teach—and to write—that Frank finds his place in the world. The same vulnerable but invincible spirit that captured the hearts of readers in Angela's Ashes comes of age."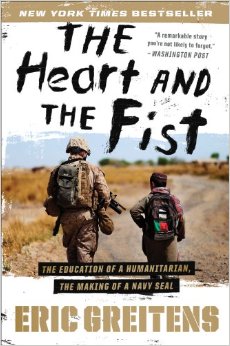 The Heart and the Fist: The Education of a Humanitarian, the Making of a Navy SEAL by Eric Greitens (2012)
"Like many young idealists, Eric Greitens wanted to make a difference, so he traveled to the world's trouble spots to work in refugee camps and serve the sick and the poor. Yet when innocent civilians were threatened with harm, there was nothing he could do but step in afterward and try to ease the suffering. In studying humanitarianism, he realized a fundamental truth: when an army invades, the weak need protection. So he joined the Navy SEALs and became one of the world's elite warriors."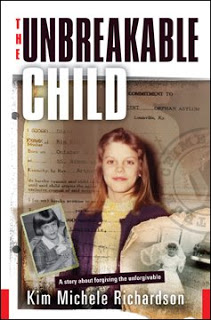 The Unbreakable Child: A story about forgiving the unforgivable by Kim Michele Richardson (2012) – I didn't find this book in the book store but I met the author when she came in one day to drop off an invitation to a book signing at the local library. I ordered her book and read it straight through one night…I couldn't put it down. I was so moved that this strong, vibrant woman had been through so much and was willing to share her story.
The Unbreakable Child is a riveting journey inside the secretive underbelly of the St. Thomas / Saint Vincent Orphan Asylum in rural Kentucky. It is the first book in the United States to confront the institutionalized physical and emotional abuse suffered by countless orphans at the hands of Catholic clergy over these last decades. It also documents the historic United States lawsuit and first-ever settlement paid by Roman Catholic nuns in the United States as recompense for decades of brutal institutional abuse of the author, her sisters and forty-two other children. The Unbreakable Child offers hope, justice, and forgiveness.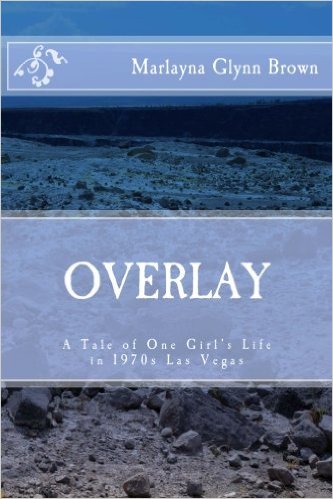 Overlay: A Tale of One Girl's Life in 1970s Las Vegas by Marlayna Glynn Brown (2012) – Thank goodness this is just volume 1 of Marlayna's memoirs because I was so sad when it was over. If you loved Glass Castle and Liar's Club you'll love this one.
Set in transient 1970s Las Vegas, OVERLAY is the fighting-to-come-of-age story of a resilient child born into a cycle of alcoholism and abandonment. The author develops a powerful sense of self-preservation in contrast to the fallen adults entrusted with her care. Her profound story explores the characters and events populating her life as she moves from home to home, parent to parent, family to family, ultimately becoming homeless at the age of fourteen. Out of the resources of her remarkable childhood emerges an inner strength that will charm and captivate readers and remain in their consciousness long after the last page of her story has been turned. 
I read a lot. Find more book lists by theme/genre here.