I never thought cancer would be part of my story. But life never turns out as you plan….and now I have The Cancer Chronicles. In July 2011, I had a miscarriage. In September 2011, I took a pregnancy test and it was positive.  It turns out it wasn't a new pregnancy, it was cancer.  A tumor was growing in my uterus and it grew so rapidly that it invasively grew straight through to the other side, and I lost 4/5s of my blood. There were nine tumors on my lungs. 
Click here for the story I did in December 2013: The Ghost of Cancer Past.
July 2011
My Miscarriage
Or what we thought was a miscarriage….
August 2011
Back Home for the First Time
Visiting my parent's house after my dad died.
September 2011
Praying for Dreams, Utopia
The photographer that knew my dad.
October 2011
Are You There God, It's Me Ashley
The day I found out I had cancer…….and my 2nd D&C.
Loma Linda and Ox
Visiting the Oncologist at Loma Linda Trip and then coming right back via ambulance.
An Update from Brett
Mr. LBB's first post……the emergency hysterectomy.
What The…..
My first post after surgery….writing from the hospital.
Everyone Poops
The horrors of post surgery.
Tick Marks
OCD and trying to recuperate from surgery.
Guard Dog
Not feeling like myself.
Beauty Parlor
I can't blow dry my own hair.
November 2011
Answered Prayers
Back to Loma Linda and a scary photo of my incision.
Coming Home and the Dolphin
A horse looked into my soul…..I'm serious.
Bum Shots and a Wedding Dress
They put huge horse needles in my bum….and here's a photo.
Piece of Cake
Horse-sized needles suck.
Blue Steel
A new headshot.
The Nitty Gritty
Laxatives, beer bongs, Greece and Team Edward.
Being Thankful
Thanksgiving
120 Donuts
Maxi pads, maternity jeans, mathematical equation and donuts.
December 2011
Suspicious Activity
First line chemotherapy isn't working.
The Journey
Reflecting on what might have been.
The Traveling Shirt
They think I have Ebola or something…..
Today I will be…..
Cram it up your cramhole cancer.
Choriocarcinoma
A new oncologist: Dr. L
Cancer Chronicles
I'm glad it's me.
Activity Radiating from an Atom
The cancer is growing back.
This is Only A Test
Just got to make sure I look okay bald….because that matters right?
Something Borrowed and Li'l Blue
First day of second line chemotherapy EMA-CO.
Sleep and a Little Itchy
I'm toxic. The day after the first treatment.
A Family Photo
Before I lose my hair.
Christmas
Enjoying some time before chemotherapy.
Day 8
Brochures on oral sex.
Note to Self
They give the shot in my STOMACH.
Holy Joint Pain Batman
After effects of drugs.
January 2012
#losingmyhair
My hair is falling out.
Crazy Cancer
A huge drop in HCG levels…..and my hair continues to fall out.
White Coat Syndrome
I'm the hang up caller.
Happy to Be Here
The take or die drug.
Cancer Equals New Rules
Everyone has an opinion when you have cancer.
The Cross
Find joy today…..in anything.
A Haircut
My mom shaved her head.
Rite of Passage
Shaving my head.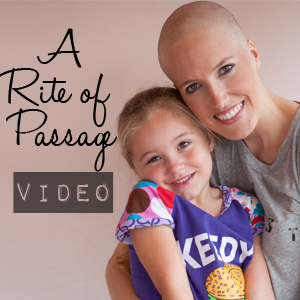 A Cool Feeling
Now what? The honest truth.
A Social Experiment
The guy that stole my cart. What category do you fall in?
Juice
What I take to chemotherapy.
Be Prepared….
Never wear a wonky bra to a CT scan. No tattoos please dear……
Keg Scan
Don't google "girls that poop at work"….
I'm Special….
I'm the rare case……the chemotherapy isn't working.
Please Comment or Lisa will Cry.
Lisa's behind the scenes post.
Progress
I pooped today.
EMA-EP. 8 hour chemo days….and a map to the bathroom.
February 2012
Pooping and the H Word
Everyone has them…..no one talks about them.
I Took a Shower….Honest
A day of chemotherapy. Tumor flare ups.
The Rock
Decadron is like speed.
A Pattern For Good
Jesus Calling.
Mabel and Sylvia
Sylvia Plath and Dr. L's dictating.
Fear Will Not Rule
Cisplatin. Let me out of here.
Limitations Can Be Liberating
Thank you for the conditions requiring me to be still.
Rock Paper Lizard Scissors Spock
Meeting Mr. W.
A Comfort Shower
Awesome.
Lifetime Movie Star
You have no idea what this is doing to your body.
Times Two
Paying it forward.
March 2012
4 Pounds
It's possible to gain that in one day. A photo of Lloydette.
Stargate
More CT scans. Warning labels.
All In A Day's Work
Getting back to work….and babysitting my twin.
Neanderthals
Diesel crapped on my pillow….it's okay because I didn't have hair.
The Best News
An answer to prayer.
A Hike
My first hike….my hands turned purple.
Confrontational
Enough already. You are depressing everyone.
Two Months Since…
Photos from Taili Song Roth.
10 Ric Flairs
Cisplatin side effects.
I'm Just a Wee Little Shot
I think my ovaries are fried….and this woman can't hear…but it's funny.
Andy Warhol
At least she knows what she'll look like bald….
Last Day Love
My last day of chemo…..
April 2012
Spider Woman
I look like an old man…..and a spider bit me. WTF.
Chips in a Box
Chemotherapy's havoc on the stomach.
A New Normal
My HCG is at 2.
Men Oh Paws Uhl
It nuked my eggs.
May 2012
Number One
HCG 1.
Photobombing
How to lice bomb a post….and a waiting room.
4.9 Years
Of course I did the calculation……
June 2012
Want to See My Booty?
Yay for blood tests every other week.
My Life is a Lumpy Circle
Estrogen and the comic view of life.
July 2012
Statistical Error
A new doctor and a jump in tumor markers.

Do I get a cookie?
CT scans….and jungle juice.
If a Tree Falls In the Forest
Apparently chemo wreaks havoc on your system…..down the road.
Make Sure Your Heart Notifies Your Face
Just an update from the GynOnc.
I Had the Pleasure of Seeing….
I know my doctor's drill now. I can even impersonate him.
August 2012
A Year of My Life as Chronicled by My Hair
Before and after photos.
The Girl with Nada Tattoos
My faux hawk.
Lord of the Flies
My first haircut after losing my hair!
And Then it Tells Me to Call 9-1-1
What are the effin' odds I have 2 types of cancer?! (low probably)
September 2012
Dear God, I'm Taking Them Back
My new headshot because my hair is as long as Justin Beiber's!
Sophistication Follows Me Nowhere
You start thinking about radiation everywhere….and then you don't care.
October 2012
Styling Short Hair
Learning what to do with short hair!
Live Generously
Go on you peeps of awesomeness.
This Daring Adventure
One year later.
January 2013
The Year in Review
Go on you peeps of awesomeness…
February 2013
Have the Day You Have
A CT scan coming up.
I Like the Hair You Added
The waiting room at the imaging center.
Unremarkable
Good results but I lost a lung.
April 2013
At the Present
Long term side effects of Cisplatin.
The True Measure of a Man
Forgetting appointments and having a sense of humor.
December 2013
The Ghost of Cancer Past
Looking back on cancer and how it changed me.
Detox and Healthy Posts
Mission Healing
Dr. Mom.
Juice
Starting to juice. What I take to chemotherapy.
Normal Range
Testing your acidity.
Detox
Just what it says…detox.
My Li'l List: Healthy Living and Detox
Things that helped me survive Cisplatin.
Note: I am committed to safe skincare! Beautycounter has banned more than 1,500 ingredients setting a new health and safety standard. Please check out Beauty Counter products for you and your family.