Mr. LBB and I woke up at the crack of dawn Monday morning to head to Loma Linda to meet with the oncologist.  Boo spent the night with her grandparents and asked us to take care of her Ugly Doll OX. I took him along and took photos of him all over Loma Linda. (the last time I was asked to take care of her baby doll I left her in the car all day and she almost melted……and Boo said I was a horrible babysitter).
Okay, okay…..I know, so how did the day go already!?
Well, I felt awesome Monday morning and popped out of bed at 5:30am. I didn't even need to take any pain medicine for the trip.
We met with my new oncologist. He confirmed what my doctor in the desert suspected: I had an abnormal pregnancy/molar pregnancy and the cancerous cells spread to my lungs and liver. I'll spare you the graphic details about my uterus. They scheduled me for the first available surgery on Friday. After the surgery, everything will be sent to the pathologist and then they'll be able to tell what type of chemotherapy I'll have to undergo. It was a little hard discussing whether we wanted to have more children but the outlook is that I should be able to.
After the surgery was scheduled and blood work was done,  a pre-op interview was scheduled for 3 hours later. If you know me well, you know I am annoyingly efficient so the first thing I thought was: why the heck to I have to be interviewed, I just did this 12 weeks ago. Did the surgery procedures change?
Thought #2: We can make it to L.A. and back in 2 hours if we hurry! (to pick up a fabric order I had on hold)……so we jumped in the car and drove to L.A.
First stop: Chic-Fil-A with OX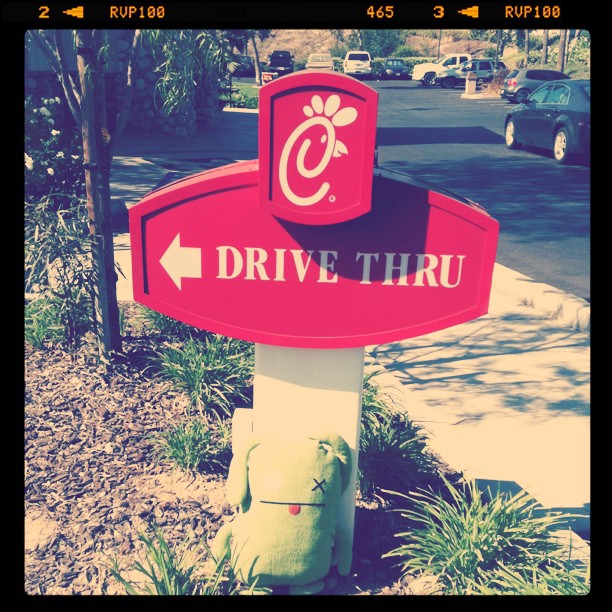 I made Brett take a detour so I could show him all the news truck chaos at Michael Jackson's Doctor Trial. Here's OX in front of Court TV: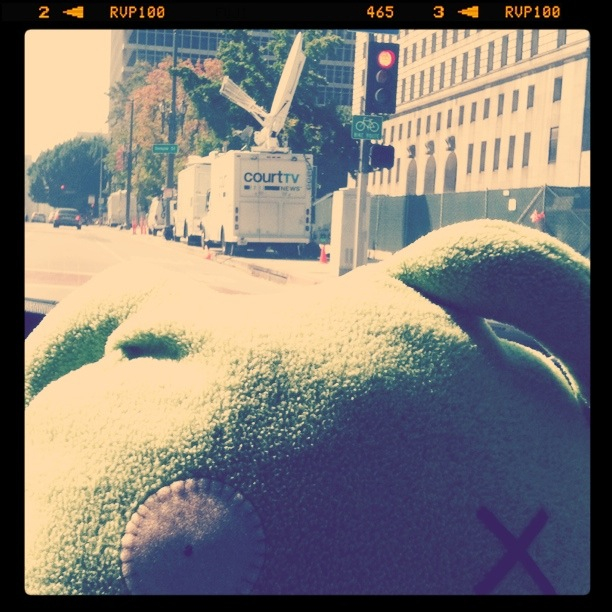 Finally, made it to the fabric place. OX doesn't want you to be sorry of his one-eye……that one-eye has super powers: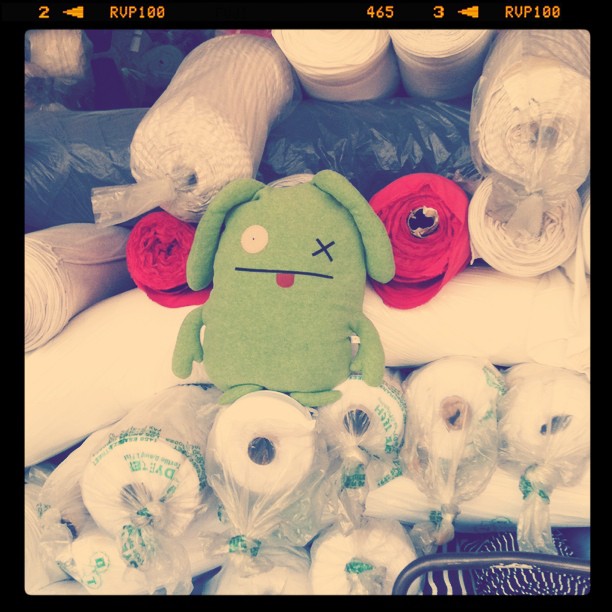 Thank you for all the words of faith and encouragement. It's meant the world and my family and I have read every single comment. I'm exhausted and in bed watching Secretariat with Boo for the 5,000th time.
XOXO,
Ash
As aside note: I never had a chance to post the post just written Monday night! Later Monday night I had to be rushed to the ER for severe abdominal pain. I was admitted in the ER and they determined from some new CT scans and ultrasound that the tumor in my uterus had expanded out the other side (like an alien invader!) and there was fluid in my abdomen….but they didn't know if the fluid was from the uterus or from something else. My in-laws Barry and Gale met us at the hospital. Barry is an angel…seriously. He's a doctor there and helped coordinate everything, explaining medical history and hooking up my other doctors with the ER doctor. Also angels: our friend Todd and Jodi who were at our house THREE minutes after Brett called them to watch Sienna.
So what do we do in the ER room to pass the time? Take photos of course. Eisenhower gives you a gazillion bracelets and they all fit into this old school label maker…..it makes me think of crafting every time they print one: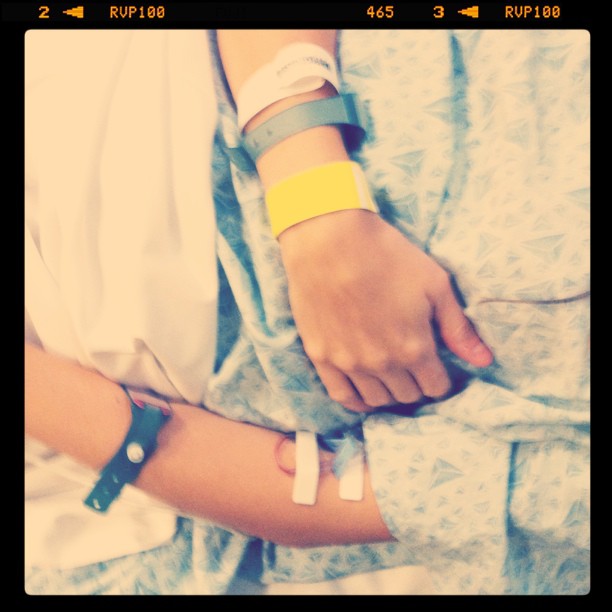 After my dilaudid kicked in….I wasn't feeling a thing: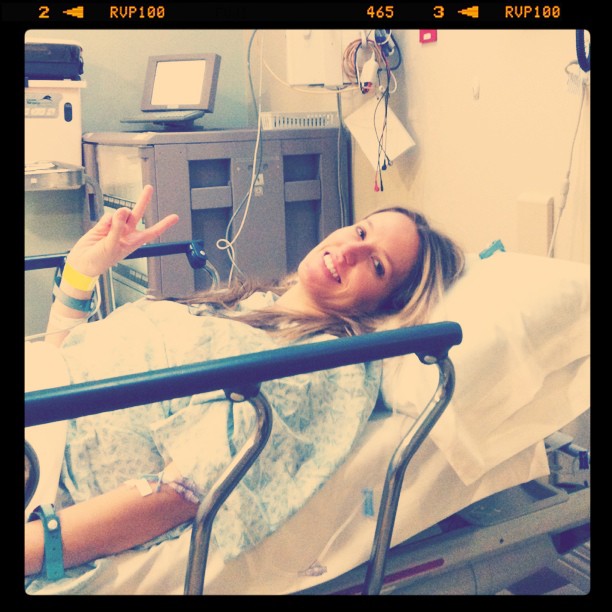 My inlaws gave me the best gift ever and upgraded my room as I was admitted to the new Renker VIP building. I'll never be the same after this. It was nicer than my house…..and they had L'Occitane toiletries in the bathroom….woot woot!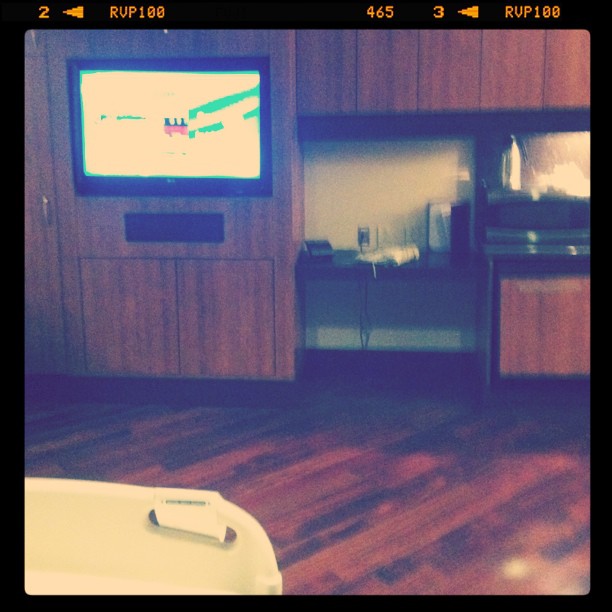 What are the odds that Lisa and her daughter would be at the hospital at the same time that I was? Crazy. Little Elle was admitted for croup the night before.  Lisa came down to visit me for a bit. I told her she needed to come and see the "mother-of-all" hospital suites and grab something from the mini-bar since I wasn't allowed to eat or drink anything! Lisa sent me back a photo of Elle in her tiny room…..I was feeling a little guilty after that and wished we could have been roomies! She looks so much cuter than I do in my hospital bed: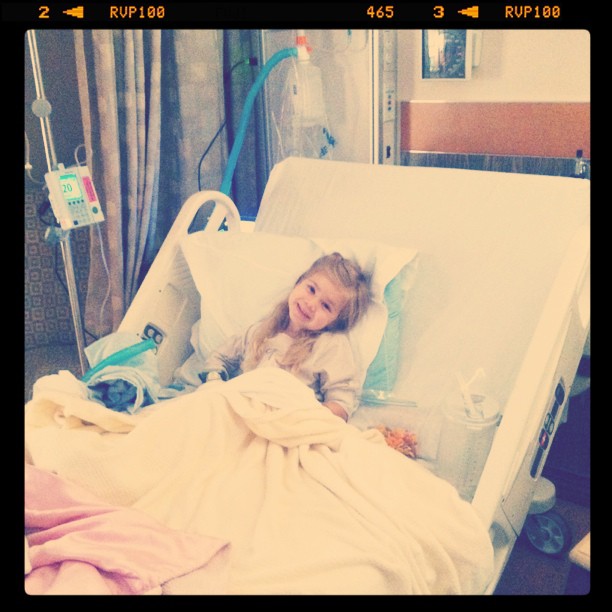 First thing Tuesday morning I was transferred to Loma Linda by ambulance for observation. It was my first time in an ambulance….so you know I had to take my iPhone with me for a photo op. You can see the windmills in the back as we left Palm Springs: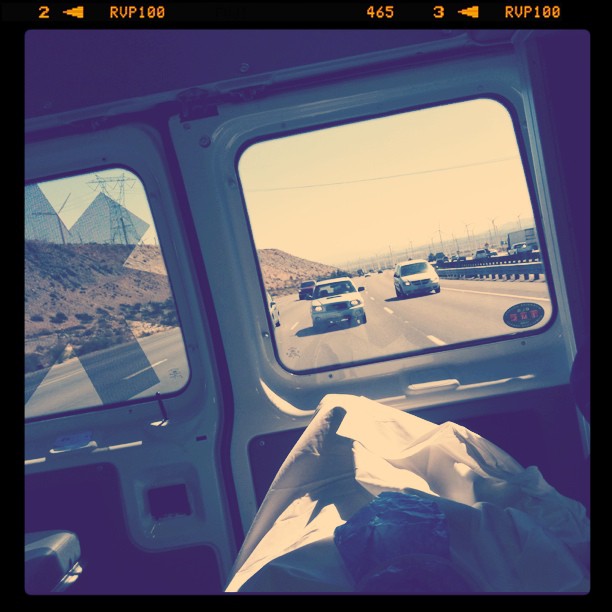 At Loma Linda I was admitted and I guess Brett or Gale took this photo while I was resting. Our good friends (and Sienna's godparents) Jackie and Derek picked up Sienna from school with their daughter and kept her for the night…..Boo is a trooper and was so excited when she learned she would be going home with them and that Miss Lisa had already packed her a suitcase.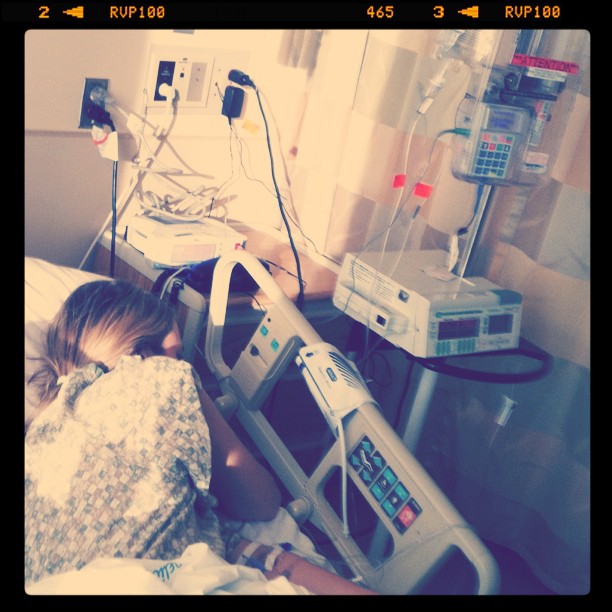 Last night when they decided to keep the surgery scheduled for Friday I was pretty frustrated, but the doctor wouldn't have his whole team with him if I was an add-on to the surgery day. Friday is the day they will be the most prepared and they can check out the abdomen too to see what's going on. The second I knew I wasn't having surgery I started asking to be discharged….I think they thought I was crazy at 12am trying to get "out of jail." The next morning they confirmed that I was stabilized and pain management at home would be okay. I wanted to get out of there so bad I unhooked all the machines myself.  I think it might have been the fastest discharge on earth…..
I kept chuckling on the way home about how chaotic my night was at Loma Linda. My roommate was about my age and had been there a week for surgery. In the middle of the night it seemed like all of our machine alarms were going off all at once. They had my IV in the crook of my arm and I kept crimping it when I slept…..which would set off the alarm. I couldn't get the nurses attention. I accidentally ripped a plug apart trying to move to the restroom and then that set off another alarm and I was tangled in a sea of IV cords.
So now I'm home! Everyone has been so supportive and helpful and I feel so out of my element. I've never been in a place where I needed so much help and assistance. I feel so lucky that I have such wonderful friends and family that are so encouraging. Everyone has been pitching in with Boo, meals, etc and my house looks like a florist shop. I'm so humbled.
So I'll be hanging out at home until Friday for surgery. I've never looked so forward to surgery in my life….it will be like Christmas for me if that makes sense. Put me under, remove the bad stuff, and figure out what it all is so I can get chemo started asap.
My mom is flying out tomorrow too….so excited.
I love you all!  Thanks for reading…..I know many of you are curious as to what's been going on and I'm trying to remember as much as I can.
XOXO,
Ash
P.S. Mr. LBB is a trooper. I've insisted that he go home every night to sleep in our comfy bed so he can come back the next morning….I know he doesn't want to but it's the best thing. I joke with him "I'll text you if I go into shock or something." He's been juggling Boo, our friends and family and me too. He doesn't get annoyed when I scold him for not using his knuckle to press the elevator button (just one of my many suggestions I made up to prevent the spread of germs in our house….hopefully Boo doesn't grow up to be Howard Hughes.) He tries his best to pack my clothes when I ask him to….and he actually did a pretty good job!