Need some unique fairy garden ideas for the Spring? When I was little I used to make all my mother's houseplants into little fairy gardens. I'd add little pots and pans I'd made out of tinfoil and hammocks made out of paper and string. Now that I'm an adult I have a few more resources at my disposal and my fairy gardens can become more and more elaborate: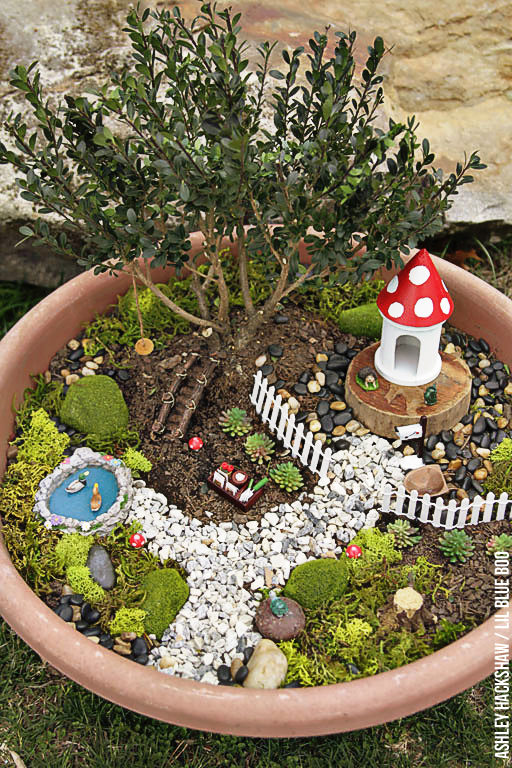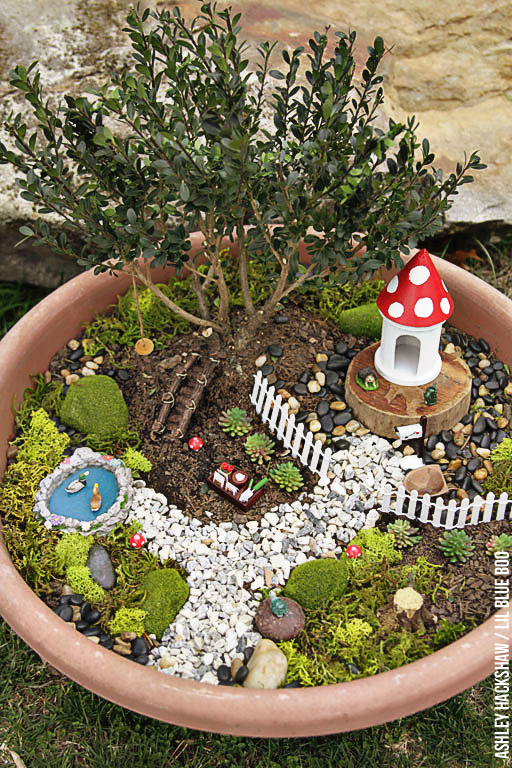 I like the idea of adding a small living tree to the mix just like I used those houseplants when I was a young girl. Almost any tree can be made into a bonsai…it's just a matter of trimming it periodically to keep it small. I prefer juniper and holly varieties that can be found at any nursery. I started with this little holly bush: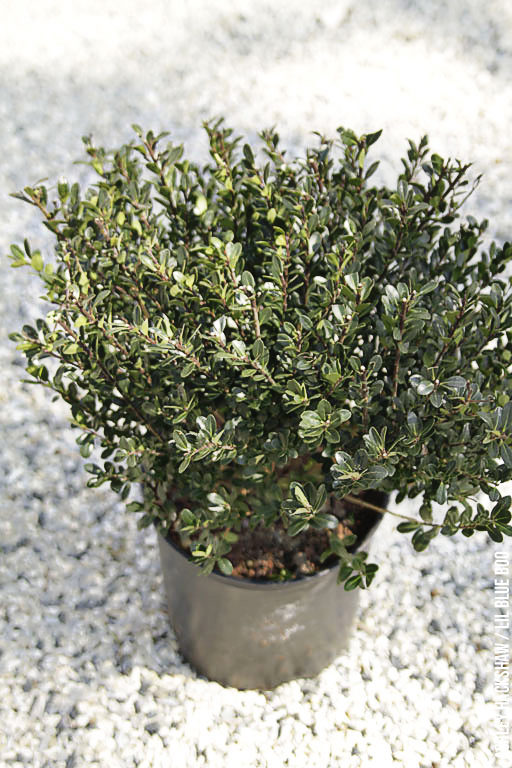 The first step is to remove the tree from the container and reduce the root size. I usually just take a saw or pruning shears to the bottom half of the plant taking care not to cut any super large roots off: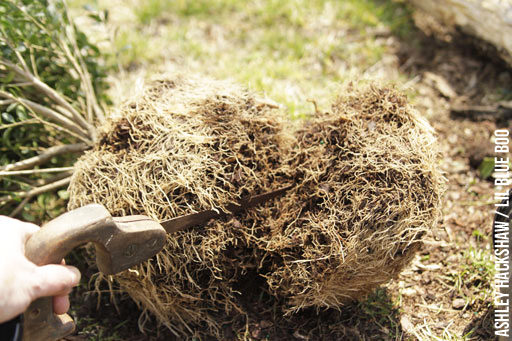 Once placed in a container I slowly shape the tree using clean pruning shears: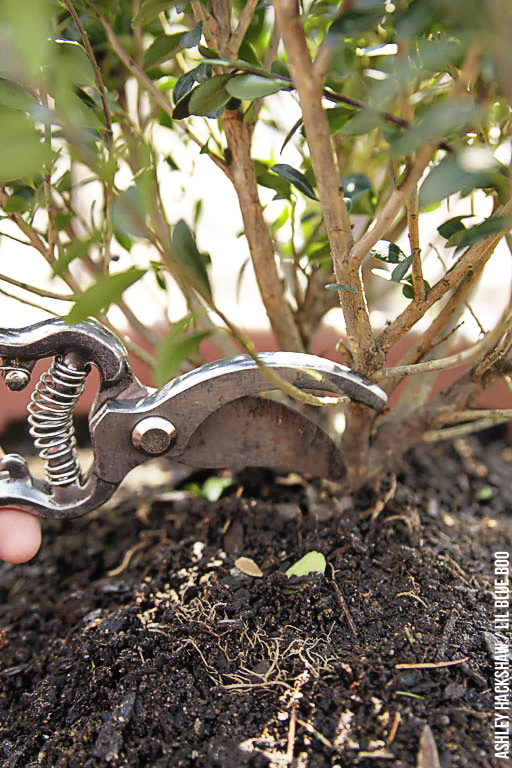 I took off enough growth so that the holly resembled a larger tree but in miniature: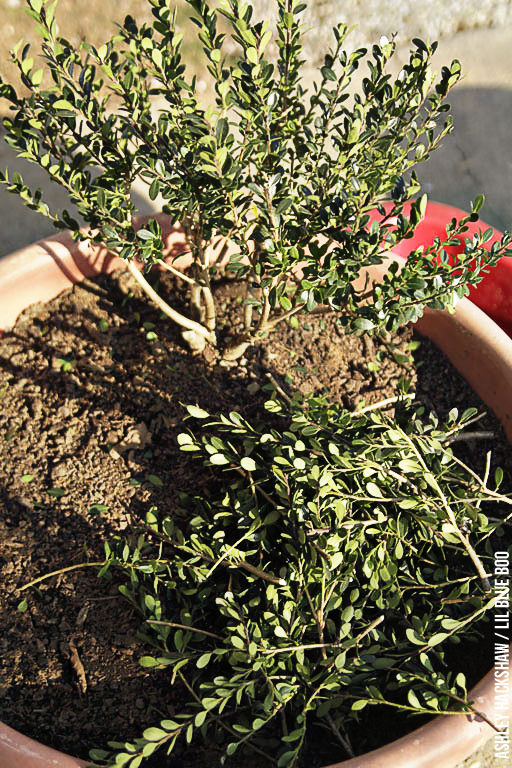 To make my little house I used one of these inexpensive miniature tree houses from Michaels unfinished wood section: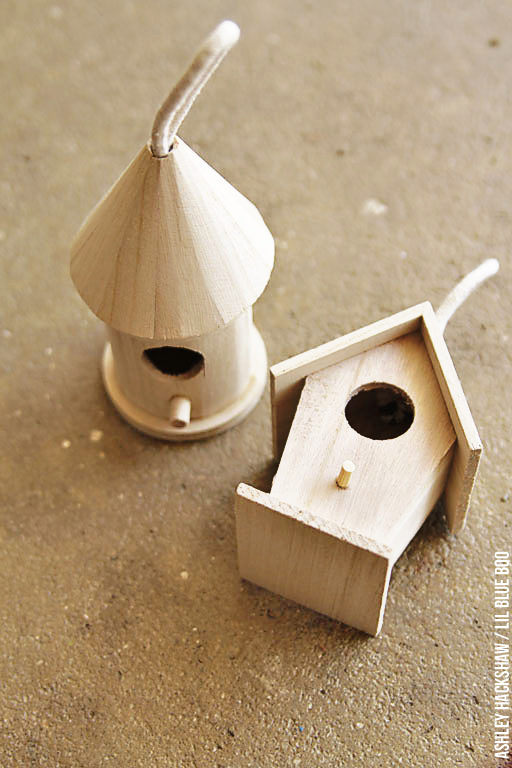 It's easy to cut out a door using a knife…just be careful to keep fingers and body parts out of the way!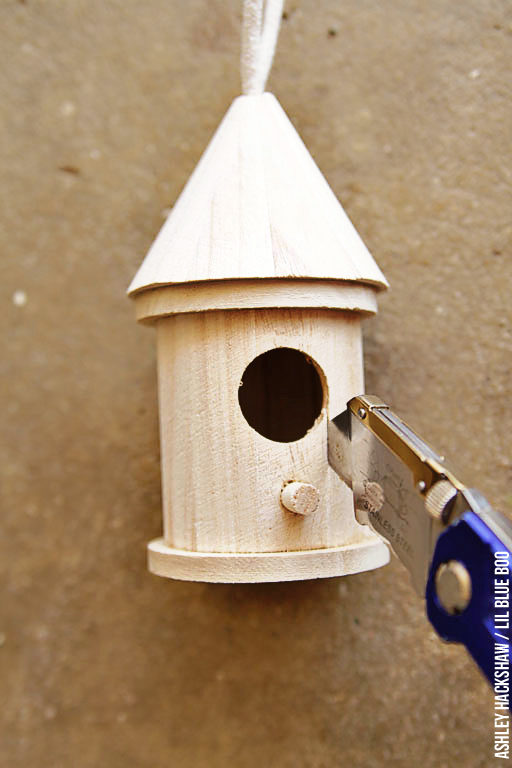 You can use a small nail file to sand the edges or regular sand paper:
For this particular house I painted the entire house white. (Note: I removed the string first and then filled the hole with hot glue.) When the white paint was dry I cut some circles from masking tape and covered the bottom of the house. I sprayed the top red over the circles and then removed them once the paint was dry.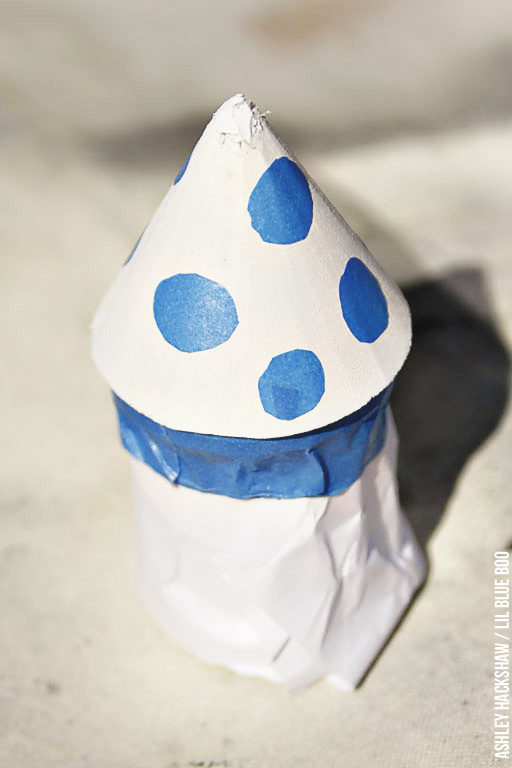 The finished house: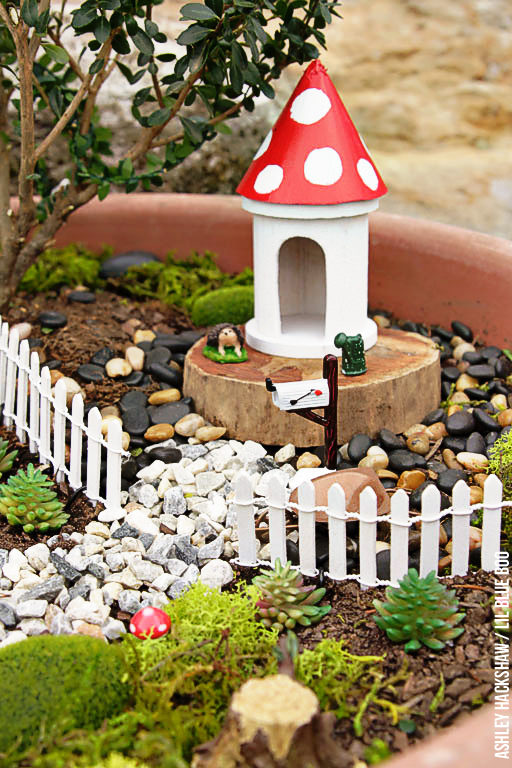 Michaels has so many cute fairy garden accessories right now. I picked up moss, moss covered rocks, pea gravel and tiny miniatures for my garden. First I made the little gravel walkways: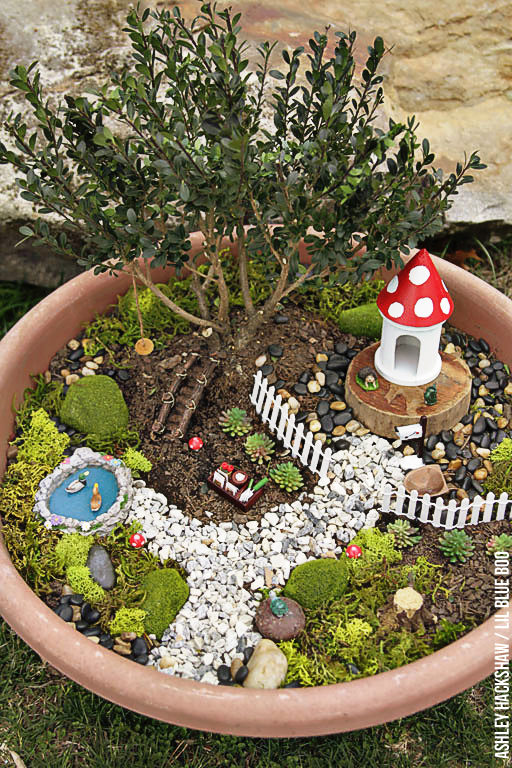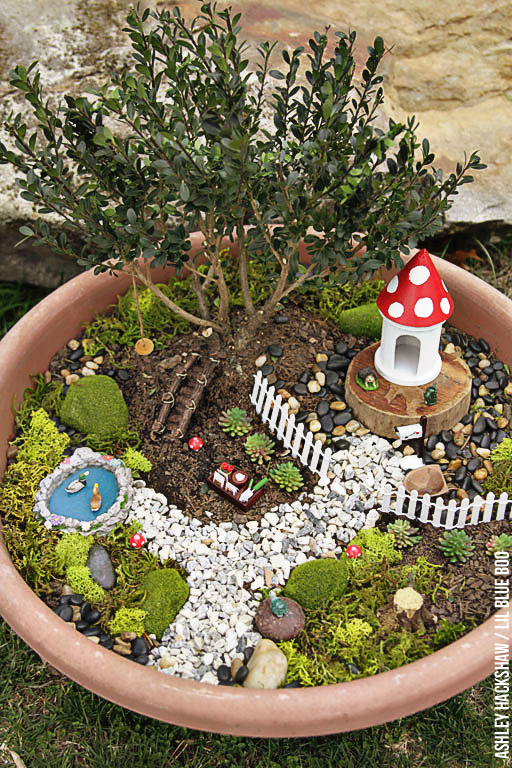 I added a little picket fence and made some "staples" from floral wire to keep it in place: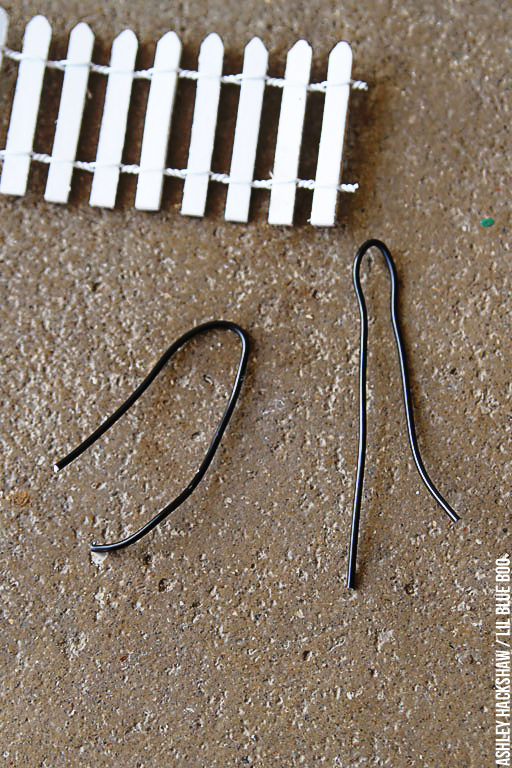 A little turtle on a rock: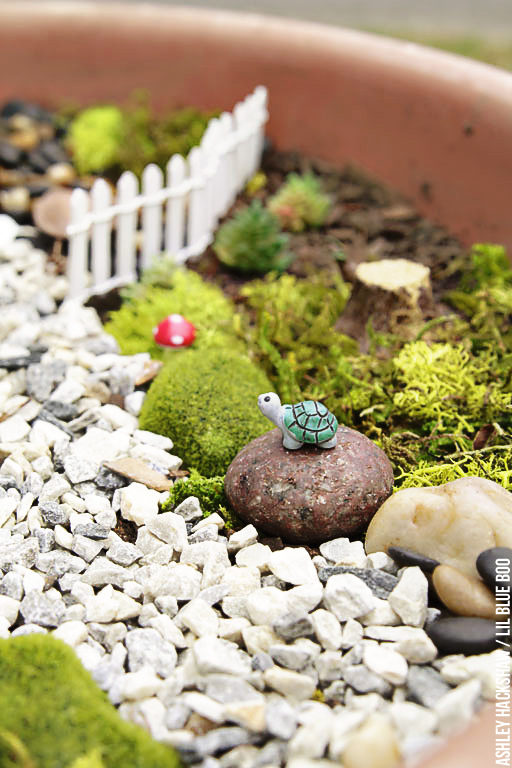 These moss covered styrofoam rocks are great because you don't have to take care of them. They are lightweight so to keep them in place I used a hot glue gun to attach long stakes/nails to them: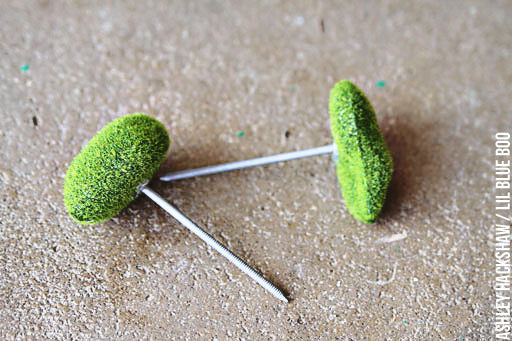 A few fake succulents from the floral section at Michaels and a tiny gardening box: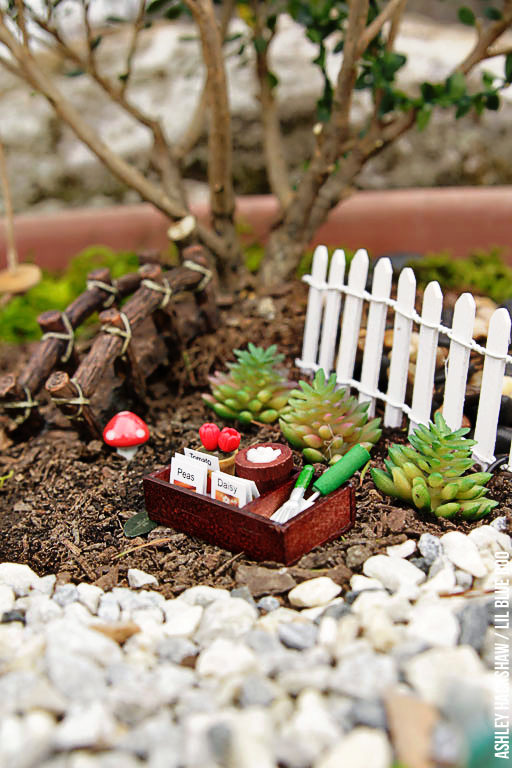 I added the little bridge over to the tree and made a tiny rope swing out of a small wood disk and twine: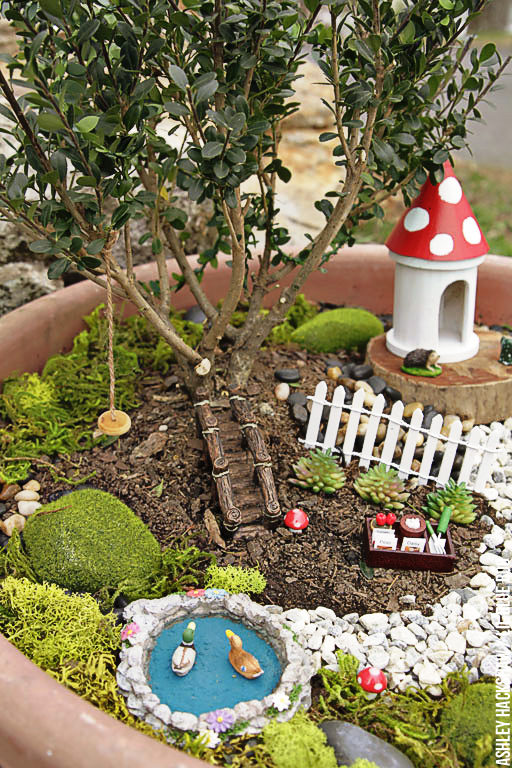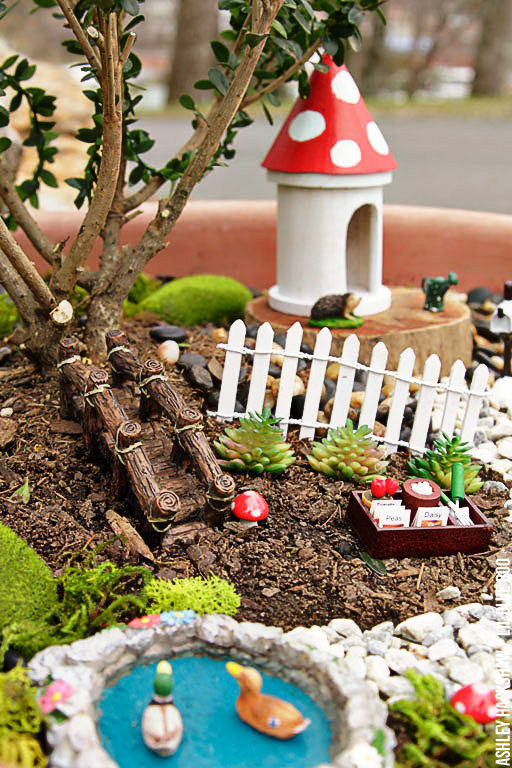 A small fairy garden pond and I added ducks. I made those wire staples I used for the fence to keep bunches of moss in place through the fairy garden. It just keeps everything stable and makes the garden less fragile: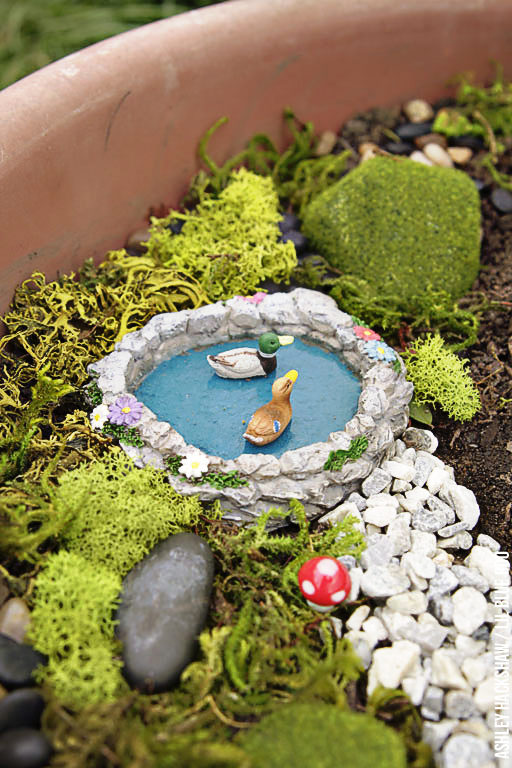 I mixed all colors and textures of moss and stone to add variety to the garden. The best part about this project is that you only have to water the tree! Make sure to add in some small tree fertilizer once a year to keep the tree healthy.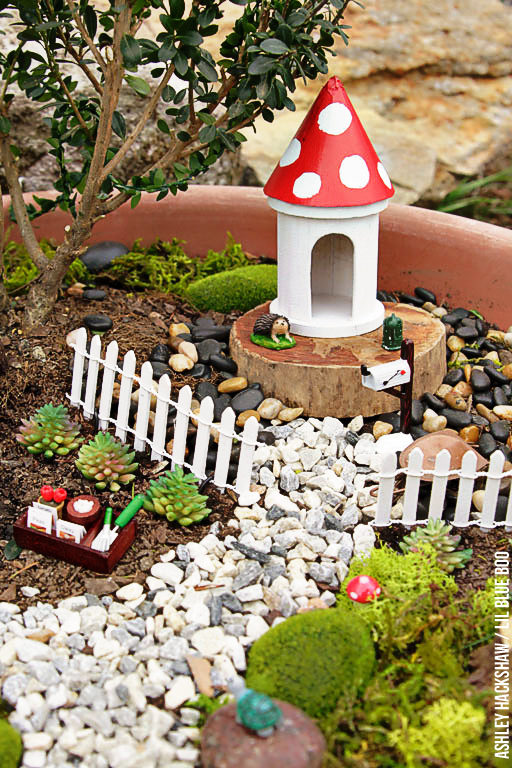 I also added battery-operated holly garland (from Michaels' fairy garden section) to the holly tree so it is visible on summer nights: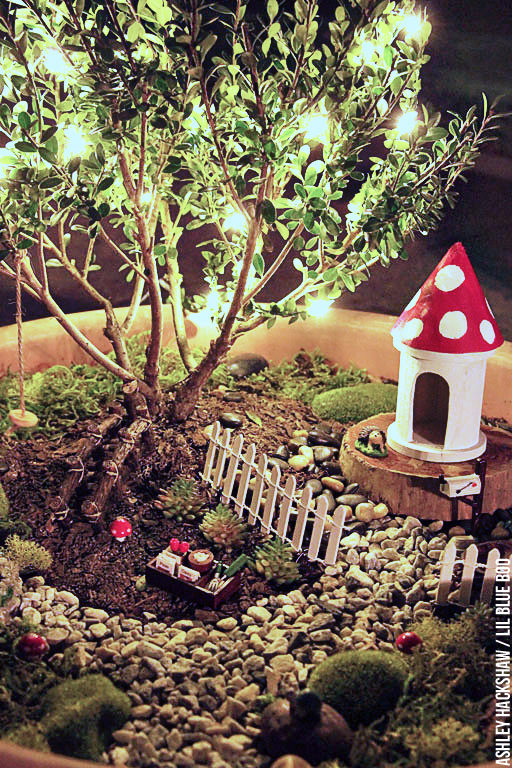 Disclaimer: Obviously there are elements in this fairy garden that are not suitable for certain ages of kids to be around…and kids are easily drawn to cute teeny tiny things. My fairy garden includes tiny pieces and sharp objects. This fairy garden is mostly for looks and not for playing. Please keep this in mind when assembling your own fairy garden…making sure to keep it age appropriate.
Michaels is your craft miniatures headquarters! They have everything you need to build the fairy garden of your dreams. Here some other projects done by Michaels Makers this month: