Early yesterday morning Boo brought me a vase with a dead leaf in it….stating that she was keeping it alive…..so that it would grow into a tree. I told her it wouldn't work. She insisted it would….until I explained that it didn't have roots…..not to mention it was already dried out.  I'm not sure what set her off but she got so upset over the dead leaf that I promised her that this weekend I'd show her how to make terrarium. She never forgets a thing….because it was the first thing she mentioned this morning.
We went to Lowe's early this evening and picked out the perfect little succulents. While we were there one of the employees asked if we like owls….we said yes…..and he told us to go to aisle 5.  There in the rafters was the most beautiful owl…..it looked at us for a while…..and we looked back for another while.  Boo "hoo'd" a few times and after a staring contest it took off……with a huge 6 foot wingspan.  But it didn't go far…..it flew up to the outside wall of the garden center where its mate was sitting.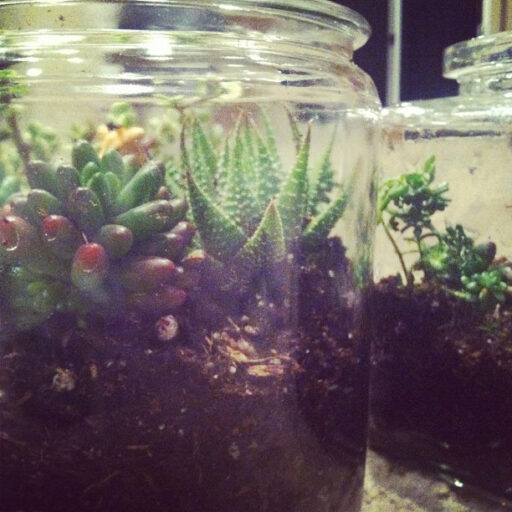 Boo: You know….Daddy and I were here this morning at Lowe's.
Me: What?!
Boo: While you were still sleeping…..
I didn't think I'd make it out today…..I had such a horrible migraine last night and this morning.  I think I used my brain too much yesterday.  And then my pelvis was hurting….I have a CT scan next week.  I woke up and the house was eerily quiet…..Boo had left me a little pillow that had our photo on it and a flashcard that read "Jesus" on my nightstand. It made me laugh. Mr. LBB and Boo had let me sleep in and I felt like I was missing out on the day. I had already had to cancel breakfast with my friend Shari. And then……those owls….ever feel like there are just little gifts waiting for you? And I'm always looking around and taking in where I am…..but I don't think I would have ever looked up into the rafters.  Those owls can be quiet and mysterious you know.
Anyway, Boo got to make her terrarium…plus one….and filled them with succulents. You know what I love about succulents? They are so cute and plump. I just have this uncontrollable urge to squeeze them…..but Boo cried over an already dead leaf….so could you imagine?
"About my leaves, I gave them all away, because that's what you do with gifts."
-Timothy Green