I went in for a CT scan today.  Nothing really interesting about that.  I didn't wait around to talk to the radiologist. No news is good news, right?
As I sat there drinking my huge cups of "contrast" before going in, the door swung open, and an elderly man walked out with the nurse.  He looked so tired and frail and I thought for sure someone would have accompanied him. He made it over a few seats over from me….and sat there for a while. He tried to make a phone call with a Jitterbug-looking phone….you've seen the commercials.  He slumped down for a bit to rest and then he got up…..and slowly walked over to the receptionist desk to ask if there was a phone he could use and they pointed him around the corner. About 10 minutes later, it was my turn to go back for my scan. And I couldn't go…..I had an overwhelming feeling that I needed to go and check on that old man.
Leaving the waiting area, I went down the hall, following where I'd last seen him, and as I turned the corner….there he was……struggling with the phone on the wall:
Excuse me….sir? Have you….made your phone call yet?
It took him a bit to turn around….so I moved around so he could see me and repeated my question. He held out the handset and said:
I can't……seem to make……a phone call.
I told him that my phone wasn't working either and it was probably the fact that we were in the basement. I asked if he was waiting for a ride home and he said yes but he needed to call someone to pick him up.  I helped him to the elevator and explained that he would need to go to the first floor to get cell reception. He smiled, said thank you, and stepped into the elevator.
I went back to my chair and couldn't hold back tears. I know the people sitting there thought I was upset about being there…..but seeing that old man struggle so much just to cross the long waiting room….and all he wanted to do was make a simple phone call…..and so many people just watching but no one really paying attention…..it was too much for me.
****
When the scan was over….the nurse was taking out my IV and the technician came out of the adjacent room: Ashley….I have to ask…..is this your artwork?
At first I thought I was in trouble….but then he said: I like the hair you added.
I don't know….she just seemed too naked: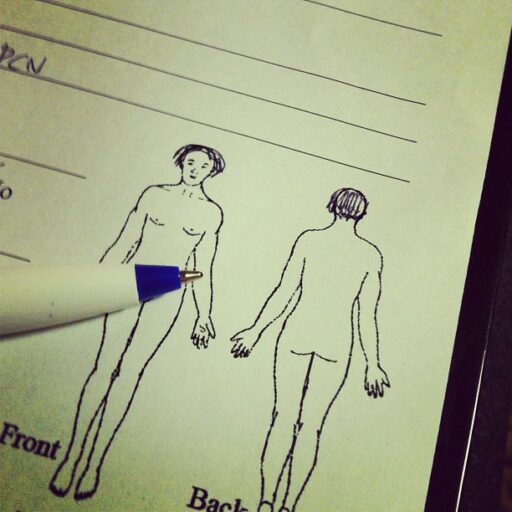 Speaking of paperwork, I'm kind of tired of answering the question: Is there any way that you could be pregnant? every. single. time. I go into that place.  I know it's because of my age but there has to be a way to mark my file: NO UTERUS….COULD NOT POSSIBLY BE PREGNANT.  Then they wouldn't waste so much paper on me just to tick that "NO" box every time.  Not a complaint…..just a suggestion.
****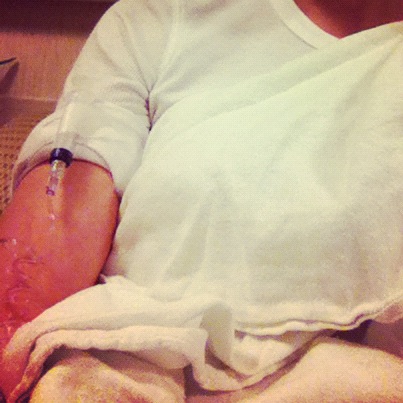 When the nurse was trying to put the IV in she kept saying "oh gosh….you're so tiny….these veins are so small…..so much scar tissue in this other side" and I kept reassuring her that I'd be fine….just try one…..if it doesn't work, find another. It wasn't a big deal. I had called the records office the week before to order a copy of a CD and when I went to pick it up the guy didn't ask my name just handed it to me. I said "how did you know it was me?" and he said I was too young to be there…..he recognized my voice. It bothers me that I stand out by being young…..because all the elderly people there just start to blend in.  Like that old man…..as I watched him….no one noticed him…..he was almost run over more than once.  If I was too young to be there…..then he was too old to be there. I wanted to yell across the waiting room: Please! Someone….anyone……pay attention to this man!

When I went up the elevator after my scan…..he wasn't there. He must have found his ride.
I hope he was picked up by someone nice and patient and caring…..
……and that they took him back to a nice and patient and caring place.
That's my hope for the day.