Today was a full day of chemo: the EMA day of EMA-EP regimen (or EP-EMA as it actually goes chronologically). I think I'm looking a little jaundiced in this pic. I should get some numbers back tomorrow so I'm crossing my fingers that they are good!  Last week's chemo Cisplatin kicked my rear….so it had to do something, right? I have this mass growing right behind the right side of my belly button…….Mr. LBB can even see it if I turn sideways. I totally forgot to mention it to Dr. L too. Good thing I'll be right back there tomorrow morning!  Part of me thinks it's maybe just scar tissue that become painful and causing swelling…..if it's just scar tissue, that's easy. It's pretty close to my incision…about 2 inches to the side of it. Dr. L said that the Cisplatin could cause the tumors to flair for a bit….so maybe that's what is up….but that would be a PRETTY big flare for me to be able to see it on the OUTSIDE of my body and up a few inches from my pelvis. Anyways, it's causing tons of pain in my abdomen…just enough that I think about it enough to get in and out of bed weird like I'll hurt the tumors.  I think they left something under my incision too…..it looks like a long staple but kind of like cartilage. Gross! And it keeps stabbing me! I'm a big mess! I told Mr. LBB if all this stuff just keeps growing I'll look like the Elephant Man soon! I've always wanted to join circus though…..and Water for Elephants was amazing.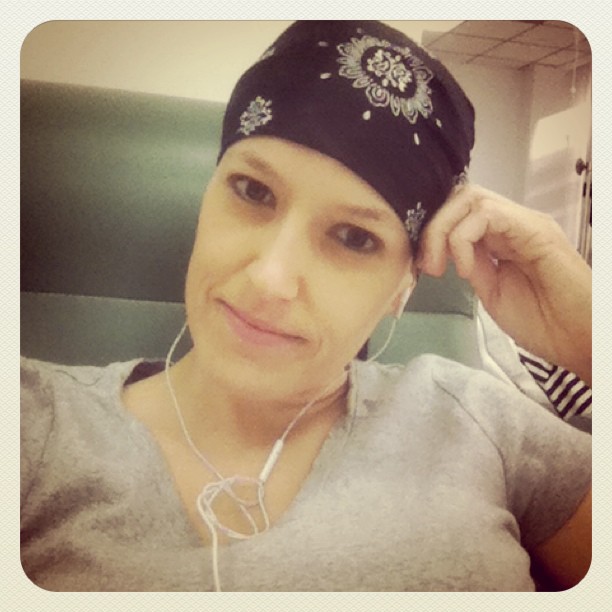 Want to see something gross? Okay…too late to ask really, so here it is. My grossly bruised arm on one side….and full of spray paint on the other.  The bruise is actually from last week. I asked the nurse to put the IV on the side of my arm….and she got the needle in and then my arm started swelling up like a baseball. Needles don't even phase me anymore. I sit there and watch her poke and prod and move the needle all around to find a vein and I don't even flinch…..but as it started painfully throbbing and swelling up I said matter-of-factly "I don't think this is going well." She agreed. We found a vein in my hand the next time. I have a high pain tolerance….so I'd still rather just get poked a few times than get a port or PICC line…..AND I love leaving chemo gadget free. Seriously, I'm pretty sure I could insert my own needles at this point. The nurse putting my needle in today got to see the spray paint all over my arm. I told her "I showered….promise…the paint just won't come off!"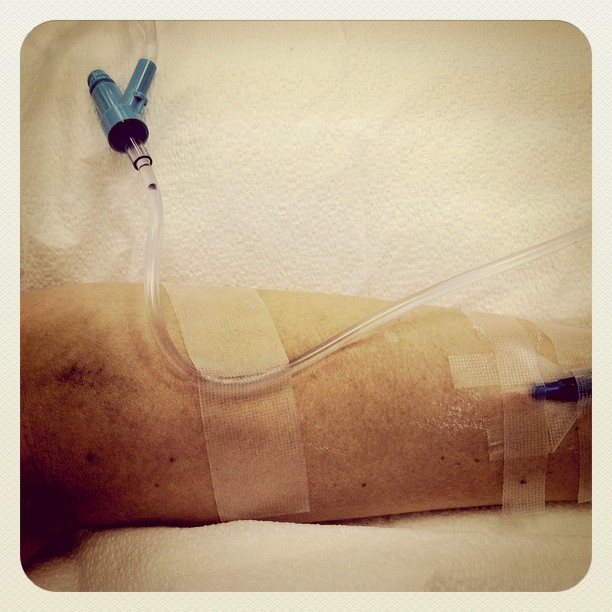 I felt great at the start of chemo…..until I ate 2 burritos and a box of Girl Scout cookies.  It was seriously all that sounded edible to me….and Mr. LBB made a run to El Pollo Loco and brought me 2. The nurses always tell me to eat light on chemo days….nothing too heavy. Burritos and peanut butter cookies are "light fare" right?!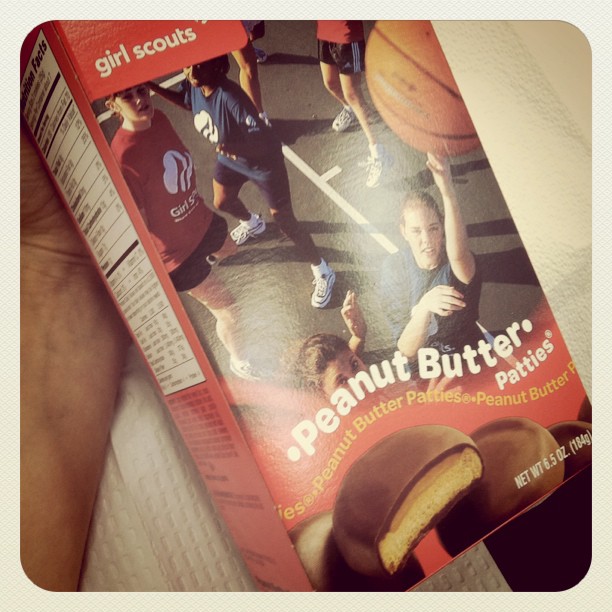 After the burritos and cookies it took all the energy I had not to hurl. I'm not sure I can eat El Pollo Loco burritos for a long time now….so maybe that's a good thing. I sunk deeper and deeper into my chair and took a nap to sleep it off. It worked. I felt 100% better 2 hours later.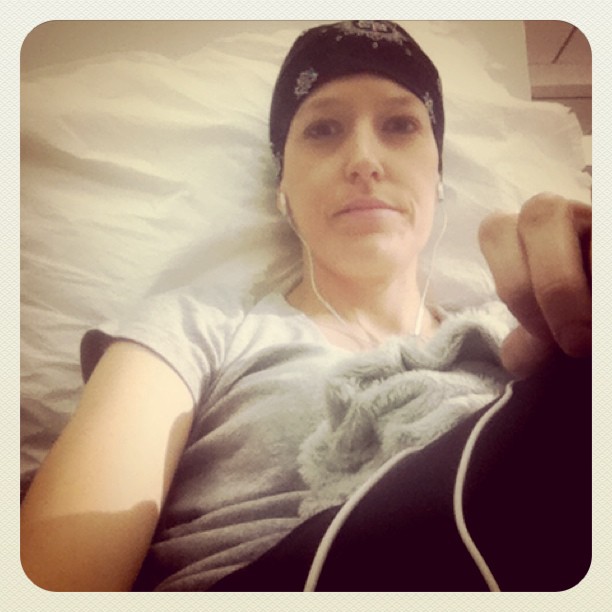 See how yellow my hand looks? Well, today was "Mountain Dew" Methotrexate day…..the huge bag of neon yellow liquid that goes through the IV. I showed the nurse my hand and she started freaking out a little. Then I remembered that I had used a TON of yellow spray paint yesterday on Boo's playroom shelves…..it was just spray paint and it kind of glowed under the fluorescent lights a little more. I SWEAR I took a shower this morning!!!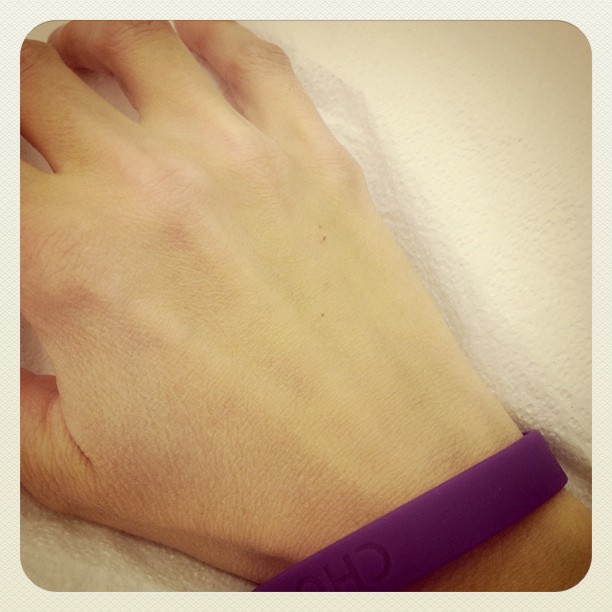 There were lots of really elderly people today at the infusion center. Like 90 years old elderly. I felt so bad for some of them. One woman was being admitted to the emergency room and an elderly man was in a lot of pain. I had to put my ear plugs in and listen to music or I would have gotten really, really upset. I'd just like to say that Nurse R needed some real cheering up this morning. She seemed kind of grumpy. So I just talked her ear off until she came around. It was kind of early though.  I ran into my friend Mr. F from a month or so back….so that was nice. I asked about his awesome friend Mr. S that made such an impression. I've been hoping he'd come back and do those magic tricks he talked about.
Lisa held down the fort all day and worked on my donut party stuff. I got home to some amazing finished projects. It made my day. Lisa also listed the Choose Joy necklace made exclusively for Lil Blue Boo by the Vintage Pearl. We would have never guessed that it would sell out so quickly. It's very humbling and I'm so appreciative to Erin from the Vintage Pearl and to everyone who bought one today. Erin isn't making a dime off of them…..that's such an amazing gift. She's donated the time of her team to help raise some money for my medical bills….plus I really wanted her to make the necklace so I could have one too. She let me help design it and I knew I wanted something vintage with patina. It was exactly what I envisioned. They sold out….but we are going to do a pre-order for them tomorrow through Monday in the Big Cartel shop so look for that! (We just have to give Vintage Pearl some extra time to make the next batch!)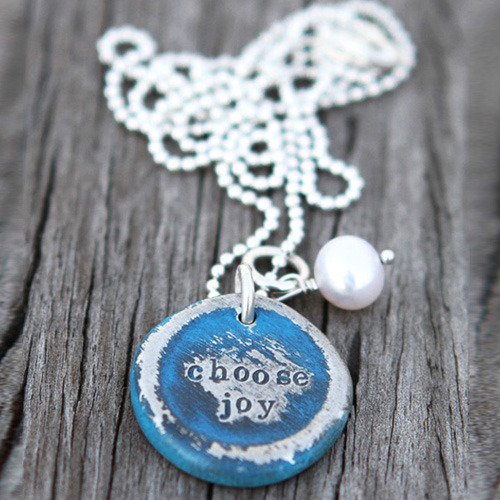 A wonderful group of friends is putting together an auction at the end of the month as a fundraiser.  They surprised me with it and I'm honestly overwhelmed and without words. It's SO much work and they are putting so much time and effort into it. And all the amazing vendors that have donated….I'm without words…except for thank you from the deepest depths of my heart. It's hard for me to ever write about money but I want to mention the auction because they are working so hard at it. I honestly just put my medical bills in a pile and say "someday I'll get to those." It's hard to deal with that when you aren't feeling well and the appeal process on some treatments and procedures is just never ending. I don't try to worry about it though….my first priority is my family, friends and employees….and getting better. I'll wrap my head around it one day and blog about it. One day at a time. LOVE YOU TEAM ASHLEY GALS!
Click below to read Amy's (of Evy's Tree) great post she put together about how I got here….and about the Team Ashley Auction.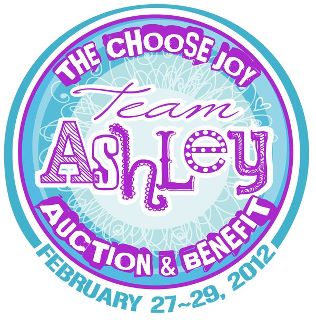 They made these awesome "I donuted" tees that I think are only available through tonight. Stephanie Corfee, the artist, knows me through and through……I couldn't imagine a more perfect image for a tee.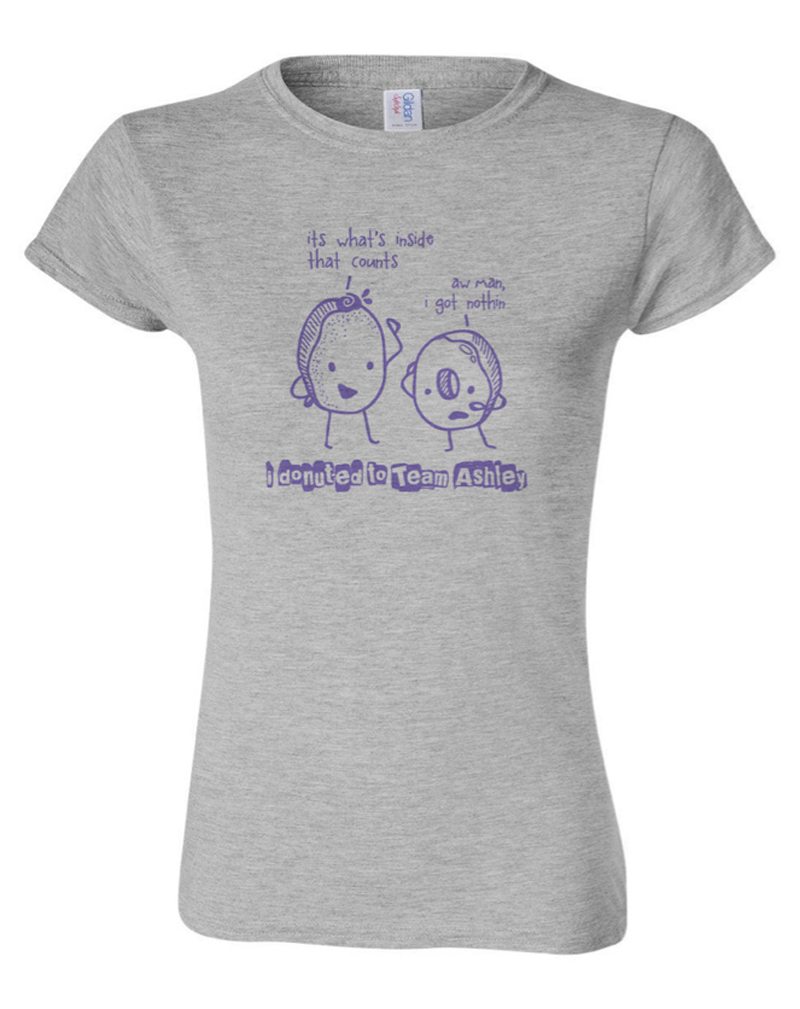 P.S. I read in my Jesus Calling book the other day: Refuse to waste energy on worrying, and you will have strength to spare. I had to send it immediately to my friend Elaine who recently suffered a stroke and is now recovering. She's doing awesome by the way….it's a long road but I know she can do it. She's stronger and more determined than I am!