I finally broke down today and filled my prescription for my estrogen patches. I was going to seek out some other more natural options but for this month I'm going on the patch. Dr. L said I'd be fine until he refers me to a local gyno-oncologist to talk more about it.
I haven't written about it lately because it's not that big of a deal but I have felt pretty crappy with migraines, hot flashes, night sweats, insomnia, high blood pressure…..basically if you read down the list of menopausal symptoms…..that's me. Honestly, sometimes I think I felt better when I was going through chemo than I do now. The doctor gave me ambien but I started to feel like I was dependent on it so I stopped taking it.  I don't like to be dependent on anything…..let alone sleep medication. You know what works the best? Target fruit snacks….right before I go to bed…I did the same thing during pregnancy when I couldn't sleep. I think I have a sugar crash.  Oh and I gained three pounds this last week…….not sure it it's the hormones or the fruit snacks because nothing else changed.  Maybe my eggs just need a little tender, loving estrogen: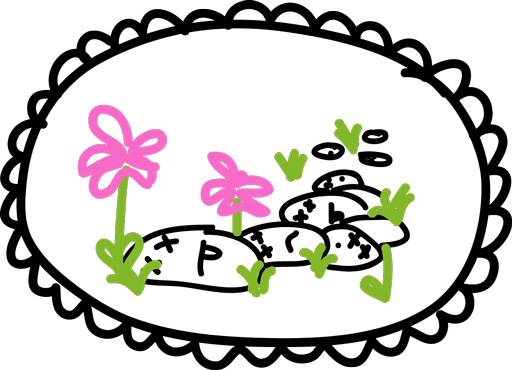 I spent the last 3 days figuring out all my employment tax forms that I got behind on while I was recuperating from surgery last year.  It seriously took 3 days. The two people I spent hours on the phone with treated me like a complete idiot….which was fine because I probably sounded like one: Wait, you don't have the form from 2010? Where do I even get the form from? I just print it? I can't even figure out what it's asking me to fill out…..what's the 6 form? Why is it a 9 form now? Just warning you I might cry. Why does every form get sent to a different address? Can I include a post it note with this form? No? Does a robot open the envelope? I paid that…..you refunded me. You can't tell me why the numbers don't add up? Wait…I'm going to cry again. Now I'm all caught up….which makes today more fun than Christmas.
Someone asked me the other day how I stay positive when things can go so wrong.  It's hard to put into words….I just do…..and really in the grand scheme of things….what has happened to me isn't so bad. I might have a mental break down for a few minutes about something but I recuperate pretty fast and move on to the next thing. It's hard to explain but I was watching this Lifetime movie Amish Grace the other day and something clicked. The movie is about the young Amish girls who were killed in their school a few years ago and how the Amish forgave the man that shot them. (Note: It's almost impossible not to cry when watching this movie.) I actually stopped the movie to copy down the following quote about forgiveness:
Forgiving doesn't mean forgetting, It doesn't even mean a pardon.
We know that [the person that wronged us] will stand before a just God.
But we also know that if we hold onto our anger and resentment….
…..it is only ourselves that is being punished.
That's kind of how I think of choosing joy:
In a way, each day, I forgive the universe for sending crap my way.
I let go of anger and resentment because otherwise I'm only punishing myself.

And then…..I thank God for letting it all happen to me because….I couldn't even make this all up if I tried. I think about how boring my day would be if everything went along just perfectly……
And THEN….I let go of fear and worry. It's kind of like having an open heart: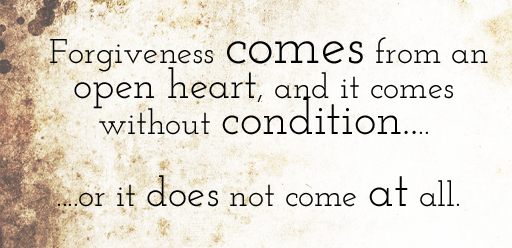 My alma mater, Wake Forest, sends out a magazine and I read through it last night. There is this article written by Joy Goodwin about historian Jim Barefield…….I loved Joy's description of this man who teaches the art of comedy:
But the most disconcerting thing about Jim was his attitude. Before Jim, I had never known anyone who actually got happier when things went awry. In situations that would make a normal person cringe – say, a cloudburst at an outdoor wedding – Jim could scarcely contain his merriment. (If a wet dog got loose and ran through the ceremony, so much the better).
Oh I would love if a wet dog ran loose through a wedding ceremony.  To some brides it would be the end of the world……but I think it would be awesome. I drank so much at my own wedding I poured my wine in the pool and tripped into the video camera a few times. I threw my bouquet in a tree. My mom jumped into the pool. It was perfect. I prefer the comic view of life.  I've learned that so many things are out of our control that we might as well accept them….and just make them part of our story.
The comic view of life: A way of saying yes to life, a conviction that whatever the center of the universe is, it's probably not you, and an acceptance of the idea the life is a circle, not a straight line.
-Jim Barefield

I don't know about most of you….but my life isn't a perfect circle….it's more like this: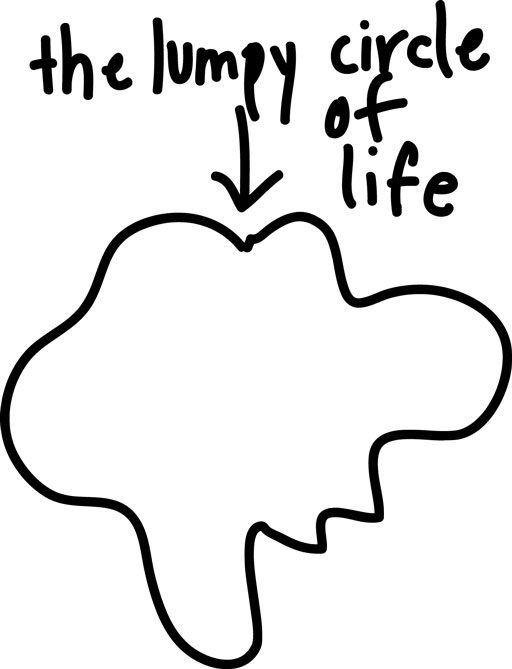 And that's all I have to share today……..
P.S. If you are new here and I've totally lost you, you can find The Cancer Chronicles index here!
Update: I love this definition from Andrea in the comments: forgiveness is giving up hope the past could be any different. -Oprah