I've never laughed as hard as I did last night…….all at Lisa's expense. I saw that someone had just Googled "girls who poop at work" to get to Lil Blue Boo and I asked them to "fess up" on Facebook…..and it set off a firestorm of poop searches. Well now…..if you google it…..Lisa's image is the first photo  to come up. I'm so sorry Lisa.
The past few days I've been having pain in my lower right pelvis area. I know there's a tumor there. But the pain feels like last time when it was growing so fast……so my gut feeling is that it's growing….maybe not much….but it's "invading" something down there.  I struggled a little to get out of the car after I picked up Boo from school and a wave of panic came over me. These tumors can be very invasive and aggressive…..and I know my bladder and colon are down in that area. I am squeamish when it comes to anything bladder and colon related. I get faint even thinking about it. Take a lung, take a kidney, take part of my stomach, take a finger, take a toe…..but don't take any part of my bladder or colon. You'd be proud of me….I called Dr. L after hours. He was patched through immediately and said that we would move my scan up to this morning first thing. I had my scan at 9:45 and I already feel better that there is a picture of my pelvis floating around somewhere.
At the hospital this morning the nurse insisted on carrying my purse from the IV chair to the machine room……it was a new machine and was halfway around the building. It was a tug of war for a second…..because I was super embarrassed 1. it weighed over 20 pounds 2. was stuffed full of junk and 3. I'd brought donuts to eat immediately after my scan.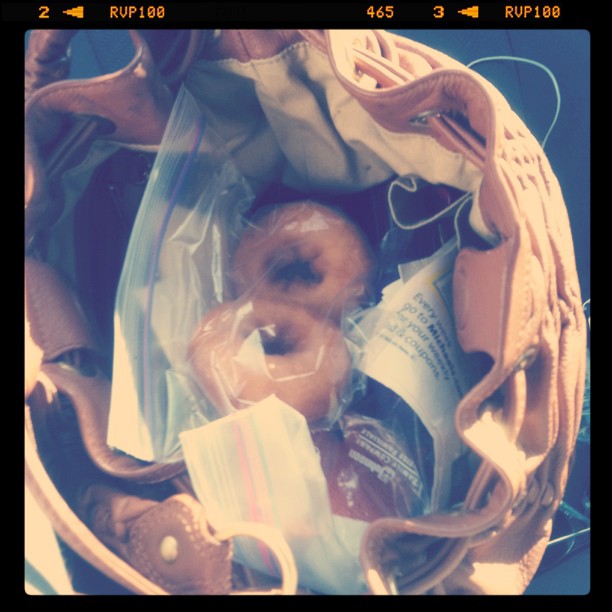 I had to drink the contrast stuff before the scan. It tastes like Crystal Light. They gave me 20 minutes as usual…..I drank it in 2 minutes flat. I'm sure the nurses were like: um, it's not a competition to see who can drink it fast…..you REALLY have 20 minutes. Oh whatever….I like to be competitive at these things. I have no athletic ability so I'd like to be good at something.  So let me brag a little: I am great at keg stands. I can shotgun a beer in 2 seconds flat. If you went to college with me you already knew that though.