Well, I spent all day making 5 pounds of bbq pork (Southern Style!) and then when it came dinner time I couldn't look at it. The only thing I wanted was nachos and cheese from Del Taco. Boo calls it "chips in a box." So, we had chips in a box for dinner. At least I'm a cheap date: 99 cents a box rocks.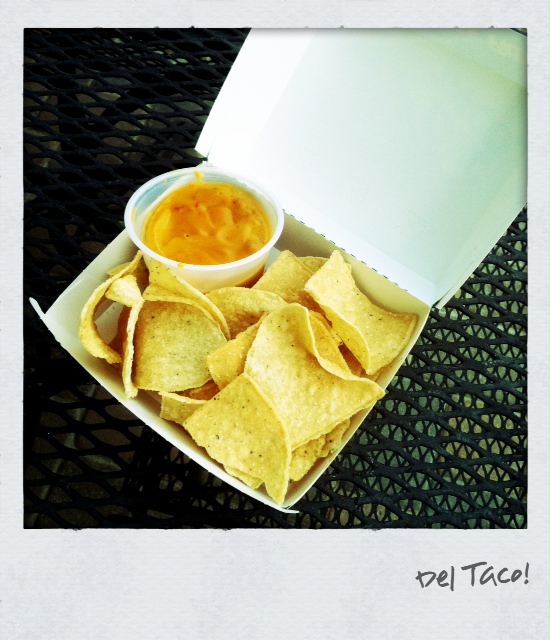 The hardest part of chemotherapy has been what it does to my stomach.  The biggest thing I've learned? Never eat your favorite foods during chemo…..you may never eat them again. It's hard to explain the feeling…..but what I can eat varies almost from minute to minute. Some days even water tastes bad. Soda is atrocious and burns going down (this isn't a bad thing, I haven't had a Diet Coke since October of last year!) The only food I could consistently eat in chemo over and over was a banana. I bought 15 boxes of Girl Scout cookies….I've eat about 5 cookies total. That's not normal!
Dr. L says that many patients get physically nauseous when they get in the car to go to chemotherapy……just a certain car route can trigger feelings of dread. It's like Pavlov's dog.  He tells them to drive a different way to the infusion center each time to make it more bearable. The car ride didn't bother me at all but I do have physical reactions to other things now.  For example, I used my favorite purple insulated cup to hold water in at the infusion center……now just the sight of it triggers a heartburn feeling and nausea. That will be going in the trash. My bag and blanket I take every week? I'm pretty sure I'll never be able to use them again for anything.
I pray that my break from chemotherapy is permanent……but I'm not going to focus on those weekly blood tests…..they'll come and go and they are just another chore on my list. I'll be a little vain and say I miss my butt. I don't even fill out a pair of jeans now. I've got a sad, little flat bum haha. The spider bite from yesterday isn't helping…..I can't tell what side effects are cancer-related or spider bite-related now!  I'm on antibiotics and it's still spreading up my arm….. you have to laugh at that…..if it gets more serious maybe I won't think it's so funny…..but all I can say is: really? a poisonous spider? this must be a joke.