I think this week will be my 16th week running on chemotherapy. I've been going since October 24th….and there's no definitive end right now. If we stop, the tumors grow. Thinking about that big bag of toxic chemicals right now makes me a little nauseous….I can almost taste it just thinking about it even though it goes through an IV.  I ate a leftover jelly doughnut just now to get that out of my head. Today I feel a little like I got hit by a truck…..but I expected it. The steroids they give me are a little like crack……they keep me going, and going, and going until I crash a few days later. The Neulasta shot makes my bones and joints feel like someone took a baseball bat to them.
For some reason I thought today was the 7th and I read the wrong day of my Jesus Calling this morning (no!!!!) but it ended up being the perfect message as usual:
Come to me for rest and refreshment. The journey has been too much for you, and you are bone-weary. Do not be ashamed of your exhaustion. Instead, see it as an opportunity for ME to take charge of your life.
Remember that I can fit everything into a pattern for good, including the things you wish were different. Start with where you are at the point in time and space, accepting that this is where I intend you to be. You will get through today one step, one moment at a time.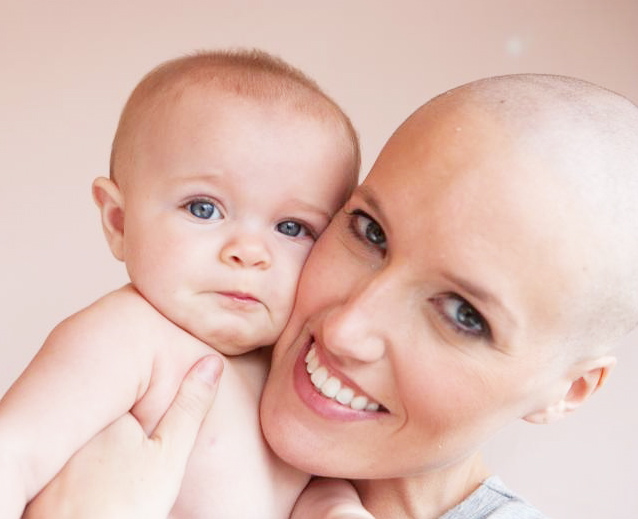 Me and my niece Courtney…her little lip was trembling…she makes my heart melt!
So what keeps me moving forward on week 16?
I wake up every morning and just pretend that I'm not sick.
I approach the day as if there were nothing cancerous in my body.
I thank God for giving me the energy to shower, dress myself, hug my hubby and play with Boo.
I'll find the energy to write something and maybe make something.
Today is Monday and it will be an awesome day!
Everything will fit into a pattern for good.
XOXO,
Ash