A friend emailed the other day saying that she'd had a dream about her father and my father…..that they were playing golf together in heaven. She said that she prayed for dreams about her loved ones that had passed and it really hit home because every night that I go to bed I pray that I'll dream about my dad too.
It's funny how things happen after a loved one dies ……and you wonder if they are part of some master plan. Now, I'm pretty darn sure there is a master plan:
1. So yes, the biggest one is that Boo says she saw Grandpa on the porch of the mountain house and that he wanted to speak to Grandma.
2. The well known golf photographer Brian Morgan was in Seoul, Korea the week my father died. He took the last photos of my father before he died and documented the last week of my father's life.
A few weeks after my dad's funeral I was talking with Kevin, our family friend that was with my father when he died and Kevin mentioned that Brian would like to meet and share some photos.  Of course I called Brian right away and asked where he was located:
Me: So where are you located?
Brian: Palm Desert, CA
Me: I'M in Palm Desert! Where in Palm Desert?!
Brian: I'm just up Hwy 74 just off (streetname).
Me: (stunned silence) I live just off (streetname).
It turns out the man that photographed the last days of my father's life lives less than a quarter mile from my house. It's an easy walk. Brian and his fiance visited one night and we talked for hours about my dad, their mutual love of golf and story after story after story. It's a gift that they live so close.
3. The movie 7 days in Utopia…..I'll have to wait until it comes out on DVD because I couldn't even make it through the trailer without sobbing. My sister saw the movie and was so freaked out at first that her text subject to me was "h*ly sh*t" which is totally out of character for her. The main character, Johnny Crawford, could be my dad. Played by Robert Duvall, in the first trailer clip he laughs and I had to catch my breath…..it was my dad's laugh. Scene after scene I would lose it.
Robert Duvall in the movie eerily looks like a slightly older version of my father: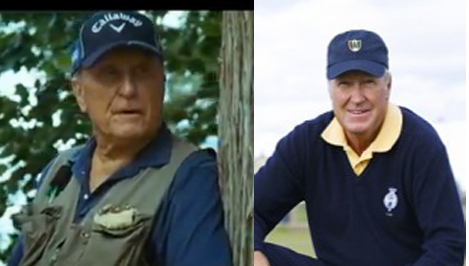 The scene at the river is my dad to a T…..I can hear him saying "you have to control your emotions……it never fails" in the exact same tone. I have to do a double take of the scene to realize it's Robert Duvall and not my dad.
The long putter: My dad was the world's biggest champion of the long putter….we buried him with it.
And then there's the flying scenes: My dad made all of us learn to fly….just in case anything ever happened to him at the controls. One day he just stopped flying and sold his plane.  My mother confided in me years later that he'd been in a plane crash.  Want to know how stoic and protective my dad was of us? Well one night we were all eating dinner at my grandparents and my dad walked in a little late. We ate as normal and had family time and then that night as he and my mother fell asleep he said "something happened that will probably be in the papers tomorrow." He had crashed the plane he was flying. We never knew a thing….he never wanted us to worry. My mom told us all this story just a few weeks ago.
There are other crazy similarities in the movie that I'll leave to my sister Perry to write about one day. I know my dad would have loved this movie. It would be one of those that he would mention every time he called "have you seen 7 Days in Utopia yet? Make sure you go see it this week." Don't worry Dad, I'll see it….just on DVD so I don't traumatize the entire theater with my crying.
4. The course my dad played in Korea the week before he died is called 9 Bridges. Brian Morgan was there to photograph it for a few weeks before the tournament and believe me….if there is a place on earth that resembles a Utopia it is 9 bridges. It's one of the most gorgeous places on earth: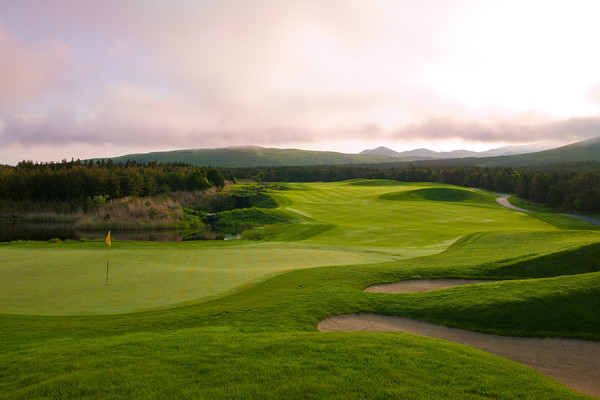 photo courtesy of Brian Morgan
My sister pointed out that, ironically, there are only 8 bridges on the course, and the 9th bridge is supposed to be a metaphorical bridge to heaven. Perry says "it looks like dad found the 9th bridge on the way home."
Yesterday, my husband's grandfather found the 9th bridge as well. He passed away and joins his wife, my husband's grandmother, in heaven. As always, our family chooses joy. Rest in peace Papa.
Sometimes I get on a tangent researching things…..tonight it happened to be John Wayne. My dad loved old movies and I think I've watched every John Wayne movie that's been played recently on AMC and TCM. I found this great quote:
Tomorrow is the most important thing in life. Comes into us at midnight very clean. It's perfect when it arrives and it puts itself in our hands. It hopes we've learned something from yesterday.
-John Wayne
Isn't that awesome? Every day starts out new and perfect, regardless of what happened the day before.
My dad would have loved this one even more:
Life is tough, but it's tougher when you're stupid.
-John Wayne
If you are new to my blog and would like to read the back stories to this post click below: