I went in this morning ready for a fight. I really just didn't want to do another round of this chemo. My body was telling me: NO MORE! Dr. L was ready for me….the first thing he said was "well, you know how I feel about it." Someone must have given him a heads up. I'll find you! Ha. Anyways…….we compromised. I'll do Cisplatin today and he'll let me skip next week's Methotrexate. That means: today is my LAST day of chemo. Finally a break after 23 weeks straight. I'll still have to have weekly blood tests for a year to monitor everything closely and keep on top of any regrowth. We'll monitor everything closely by CT scans too but at least there is an end in sight right now!
Perry came with me to see what goes on here. Everyone in the office says we look alike. I told Perry: at least now you what you would look like bald, right?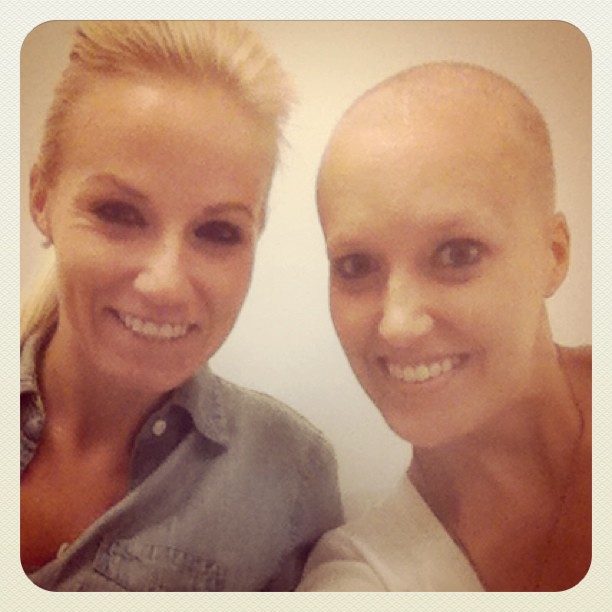 Why didn't I want to come in today? Well, I thought another round might kill me. Seriously. Like it might do more harm than good. My body feels like it might actually reject the IV and spit everything out. Dr. L was doing his dictation and he said into the recorder "she is experiencing chemo fatigue" and I quickly added loudly over him "AND CHEMO ANNOYANCE"…..I hope that makes it into the report. It started a whole conversation about medical dictation bloopers. Here are a few of my favorites that I found online:
"The next patient's name is Doe, John…. I'm not sure which is the first name and which is the last name, although I would imagine Doe would be the last name, unless it's John." Source
"This is an outpatient history and physical dictated by Dr. Evans. Date of proposed procedure is on Friday the…gulp… 13th!" Source
Between you and me, we ought to be able to get this lady pregnant. Source
Patient has left his white blood cells at another hospital. Source
She has no rigors or chills but her husband says she was very hot in bed last night. Source
*****
Perry used her ponytail to make me some hair to entertain Dr. L. It must run in the family that we try to lighten the mood and make everything not-so-serious. Don't I look like Andy Warhol?
In the future everyone will be famous for 15 minutes.
-Andy Warhol
I'm bored with that line. I never use it anymore. My new line is "In 15 minutes everybody will be famous."
-Andy Warhol, later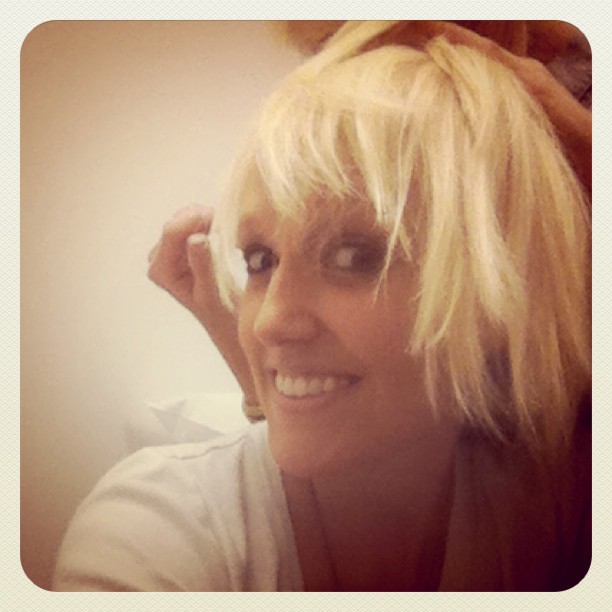 I already feel better that I'm hooked up to the IV. No chemo yet…..just hydration and pre-meds. I'll start feeling back to myself around next Tuesday, and I know come next Tuesday that I'll be so relieved that I did the treatment.
Update: Sorry, I forgot to mention that my numbers aren't at zero. My HCG numbers have just been fluctuating between 2 and 3…..so Dr. L thinks that might just be my normal range of HCG production.  We'll know for sure once I go off chemo….if the tumors start to grow back soon after we'll know that 2 and 3 means the tumors are still "alive." If not, we killed them!  Hope that makes sense!