I got some REALLY good news yesterday.  My HCG levels dropped to 37 this week.
That's HUGE.
Why? Well, the markers for choriocarcinoma are the high production of HCG (human chorionic gonadotropin) and my HCG levels had been slowly dropping for so long…..so painfully slow…..that I seriously thought I'd be on the methotrexate regimen for years.  During those first 8 weeks of methotrexate it had also spread….so maybe my tumors were growing a little in new places and getting smaller in other places and averaging out to those small drops. Who knows. What I do know is that the type of cancer I have is the most invasive malignant disease known to humans.  The cells it originates from are specifically designed for reproduction and multiply extremely fast….but it also responds extremely well to chemotherapy. All of that combined made the switch to EMA-CO an easy decision, even if it was right before Christmas.
Basically, I stay on the EMA-CO until my HCG levels are less than 1…..and then there are 3 more cycles after that to make sure the disease is eradicated. The curve isn't linear so I can't wait to see what they will be next week. I always try to predict it. I'll be super positive and say my levels will be zero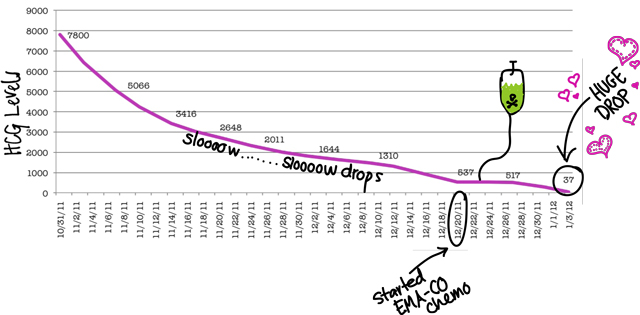 I start the whole cycle over again on Tuesday. Tuesday is my 8 hour day at the infusion center…..hope they are ready to have me ALL day again.
****

My mom and I went to LA yesterday to finalize a fabric order. It had to be done….and it was exhausting…..but we had about 5 hours in the car of quality girl time which was awesome.  My leg and hip pain is almost unbearable today though….but only in one leg……maybe it's my white blood cells bursting at the seams. My WBC count was 24,500 on Tuesday (between 4,100 and 10,900 is normal) so I was feeling like I had permission to do anything and everything I felt up to.  On the trip yesterday, I left a trail of hair in my wake….sorry LA.  My ponytail is still looking pretty good (as depicted in my "back" self portrait)…..it just feels so thin all the sudden. Brett said he found hair ALL over the house yesterday.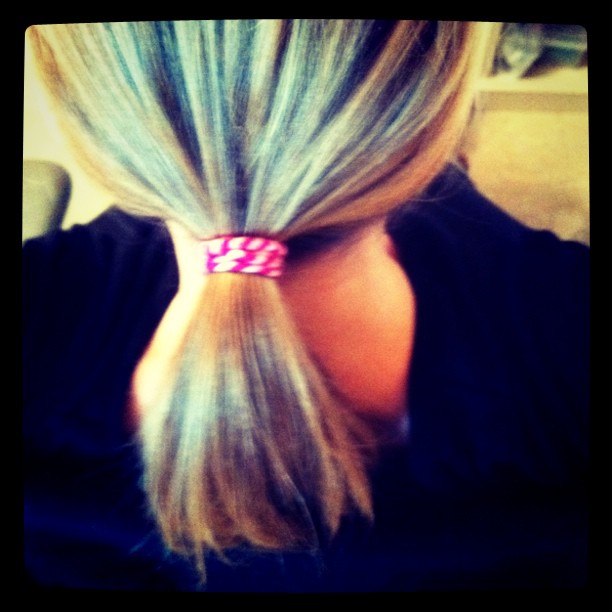 My mom and I talked a lot in the car about my time at Loma Linda and my surgery in October. I asked a lot of questions about the night of October 21st and what her experience was. Her most distinct memory is of Dr. R coming out of surgery to talk with everyone…..she pretty much remembers it word for word. Anytime a doctor uses the word miracle I think it's pretty amazing….it's definitely not a clinical word. The surgery was also a lesson that I know my body better than anyone. Leading up to the surgery I'd had nauseating pain on my right side….it never felt right.  I knew going in that I was going to lose something. Brett too. He was adamant about donating blood.
****
I had some visitors today. My sister-in-law Carolyn brought me her hand-me-down magazines. My friend Aileen came over to chat a bit. She's undergoing treatment for breast cancer and it's great to be able to talk about chemotherapy and wigs etc with someone who is going through the same thing. While we were talking I remembered this movie I'd watched back in 2006: Crazy Sexy Cancer. It's a documentary about a woman diagnosed with an incurable cancer…..and her journey for healing. In this movie Kris is determined to survive, regardless of her diagnosis: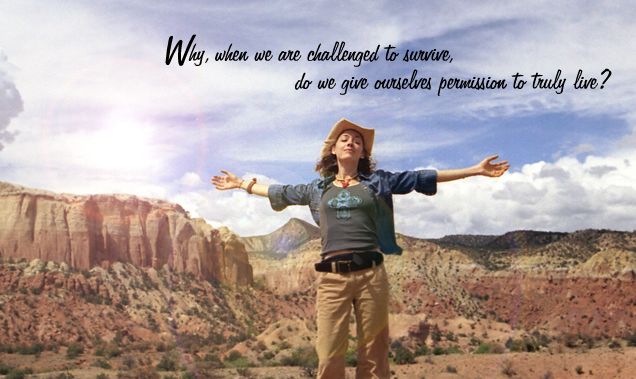 Image from Crazy Sexy Cancer
Thank you for the prayers!  Boo says every night "I pray that Mommy is healed from the top of her head to the tip of her toes."