Here I am at chemo today…..trying not to laugh as the nurse took my picture with my phone. My bra strap is showing…darn.  I like my chair location….it's right under one of the cool vents….and close to the bathroom. I told the nurses about Lil Blue Boo today…..and that I wrote about them. Maybe they'll stop by.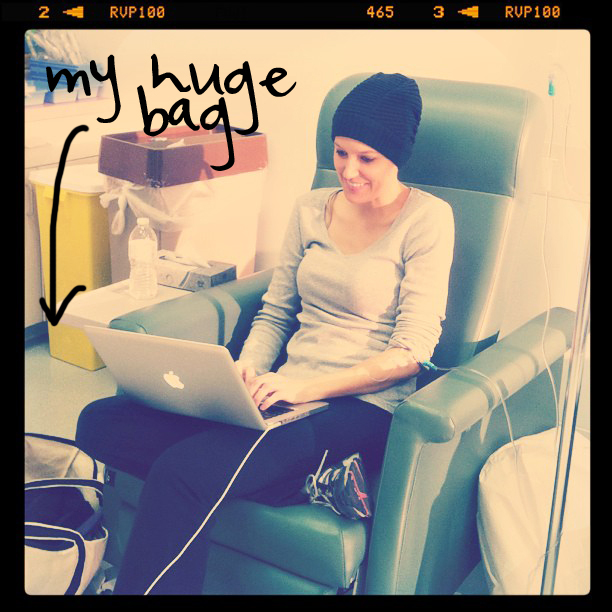 See that huge bag at my feet? I take it every time I go to chemotherapy. It weighs about 50 pounds….seriously. I can't stand to be without my stuff: laptop, iPad, iPhone, journal, pens, extension cord, chargers, cheddar Goldfish, Target fruit snacks, water, sometimes a Vitamin Water, lip balm, my chemo schedule, a blanket, my sweatshirt, and so on.
I had way too much energy today. I think it was the crazy juice concoction I made. I was totally on my own today because Brett had to leave to go out of town super early. Boo and Brett have their own special routine in the morning and Boo let me know:
Boo: Make SURE you mix the bananas good. Daddy does a good job mixing my cereal. And sometimes he lets me watch Goldrush. Its about finding gold. I think he already made my lunch though. And we can't be late for prayer circle. I'll tell Miss Leslie you don't have any hair anymore when we get there.
Me: I'm feeling the pressure!
I took Boo to school and everyone in the office was sooo sweet and excited about my shaved head. Someone had forwarded around the link to the "how to shave your head" movie we made. Even Boo's teacher had seen it.
I felt okay after chemo so I went to school to pick Boo up early. She didn't want to leave. Go figure. Not feeling so hot now….but I have nothing to do this evening so that's okay. I have a log from the last "CO" chemo treatment on how I felt….it helps me plan.  The nurse told me that Vincristine (one of the drugs I had today) can cause major constipation……so I'll be contemplating that. I'm just hoping I don't have to blog about poop again for a while. Dr. L thought the Vincrinstine might be what was causing my jaw pain, that it was a nerve-related thing……but the nurse thought it might be the Neulasta…..maybe it's both.
****
Since my mom left yesterday I was feeling guilty about not juicing….so this morning I took everything out of the fridge that looked like it might have some juice in it: cucumber, kale, young Thai coconut, carrots, apples, lemons and even a few sad looking blueberries. If it's not organic, I just peel the skin off. This is the juicer I use. I got it from Costco. It's kind a pain to clean….but if you just clean it right when you finish juicing and then put the machine right back together it's not a big deal: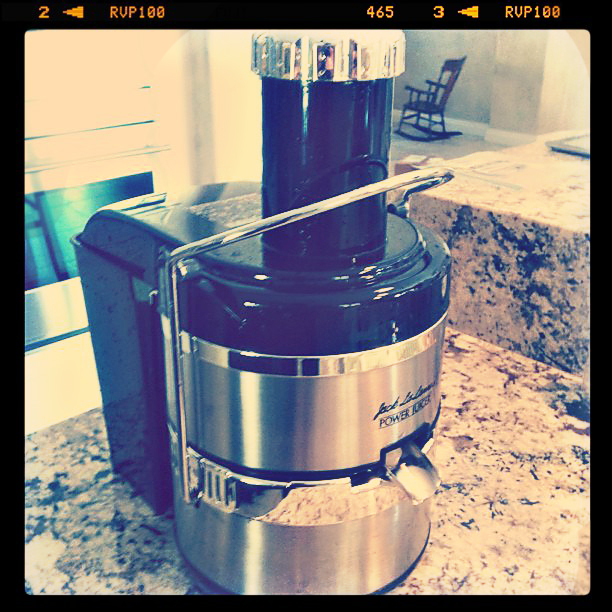 I made a huge batch so I could force Gicela to try it today (insert evil laugh). I just cut the carrots, apples (put them straight in with the skin on after they've been washed) and add them to the juicer with the kale….I think it helps to get the kale juiced better. With all the different colors it starts to look a little pea-soupish. I cut up lemons and add them with their skin on. The lemon adds tartness to the juice and masks a lot of the vegetable flavors. If I add oranges or grapefruit I cut the rind off…..their rind tastes icky when juiced.
Once all the juice is finished I like to add some crushed ice (because I like it super cold) and the coconut pulp….and I use a hand blender to whip it all up. You can add banana or avocado at this stage because those can't be juiced.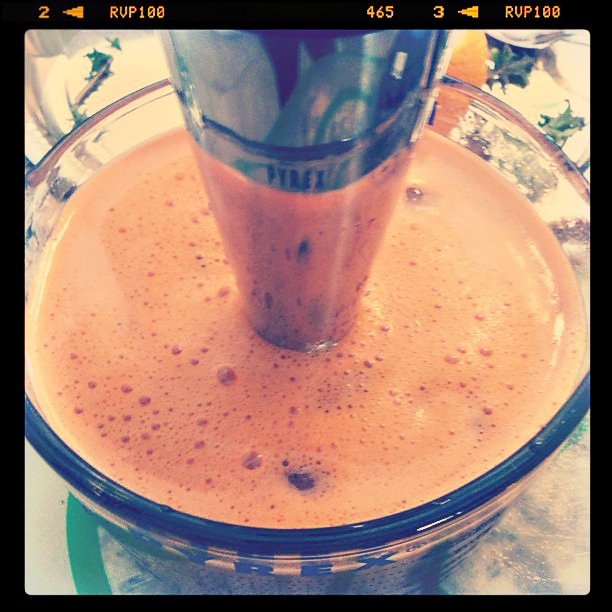 It isn't that bad! Gicela even liked it.