My hair is long enough to use product in now! I get so many comments about how much darker the color is now…..um, it's the same color as before….it's just not long enough to add highlights to yet.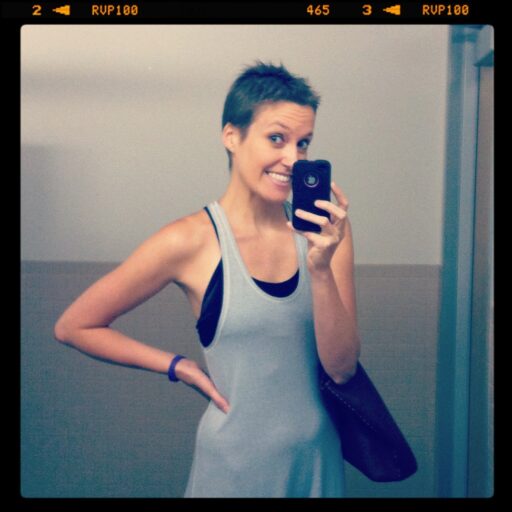 public restroom photo opp
I haven't done a Cancer Chronicles post in a long time….because there hasn't been much to tell.  I wrote recently about the chemotherapy putting me into menopause and how cruddy it made me feel…..and that made me decide to go on a low dose estrogen patch.  Well, my mom freaked out and called her friend who specializes in hormones and the next thing I knew I had an appointment with her. So, I've been on progesterone cream for about 2 weeks. It seems to be helping with all the symptoms. The great thing is….this woman has the most amazing skin…..so I asked her to prescribe me whatever she was using on her skin too.  Not sure what's in it….but it's making my skin look ah-mazing.
I met with a new local gynecological oncologist: Dr. H. She going to present my case at the City of Hope tumor board to talk about the hormones and whether or not I should even be on estrogen. For now she took me off the estrogen until she figures out if it might trigger any cancer growth (which was my mom's fear). She also wants some more opinions on whether anything should be done about the "burned out" remains of the tumors. I love when there is a meeting of the minds!
Dr. L's been out of town on vacation but I still went Friday to get my blood test.  My HCG (tumor markers) have been at 1 for seven blood draws in a row…..but they jumped to 2 today.  I reassured Dr. H that it was probably just statistical error.  I like to reassure my doctors that everything is going to be just fine. I've got a dull ache in my pelvis again and one side of my lower abdomen looks slightly higher than the other so Dr. H is talking to Dr. L about new scans. She did a pelvic exam. I told her that rectal exams are my most favorite thing in the whole world and I'd been looking forward to it sooo much. Not. She agreed that they are indeed everyone's favorite thing to do.  It also reminds me of that drinking game in college "I never…." for reasons I won't go into detail about here. Anyway, sorry to leave you with that picture….but no reason to panic yet. All is well but I'm pretty sure I'll have to have an early blood test now.
Dr. H's office is at the Comprehensive Cancer Center in Palm Springs. It is SO far away. Ok, not really, but if you live in the desert your sense of distance gets warped.
Driving distances from my house:
Dr. L's office: 4.9 miles
Dr. H's office: 16.2 miles
16.2 miles = road trip!

Since I have to drive 16.2 miles to see Dr. H, I like to drive back through the main street in Palm Springs to see what's going on.  Today I stopped by to see the new Marilyn Monroe statue.  I'm not quite sure what to make of it.  It reminds me a little of those Big Boy Hamburger statues or the Paul Bunyan statue. You can stand right underneath her and marvel at her enormous lace panties: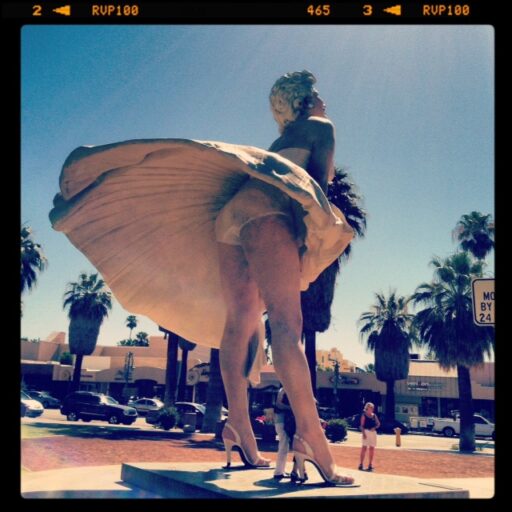 I've got another appointment in Palm Springs in another week and I'm mapping out the antique stores I want to visit:
(map found at Shoppers Map)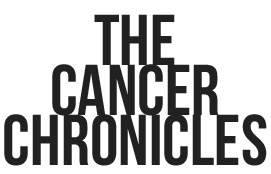 Update: The face cream I use says the following "your pharmacist compounded this medication especially for you."  I asked the doctor there for it because she has the most amazing skin. So the only way I know that you can get it is to find a compounding pharmacy near you…..or call the Town Center Compounding Pharmacy here in Palm Desert, CA.  It says: Estriol 0.03%, ALA 5%, Glycolic Acid 3.99% / DMAE 3% DRS (prescribed by Dr. Janet Miller).   Hope that helps!