I've put together a fun list of creative books for summer survival. I found the hardest thing to do around here is try to curb electronic use. This stack of books is one of the things I can point Boo to when she says she is bored. It's a mix of new additions and staples (you might notice a few repeats of past recommendations):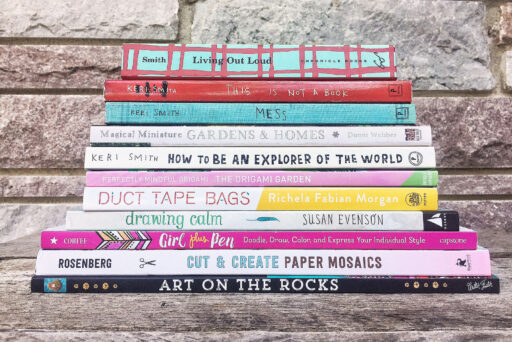 A little more on each one:

Art on the Rocks: More than 35 colorful & contemporary rock-painting projects, tips, and techniques to inspire your creativity. by F. Sehnaz Bac
I love all the cute ideas in this book and the step-by-step is great for any age. People have been painting rocks and leaving them around town recently and this book has the prettiest ideas I've seen. The fox!
"Packed with creative ideas, step-by-step projects, and endless inspiration, Art on the Rocks offers a colorful, modern approach to rock painting. Following an overview of how to gather and prepare your rocks, as well as a basic review of the tools and materials necessary for each project, three talented rock-painting artists demonstrate a range of contemporary designs featuring patterns, animals, mandalas, and more."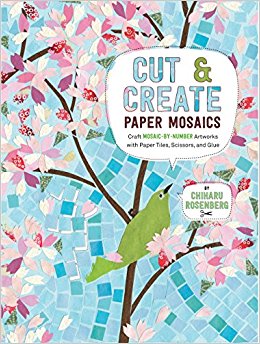 Cut and Create Paper Mosaics: Craft Mosaic-by-Number Artworks with Paper Tiles, Scissors, and Glue by Chiharu Rosenberg
Boo thinks this book is a little overwhelming but I love the paper and mosaic maps included with it. I was thinking of using it beyond the book and on other surfaces.
"Simply cut, and assemble your mosaics following the templates and instructions in the book. The five included projects begin with simple mosaic scenes with large pieces and gradually move to more complex works of art with smaller, more detailed pieces. Featuring ten stunning mosaics and all the paper you need to cut and create each, this is the perfect, relaxing, all-in-one project for those interested in creating their own masterful mosaics."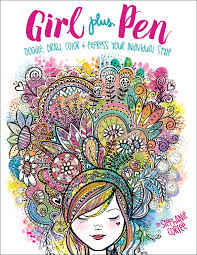 Girl Plus Pen:Doodle, Draw, Color, and Express Your Individual Style by Stephanie Corfee
Stephanie's books are always a big hit. We love her bohemian style and how easy her drawing style is to adopt for kids, tweens and adults!
"Doodle everything from simple swirls, swooshes, and scallops to intricate and detailed designs that you can give as gifts or hang on your wall. Work on lettering and word art, plus decorative doodles perfect for prettifying just about anything. Be inspired to use your doodling skills on everything from paper and pebbles to scarves and snapshots."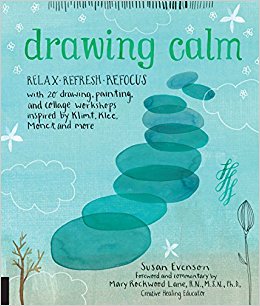 Drawing Calm: Relax, refresh, refocus with 20 drawing, painting, and collage workshops inspired by Klimt, Klee, Monet, and more by Susan Evenson
The best part about this book is all the techniques it has for branching out in other artistic styles.
"In Drawing Calm, artist Susan Evenson, shows readers how to do the same. It's a book for everyone—non-artists as well as those with plenty of experience in a studio. Using restful, but dynamic works of art as a starting point, Susan Evenson teaches how to capture the light and peace of the master painting."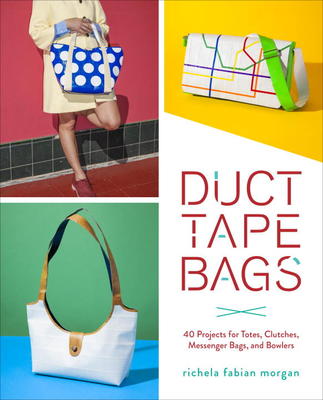 Duct Tape Bags: 40 Projects for Totes, Clutches, Messenger Bags, and Bowlers by Richela Fabian Morgan
This is one of Boo's favorite books. We have a huge collection of duct tape built up and she repeatedly goes back to this book for ideas and techniques on making her duct tape fashions better and better. It has detailed step-by-step instructions and all kinds of things to make from bags to wallets to luggage tags.
"A mix of pop art and urban style photos of each project and a cool vibe throughout will make you want to immediately roll up your sleeves and begin making duct tape bags."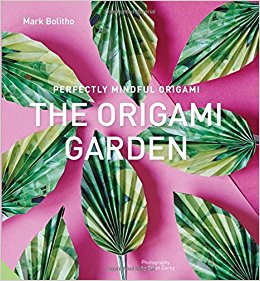 Perfectly Mindful Origami – The Origami Garden by Mark Bolitho
The origami in this book is incredible. I love that an entire garden can be made just from paper. Origami is an underrated art in my book. My interest was re-peaked after watching House of Cards and watching Claire Underwood trying to make her own origami. The papers included are gorgeous to look through too.
"Origami expert Mark Bolitho explains how to make perfectly formed origami objects that are pleasing to fold and make. As digital downtime becomes a constant quest in our fast-paced lives, the idea of contemplative, sloothing arts and crafts is undergoing a serious revival."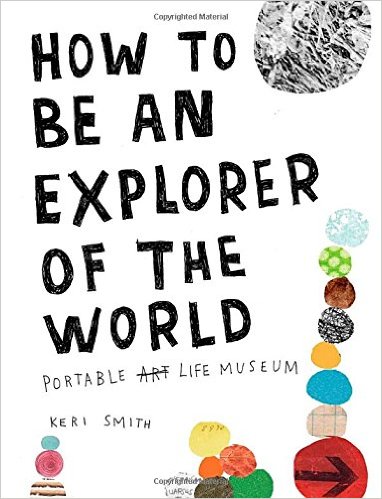 How to Be an Explorer of the World: Portable Life Museum by Keri Smith
This is a long-time favorite book of ours. I've bought it repeatedly as a gift for other people too. It never gets old. It's pretty much my life manual.
"Artists and scientists analyze the world around them in surprisingly similar ways, by observing, collecting, documenting, analyzing, and comparing. In this captivating guided journal, readers are encouraged to explore their world as both artists and scientists. The mission Smith proposes? To document and observe the world around you as if you've never seen it before. Take notes. Collect things you find on your travels. Document findings. Notice patterns. Copy. Trace. Focus on one thing at a time. Record what you are drawn to."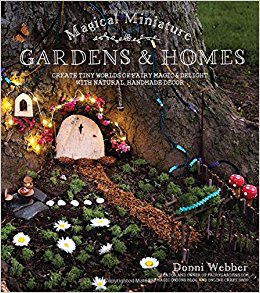 Magical Miniature Gardens & Homes: Create Tiny Worlds of Fairy Magic & Delight with Natural, Handmade Décor by Donni Webber
We love fairy gardens and this book has such cute ideas. It's helped us come up with lots of ideas for our own fairy garden!
"Create Whimsical, Miniature Gardens with Handmade Fairy Furnishings. From low-maintenance desert fairy gardens to tin towns for town-loving fairies, adults and kids alike will enjoy creating their very own miniature worlds. Complete with handmade décor like spool chimneys, magical signposts, goldfish and water lily ponds, birch and pine-thatch houses and more, your gardens will transport you into your own fairytale."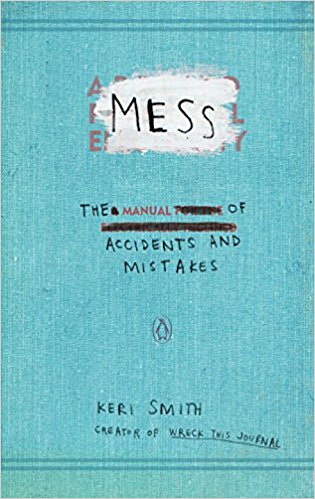 Mess: The Manual of Accidents and Mistakes by Keri Smith
Another Keri Smith favorite! It focuses on throwing yourself off balance…going outside of the box. My favorite: Bury this book. Dig it up in three days.
"Your whole life, you've been taught to avoid making a mess: try to keep everything under control, color inside the lines, make it perfect, and at all costs, avoid contact with things that stain. This book asks you to do the opposite of what you have been taught. Think of it as your own personal rumpus room. A place to let loose, to trash, to spew, to do the things you are not allowed to do in the 'real world.'"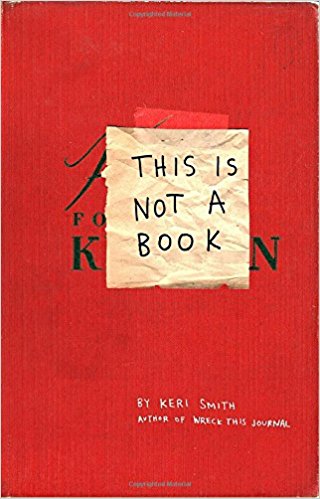 This Is Not A Book by Keri Smith
Yes. We are Keri Smith fans. We have every single one of her books….in multiple copies.
"In this uniquely skewed look at the purpose and function of a "book", Keri Smith offers an illustrated guide that challenges readers to creatively examine all the different ways This Is Not a Book can be used. With intriguing prompts, readers will discover that the book can be: A secret message—tear out a page, write a note on it for a stranger, and leave it in a public place. A recording device—have everyone you contact today write their name in the book. An instrument—create as many sounds as you can using the book, like flipping the pages fast or slapping the cover. This Is Not a Book forces you to ask, "If it's not a book, what is it then?"—with a kaleidoscope of possible answers."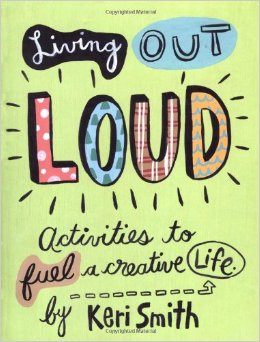 Living Out Loud by Keri Smith
This is spiral bound book…a little different from the others I've listed by Keri Smith. It has postcards, stickers and other fun things to tear out.
"Remember those childhood days spent running in your bare feet, playing make-believe, and most of all, living life with wonderment? That youthful enthusiasm and playfulness are key to discovering who you are and what you love to do. Living Out Loud is the perfect prescription for a creative jump start to your life. Included are games, projects, activities, crafts, postcards, and playful ideas that will send you off on an exciting adventure, where you'll discover inspiration around and within you."

You can find other book roundups and reviews by clicking here!