We went to Fontana Dam today. It's only about 40 minutes from Bryson City. The big plan was to checkout the Fontana visitor center, eat a picnic lunch, and play cards by the lake (Boo's request). So that's what we did: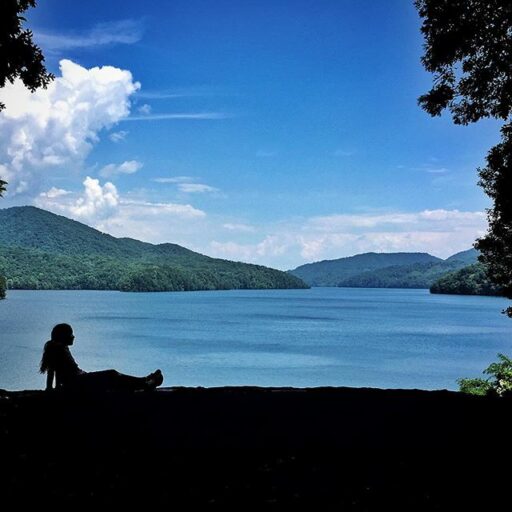 It's an easy drive and a scenic one. Here is one of the overlooks on Highway 28. It doesn't look real in the photo and it doesn't look real in person either!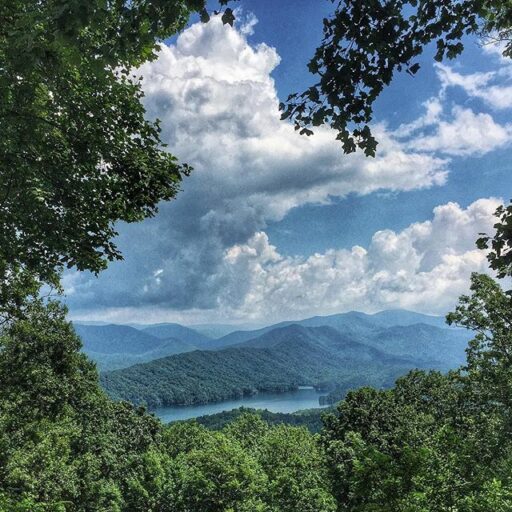 The first thing we noticed when we drove up to Fontana was it must have been "Inspector Appreciation Day" because there were all these official looking guys in hard hats and reflective green vests. They didn't keep us from walking and driving across though.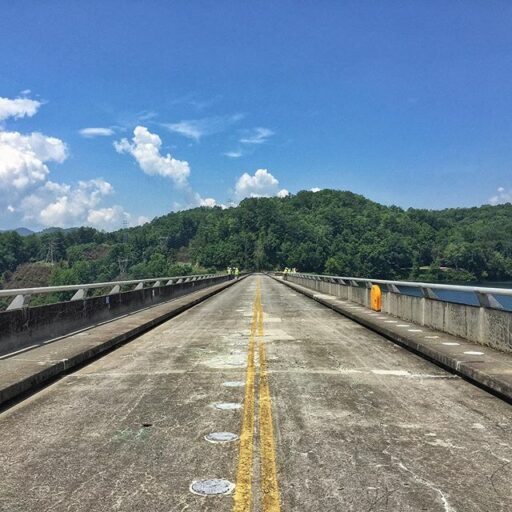 Fact: Fontana Dam is the tallest dam in the Eastern United States.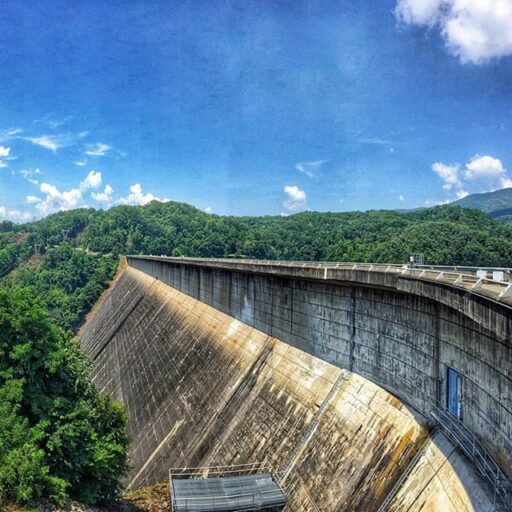 It also has a rich, fascinating history. The information center at the dam has a bunch of binders full of old photos in it dating back to the 1930's (you kind of have to look for them on the counter). The Fontana Dam was built during WWII to control flooding in the area and to power Alcoa's aluminum production. ENTIRE towns were displaced i.e. submerged when the dammed water level rose. (And of course there is the whole "Road to Nowhere" story you'll want to check out about the lost cemeteries.)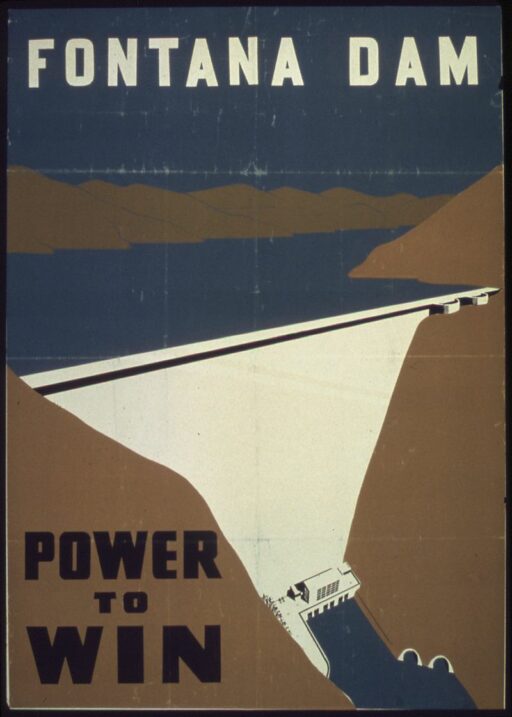 The scary part of the dam (besides all the cracks, which I'm sure the inspectors are taking care of) are the huge spillways that could swallow up school buses like bon-bons: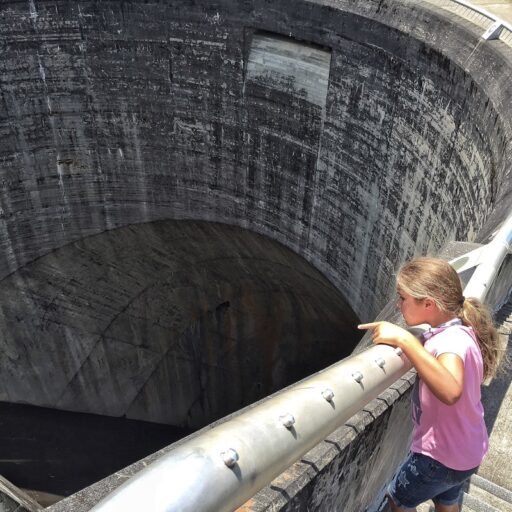 When we drove down to the bottom of the dam Boo said:
Let's get out of here. I have a bad feeling about this.
I guess that's normal when you are looking at a concrete wall holding back over 630 million cubic meters of water.
(There's an app for that: TVA Water Info. You can see water releases and operating information for dams in the area.)
A random tidbit: If you drive across the dam and look towards the visitor center you can spot a little metal track running up from the powerhouse into the trees. That track used to be an incline tram to take visitors into the dam's inner workings. They stopped all that after 9/11/01.
Another random tidbit: The power generated by the TVA system also had a hand in creating the atomic bomb, providing the necessary power to create nuclear material at Oak Ridge aka "The Atomic City."
If you want to read more I recommend this book:
Fontana: A Pocket History of Appalachia
by Lance Holland

The fascinating history of the Fontana Dam and surrounding area.  I love that it includes photos and diagrams. The undertaking of the TVA to build this dam and resulting lake is pretty incredible, and there is the devastating part of the North Shore families who were cut off from their homes when the lake waters rose (hence the "Road to Nowhere).
Ok quick movie quote trivia:
"Alright, listen up, people. Our fugitive has been on the run for ninety minutes. Average foot speed over uneven ground barring injuries is 4 miles-per-hour. That gives us a radius of six miles. What I want from each and every one of you is a hard-target search of every gas station, residence, warehouse, farmhouse, henhouse, outhouse and doghouse in that area. Checkpoints go up at fifteen miles. Your fugitive's name is Dr. Richard Kimble. Go get him."
That monologue was the best. The movie debuted in 1993! Good grief I'm getting old. Yes, The Fugitive. And guess what? Not far from Fontana is the Cheoah Dam, also known as the THE FUGITIVE DAM!  The same one that Harrison Ford made his escape via in the movie. If you look closely there aren't any tunnels for Harrison Ford to jump out of. The tunnel scenes were filmed elsewhere, but all the other scenes were filmed right at this little dam in the middle of the rural North Carolina mountains: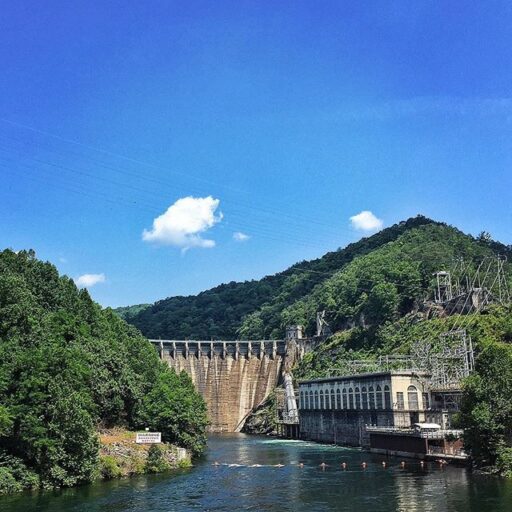 A few miles before you get to Cheoah there is this huge powerhouse with enormous pipelines going up the mountain side. These pipelines come all the way from the Lake Santeetlah Dam (not easy to photograph)….you actually drive under them again if you follow NC 28/US 129 back to Bryson City via Robbinsville/Stecoah. This never made sense to me until I drove it today and realized that Lake Santeetlah is much higher than Cheoah:
"Water travels from the Santeetlah reservoir through an intake in the dam and passes through a five-mile steel pipeline to the powerhouse. This pipeline is both above- and below-ground, and extends through various mountains and ridges via five separate tunnels and six elevated pipelines. The above-ground sections ofthe pipeline are 11 feet in diameter, and rest on steel support beams and concrete abutments." –National Register of Historic Places
Okay so the pipeline is 11 feet in diameter. Told you it was enormous.
P.S. One LAST little interesting thing I must tell you about. It has to do with The Fugitive. The train wreck scene was actually filmed in Dillsboro, right outside of Bryson City. It was a REAL train wreck. They wrecked a REAL train. And then left a real WRECKED train:
Photo by Vicky Somma Flickr Creative Commons Copyright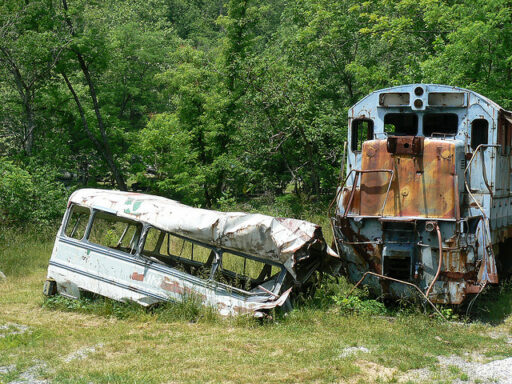 Photo by Vicky Somma Flickr Creative Commons Copyright
It's not easy to see though except by river, otherwise you have to venture onto private property and I feel the need to post this now: Trespassing is a crime where someone else enters or stays on the property without consent or permission. 
P.P.S. So I've added this post to my "Smokies" page. Click the image below for more stuff around the Smoky Mountains and Bryson City.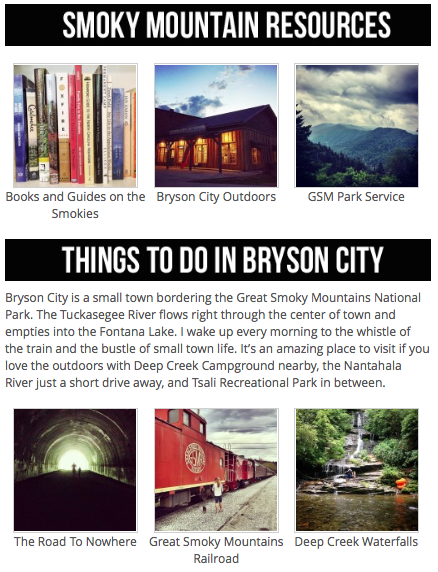 P.P.P.S. I might be available for guided tours if you are willing to pay my ridiculously unreasonable hourly rate…still being calculated.